Posted on September 15, 2009 by The VRG Blog Editor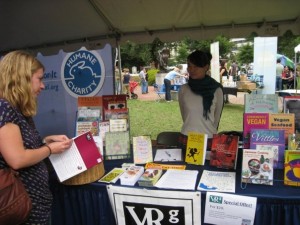 Thanks to Compassion Over Killing and the Vegetarian Society of DC for hosting DC VegFest last weekend — and thanks to everyone who came over to talk with us! Our table was buzzing the whole time.
Check our homepage to see upcoming events where VRG will be: http://www.vrg.org. Next up are the Natural Products Expo East (Boston, MA – 9/23-9/26) and the Baltimore Book Festival (Baltimore, MD – 9/25-9/27).
Compassion Over Killing has more photos from the event here.