Posted on September 24, 2009 by The VRG Blog Editor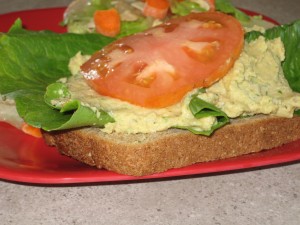 Julia Driggers, Clinical Dietician, shares a recipe for a vegan chickpea spread:
Garden Fresh Chickpea Spread
(Serves 6)
Ingredients:
1½ cups Chickpeas (Garbanzo Beans)
½ cup Celery, chopped
2 TBS Scallions, chopped
1 TBS Green Chili Pepper (may use green bell pepper)
1 TBS Sesame Seeds
1 TBS Spicy or Dijon Mustard
2 TBS Vegan Mayonnaise
½ tsp Dill Weed, Dried
Directions:
In large bowl combine all ingredients and mix. Place mixed ingredients into Food Processor or Blender. Blend on medium speed for 30 seconds or until chickpeas are mashed and mixture appears smooth.
Take mixture and spread on whole wheat bread and top with lettuce, tomato, carrots, or your favorite vegetable. It's also great for dipping and topping vegetables and crackers!
*Variations: Add 2 TBS Dried Cranberries or Golden Raisins to add sweetness!
Nutritional Analysis per serving:
| | |
| --- | --- |
| Total Fat as % of Daily Value: | 8% |
| Protein: | 4 gm |
| Fat: | 5 gm |
| Carbohydrates: | 12 gm |
| Calcium: | 30 mg |
| Iron: | 1 mg |
| Sodium: | 164 mg |
| Dietary Fiber: | 4 mg |