Posted on November 10, 2009 by The VRG Blog Editor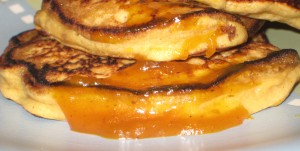 Julia Driggers, R.D., shares a recipe for vegan pumpkin pancakes:
Pumpkin Panckes
(Makes 8 medium sized pancakes)
Ingredients:
4 TBS Pumpkin Butter or puree
½ Banana, Mashed
1¼ cups Soy Milk (or other rice/nut milk)
1 TBS Maple Syrup
1 cup Whole Wheat Flour
½ TSP Cinnamon
¼ TSP Allspice
2 TSP Baking Powder
¼ TSP Salt
Directions:
In large bowl combine mash banana, soy milk, and maple syrup. In separate bowl mix flour, cinnamon, allspice, baking powder, and salt. Add banana mixture to flour mixture and stir until smooth. Heat a griddle or skillet over medium high heat and grease with vegan butter or canola oil. Pour pancake batter (approx. ¼ cup) for each pancake. Brown on both sides and serve hot.
Top this yummy holiday treat with pumpkin butter and powdered sugar to enjoy!
*Variation: Add ¼ cup Vegan Chocolate Chips for an extra sweet treat!
Nutrition Analysis per Serving:
| | |
| --- | --- |
| Total Calories Per Serving: | 86 |
| Total Fat as % of Daily Value: | 1% |
| Protein: | 3 gm |
| Fat: | 2 gm |
| Carbohydrates: | 17 gm |
| Calcium: | 130 mg |
| Iron: | 1 mg |
| Sodium: | 139 mg |
| Dietary Fiber: | 3 gm |