Posted on November 30, 2009 by The VRG Blog Editor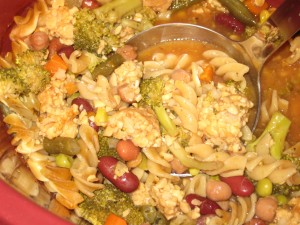 Julia Driggers, R.D., shares a recipe for a vegan stew:
Fall Slow-Cooked Stew
(Makes 8 bowls)
Ingredients:
2 cups Vegetable Broth
1 cup Tomato Juice (use low-sodium if preferred)
1 cup Water
6 oz Tempeh, diced into squares
1 Can (15 oz) Mixed Chili Beans
2 cups Broccoli Florets, Fresh
1½ cups Mixed Vegetable Melody, Frozen (or fresh if preferred)
1 TBS Olive Oil
1 TSP Mrs. Dash Original Seasoning
1 TSP Minced Onion
½ TSP Black Pepper
1 cup Dried Whole Wheat Fusilli (spiral) Noodles
Directions:
Combine diced tempeh, beans, broccoli, and mixed vegetables into a 3½ to 4–quart SLOW-COOKER. Pour broth, tomato juice, and water over top. Stir and cover. Cook on LOW 6 hours or HIGH 3 hours.
Add noodles, olive oil, and spices. Stir and cover. Cook 20 minutes longer or until noodles are done
Serve with a crusty whole wheat baguette and side salad for a delicious meal!
Nutrition Analysis per Serving
| | |
| --- | --- |
| Total Calories Per Serving: | 177 |
| Total Fat as % of Daily Value: | 5% |
| Protein: | 10 gm |
| Fat: | 7 gm |
| Carbohydrates: | 26 gm |
| Calcium: | 60 mg |
| Iron: | 2 mg |
| Sodium: | 500 mg |
| Dietary Fiber: | 7 gm |