Posted on March 11, 2010 by The VRG Blog Editor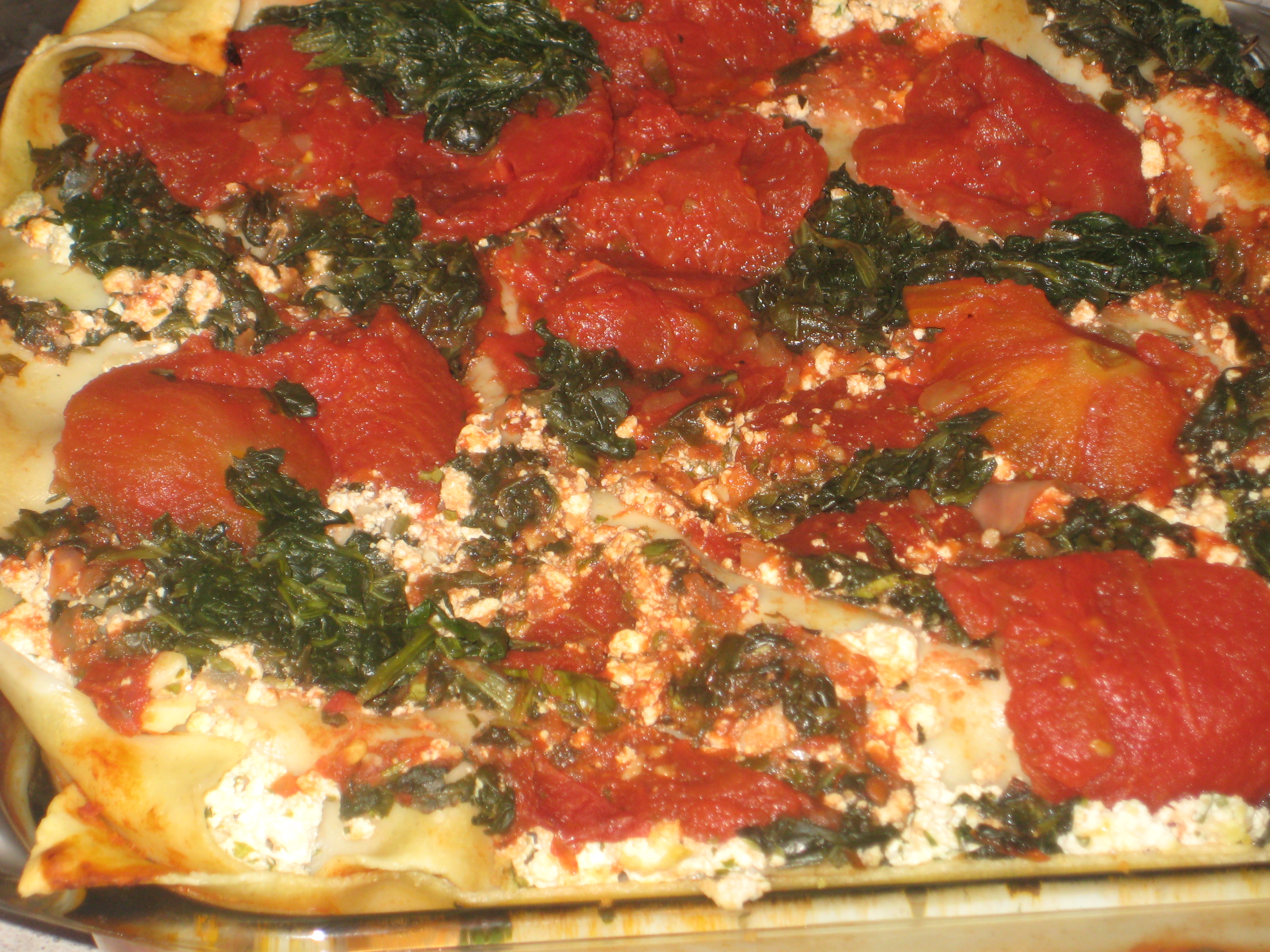 Julia Driggers, R.D., shares a recipe for vegan lasagna:
Vegan Lasagna
Serves: 4 (in 9×5 Loaf Pan)
Ingredients:
6 oz Vegan Lasagna Noodles, Whole Wheat
Sauce:
1 cup Tomato Sauce
½ cup Tomato Paste
1 TBS Fresh Parsley
½ TBS Garlic
¼ Tsp Salt
Filling:
8oz Silken Soft Tofu
3 TBS Vegan Cream Cheese
½ TBS Garlic
½ Tsp Black Pepper
¼ Tsp Salt
1 cup Fresh/Frozen Broccoli Florets
Toping:
¾ cup Stewed Tomatoes (canned)
½ cup Frozen Spinach or 1 cup Fresh Spinach
Directions:
In large sauce pan, over low heat, simmer tomato sauce, tomato paste, fresh parsley, garlic, and salt for 30- 45 minutes, stirring occasionally.
Preheat oven to 400 degrees.
While cooking sauce, in large mixing bowl mix tofu, cream cheese, garlic, pepper, and salt with washed hands or large spoon.
In a separate sauce pan bring water to a boil. Place lasagna noodles in pan. For fresh noodles boil for 2 minutes. For dry noodles boil as directed.
Once sauce is heated and noodles are cooked, place thin layer of sauce on bottom of 9X5 loaf pan. Place one layer of noodles in pan. Next layer the filling; ½ tomato sauce, 1/3; tofu spread, and layer with a ¼ cup of broccoli. Place 2nd layer of lasagna noodles and repeat filling step. Place 3rd layer of noodles. Spread remainder of tofu spread, ½ cup stewed tomatoes, and ½ cup chopped spinach evenly.
Place in oven and bake for 25-30 minutes. Remove and let stand for 3-5 minutes. Serve hot and enjoy!