Posted on September 14, 2010 by The VRG Blog Editor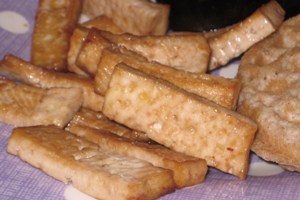 Julia Driggers, RD, shares a recipe for Breakfast Tofu Links.
Servings: 4
Ingredients
14 oz Extra Firm Tofu
¼ Cup Canola Oil
¼ Cup Apple Cider Vinegar
2 TBSP Maple Syrup
1 TBSP Agave Nectar
1 ½ TBSP Soy Sauce
1/3 cup Cold Water
Directions
Cut Tofu into thin, 2 inch strips. Set aside. In shallow Tupperware or 9 X 9 baking pan add Canola oil, apple cider vinegar, maple syrup, agave nectar, soy sauce, and cold water. Mix together to make an evenly mixed marinade. Place pre-cut tofu into long thin rectangular cubes. Cover tofu with marinade. Place Tupperware top or plastic wrap over container and put in refrigerator for 1 to 2 hrs (okay to set overnight!). Preheat oven to 375 degrees and pre-grease a baking sheet. Once tofu is marinated, place tofu strips on greased baking sheet. Place in oven for 15-17 min. When tofu golden, remove baking sheet from oven, and turn tofu to other side. Replace pan back in oven for additional 15-17 min. When golden, remove sheet and let tofu cool for 2-3 minutes.
Enjoy your tofu links beside pancakes, waffles, tofu scramble, or eat alone! It's a savory breakfast treat!
Nutritional Information
Calories: 208 kcal
Fat: 15 gm
Protein: 11gm
Fiber: 2gm
Sodium: 267 gm
Sugars: 7gm
Calcium: 45 % DV
Iron: 10% DV