Posted on December 03, 2010 by The VRG Blog Editor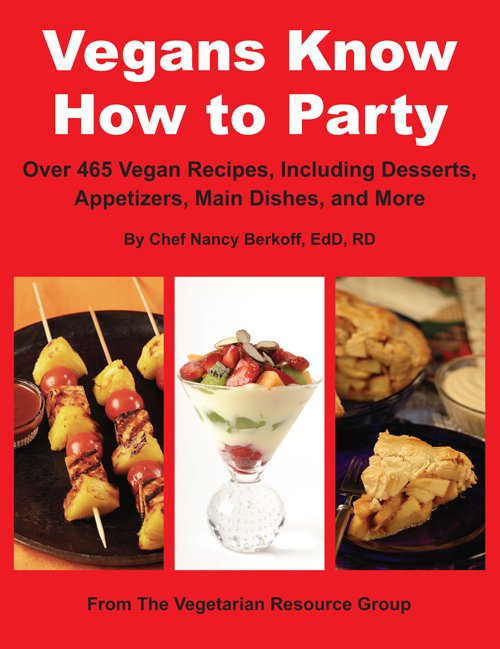 Vegans Know How to Party
OVER 465 VEGANS RECIPES, INCLUDING DESSERTS, APPETIZERS, AND MAIN DISHES
By Chef Nancy Berkoff, RD
Purchase a copy for $25.00 here
**And for a limited time, click here to order 4 books for $50 – a great holiday gift for friends and family!**
In this 384-page 8 1/2 X 11 book with color photographs, Chef Berkoff shows you how to put on a party for vegans and those who enjoy great food. Vegan Desserts include pies, tarts, cakes, cupcakes, quick breads, muffins, sauces, frostings, cookies, parfaits, puddings, cobblers, frozen treats, and more.
Nancy gives us lessons on preparing vegan "ricotta," veloute, demiglaze, and bèchamel. Sections include Using Vegan Ingredients, Basic Party Planning, Egg Substitutes, Napkin Folding, and Hiring Entertainment. Additional chapters feature Entertaining Children, Cooking for A Crowd, treats, Secrets of Cooking Large Amounts of Foods, and Sample Recipe Conversion from a small recipe to a large recipe and visa versa.
Working with a Caterer includes finding a caterer, catering concerns, helpful hints for vegetarian catering, food safety suggestions, label reading, and upscale menus. Also helpful is Party Planning for People with Diabetes.
Vegans Know How to Party has great recipes, but is certainly a reference book you'll want to have around to answer all those vegan cooking questions. Your purchase will liven your parties, as well as support vegetarian outreach.
Try:
maple apple pie
peach cheesecake
silky lemon pie
cherry tarts.
Birthday party basics include vanilla, moist chocolate, and devil's food cakes.
For brunches, Nancy starts the day with chocolate raspberry and banana
blueberry muffins. These dessert sauces and icings will spruce up any party:
vegan caramel sauce
cream cheese spread with fruit
vegan buttercream frosting
coconut frosting
lemon frosting
vegan pastry cream.
Cookie to the Max with:
glazed ginger-almond cookies
apricot and raisin bars
fudge without the oven cookies
peanut butter and jelly cookies
rugelach
sugar cookies
chocolate chip of course
pinwheels
vegan lemon squares
fudge brownies
Plus you and your guests will enjoy parfaits, trifles, mousse, cobblers, crumbles, crisps, custard, bread puddings, noodle puddings, and chocolate puddings – too many to name. For frozen desserts, Nancy gives us vegan ice cream cake, coconut-cinnamon and peppermint-chocolate frozen treats, and pineapple sorbet.
THERE'S MORE TO A PARTY THAN DESSERTS.
Nancy also shares the basics in this new book like:
stuffed grape leaves
baked "chicken" fingers
chips of all types
BBQ sauce
veggie sloppy Joes
stuffed manicotti
vegan cheeseball
raspberry vinaigrette
ranch dressing
and numerous other common party dishes…
Appetizers and main dishes span from Arepas, Gulai Daun Bayem (spinach in coconut milk), and pierogi, to asparagus with lime and onion dressing, mustard crusted tofu salad, and Octoberfest roulades. And for winter parties, warm up the guests with Komenymagos Leves (Caraway Seed Soup), Potage Crecy, and Roasted Two Pepper Soup.