Posted on January 03, 2011 by The VRG Blog Editor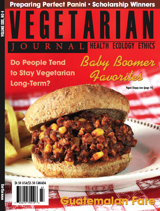 Features
Have a Panini Party
Nanette Blanchard helps you throw a grilled sandwich soirée!
Do Vegetarians and Vegans Stay Vegetarian? The 2006-2009 VRG Survey
Charles Stahler discusses who is most likely to stick with a veggie diet.
Baby Boomer Cooking
Debra Daniels-Zeller creates vegan versions of '50s favorites.
Students from Hawaii and Virginia Earn Two VRG $5,000 Scholarships
Guatemalan Vegan Cuisine
Sample some Central American recipes with Chef Nancy Berkoff.
Essay Contest Winners – First Installment
Departments
Nutrition Now's Calcium Soft Chews Assorted Fruit Variety Are Free of All Animal Products
by Jeanne Yacoubou
Notes from the VRG Scientific Department
Vegan Cooking Tips
Mashed and Stuffed Potatoes, by Chef Nancy Berkoff
Vegetarian Action
Go Vegan with Bob Linden, A Commercial Radio Show, by Rachael Prokop
Back Cover
Spanish-Language Resources from The VRG