Posted on January 04, 2011 by The VRG Blog Editor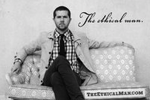 TheEthicalMan.com is a new online vegan boutique exclusively for men. Its mission: combine ethics & aesthetics.
TEM exclusively features items that are:
CRUELTY-FREE. No animals are harmed or used to make or test the items we feature.
MANLY. After all, real men don't hurt animals.
ECO-FRIENDLY. Avoiding animal products is the single-best thing any of us can do to reduce our negative ecological impact.
Currently the shop features coats, ties, bow ties, and more, with additional items being added soon.
Check out the shop here: http://www.theethicalman.com/shop.html
And TEM's page on Facebook: http://www.facebook.com/TheEthicalMan