Posted on May 17, 2011 by The VRG Blog Editor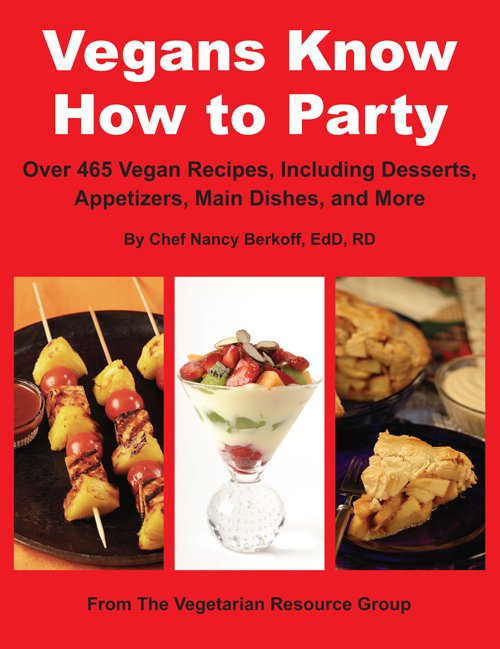 Excerpted from:
Vegans Know How to Party
OVER 465 VEGANS RECIPES, INCLUDING DESSERTS, APPETIZERS, AND MAIN DISHES
By Chef Nancy Berkoff, RD
Purchase a copy for $25.00 here
Kebobs with Pineapple and Red Pepper
Serves 10
1/2 cup lite soy sauce
1/4 cup olive oil
1/2 cup dry white wine or 1/4 cup white vinegar combined with 1/4 cup cold water
1/2 cup minced onions
2 cloves garlic, minced
1 pound 1-inch chunks extra-firm tofu, seitan, or tempeh (about 3 cups)
2 cups 1-inch pieces red bell pepper
2 cups 1-inch chunks fresh pineapple
Combine soy sauce, oil, wine or vinegar and water, onions, and garlic in a large plastic or glass bowl. Add tofu, seitan, or tempeh and marinate in the refrigerator for 1 hour. Remove tofu, seitan, or tempeh from marinade. Save marinade. Preheat grill or broiler. On skewers, alternate tofu, seitan, or tempeh with red pepper and pineapple. Place kebobs in a shallow pan. Drizzle with marinade. If using a grill, place directly on grill. Grill or broil for 3-4 minutes, just until pepper begins to brown. Serve alone, on a bed of couscous or cooked bulgur wheat, or with a fresh spinach salad.
Total Calories Per Serving: 135
Total Fat as % of Daily Value: 13% Protein: 6 gm
Fat: 8 gm
Carbohydrates: 10 gm
Calcium: 93 mg
Iron: 1 mg
Sodium: 518 mg
Dietary Fiber: 1 gm