Posted on March 07, 2012 by The VRG Blog Editor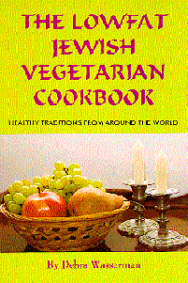 Traditionally, hamentashen are served during the Jewish holiday of Purim. This cookie is usually prepared with eggs; however, here's a vegan version which you can find in VRG's The Lowfat Jewish Vegetarian Cookbook!
Hamentashen
Serves 15
1½ cups unbleached white flour
1½ cups whole wheat pastry flour
1½ teaspoons baking powder
1/3 cup oil
2/3 cup water
½ cup applesauce
3 Tablespoons orange juice
5 Tablespoons prune or poppy seed filling (found in the baking or Kosher section of
supermarkets)
Preheat oven to 350 degrees.
Mix all the ingredients, except filling, together in a large bowl. Knead dough for
a few minutes. Separate into 3 balls. Cover balls of dough with a slightly damp towel
and refrigerate dough for about 3 hours. Remove dough from refrigerator and roll balls
of dough out to 1/8-inch thickness. Cut out approximately fifteen 4-inch rounds. Place
1 teaspoon prune or poppy seed filling in center. Form a triangle out of the dough by
folding in edges but still leaving some space in the middle of the dough for the filling to
remain mostly uncovered.
Bake at 350 degrees for 30 minutes until dough is brown. Serve.
Note: If you are unable to purchase prune or poppy seed filling in your local supermarket, simply purée a few prunes with a little fruit juice.



Need vegan recipes for Passover? Right now we are offering a special:
Get both Vegan Passover Recipes and No Cholesterol Passover Recipes for just $13 and receive FREE shipping. A must-have for every home that wants to celebrate a healthy and ethical Passover. Enjoy egg-less blintzes, knishes, apple latkes, sweet and sour stuffed cabbage and much much more.
Passover begins April 6 and ends April 14.
For ordering call (410)366-8343, send your check to VRG at P.O. Box
1463, Baltimore, Maryland 21203, or go to:
http://www.vrg.org/catalog/index.php?main_page=product_info&cPath=1&products_id=26