Posted on April 04, 2012 by The VRG Blog Editor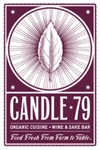 It's VRG's 30th Anniversary! Come celebrate with us at Candle 79, and hear about our current and upcoming projects!
Sunday May 6, 2:30-4:30pm
Candle 79
154 East 79th Street
at Lexington Avenue
New York, NY 10021
PRICE
$25 for paid-up VRG members who reserve by April 15
$35 for paid-up VRG members who reserve after April 15
$50 for non-members
Price includes tax and gratuity. Drinks are not included.
Seating is limited. Reservations must be made & paid in advance! Please see below.
MENU
(Subject to change)
APPETIZERS
Steamed Dumplings
seitan, shiitake mushrooms, baby bok choy, sesame-soy-ginger sauce
Angel's Nachos
corn chips, mozzarella, tomatoes, refried pinto beans, chili-grilled seitan, guacamole, salsa, tofu sour cream, romaine lettuce
ENTRÉE
(choice of one)
Stuffed Avocado Salad
baby greens, quinoa, zucchini, cucumber, radishes, black beans, toasted pumpkin seeds, grape tomatoes, chipotle-avocado dressing
Black Bean-Pumpkin Seed Burger
mixed lettuces, avocado, polenta fries, chipotle ketchup
Spaghetti & Wheat Balls
truffled tomato sauce, roasted garlic, spinach, cashew parmesan
Home-Style Pancakes
seasonal fruit, strawberry butter, gingered maple syrup
Seitan Picatta
creamed spinach, grilled potato cake, oyster mushrooms, lemon-caper sauce
DESSERT
(choice of one)
Fruit Crumb Pie vanilla ice cream
Chocolate Mousse Pie
There are three ways to reserve your seat:
Pay online at http://www.vrg.org/donate (write "Candle 79 dinner" and the names of the guests attending in the Comments section)
Pay with your Visa or Mastercard over the phone by calling us at 410-366-8343, 9am-5pm EST, Monday-Friday
Mail a check before April 27 to The Vegetarian Resource Group, P.O. Box 1463, Baltimore, MD 21203 (write "Candle 79 dinner" and the names of the guests attending in the notes section)
We look forward to seeing you there!