Posted on November 27, 2012 by The VRG Blog Editor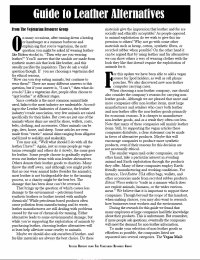 Are you a frustrated vegan or vegetarian who loves shoes, but can't find any decent non-leather options? Our Guide to Leather Alternatives tells you where to get non-leather shoes, bags, belts, and wallets. Don't forget hiking and work boots. We even answer those special questions like where to find ballet shoes, baseball gloves, biking gloves, bowling shoes, motorcycle gear, orthopedic shoes, skate shoes, tool belts, and more.
Click here to view our 2012 update to the Guide to Leather Alternatives!
Thanks to VRG volunteer Alan Polster for converting this update into HTML!