Posted on December 17, 2012 by The VRG Blog Editor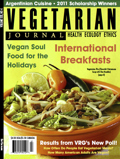 Give a holiday gift that lasts all year long: a $25 gift membership to The Vegetarian Resource Group! We'll also send a free Vegans Know How to Party book ($24.95 value) along with the quarterly Vegetarian Journal.
Go to http://www.vrg.org/donate
Under comments, write in the recipient of the gift, his/her address, any message you want us to include with the gift, and mention to send the free Vegans Know How to Party book.
Your gift membership is a great present and helps us continue vegan and vegetarian projects. Give four memberships and the fifth one is free.
You can also place your order by calling us at (410) 366-8343 Monday to Friday, 9 AM to 5 PM, Eastern Time.