Posted on July 29, 2013 by The VRG Blog Editor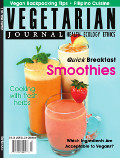 Vegetarian Journal Issue 2, 2013 is now online!
Articles included in this issue are: Cooking with Fresh Herbs; Vegan Backpacking; Starting a Vegan Food Manufacturing company. Ed Coffin, RD, shares his experience using a co-packer.; Living Among Coconuts; A Vegan in China, Part 2; Which Ingredients are Acceptable to Vegans?; Dietary advice for hot flashes during menopause.; Vegan Cooking Tips ; Quick Breakfast in a Mug or Travel Cup, by Chef Nancy Berkoff; Jim Dunn's Work with Neglected Youth, by Whitney Blomquist; Which Sugars Aren't Processed with Bone Char?
For more back issues, visit: http://www.vrg.org/journal
Subscribe to the Vegetarian Journal to receive current issues in print! To subscribe and to support vegetarian research and outreach, either:
join online with $25 USA; $35 Canada/Mexico; $45 other countries
call (410) 366-8343 and order by phone with your Mastercard® or Visa®
or complete this form