Posted on July 30, 2013 by The VRG Blog Editor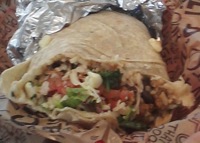 By Laura McGuiness
Chipotle is breaking new ground with their completely vegan product, Sofritas. Essentially shredded organic tofu braised with chipotles, poblanos, and a variety of different spices, Sofritas is a vegan option for both herbivores and carnivores. It is served to you in either a traditional burrito, burrito bowl, crispy or soft taco, or salad. Topped with your choice of guacamole, salsa, black beans, cilantro-lime or brown rice, and fresh vegetables, you can customize your Chipotle meal to satisfy your taste buds.
Originally, Chipotle had only released this product in California. Being a proud Californian, myself (born and raised in San Jose!) I rushed out with my omnivorous mother to try Sofritas! Both my long-term vegan self and my meat-loving mother were more than satisfied – and full!
I ordered a burrito with cilantro-lime rice, hot salsa, black beans, and Sofritas. My mother got a burrito as well, but one with brown rice, mild salsa, black beans, and Sofritas. The burritos were huge! I ate about half, gave up, and saved it for my dinner later, but even just the half I initially ate was filling. Both of us thought Sofritas was a hearty and filling substitute, making a normally banal vegan burrito exciting and substantial.
I liked Sofritas so much, that I actually went searching for it during my stay here in Baltimore before I realized it was not available on the East Coast, yet. Not to fear, East Coasters, Chipotle is expanding the product to the entire Northwest region, including Calfornia, Oregon, Washington, and Vancouver. This product is so delicious, it's bound to make it over here soon! In the meantime, if you know of anybody in the North West region, tell them to go support Sofritas! It will only make the trip to the East Coast faster with the help of your North West friends.
For more information see: http://abcnews.go.com/Health/chipotle-offers-vegan-sofritas/story?id=19807489