Posted on July 14, 2015 by The VRG Blog Editor
This Fourth of July weekend I had the opportunity to return to my hometown of Richmond to visit my family. Only three and a half hours on the Amtrak separated me from Baltimore and an awesome dinner on the patio of Ipanema Café. The café is neatly tucked in underneath an apartment complex and barber shop across the street from Insomnia Cookies. Located on West Grace Street, Ipanema is sure to please vegetarians and meat eaters alike. We walked into the dimly lit restaurant and must have looked confused. The friendly staff explained that there is only one menu and it's posted on a chalkboard on the wall of the café. Once you've decided what you want, you find a place to sit and a waiter will come take your order. We opted for the quaint patio seat outside. Each table had a beautiful mosaic decoration on it and we were shaded by a tree decorated with lights next to our seat. Our waitress came bearing water and a tall glass bottle for refills. I ordered jackfruit tacos al pastor and patiently waited for it to be served.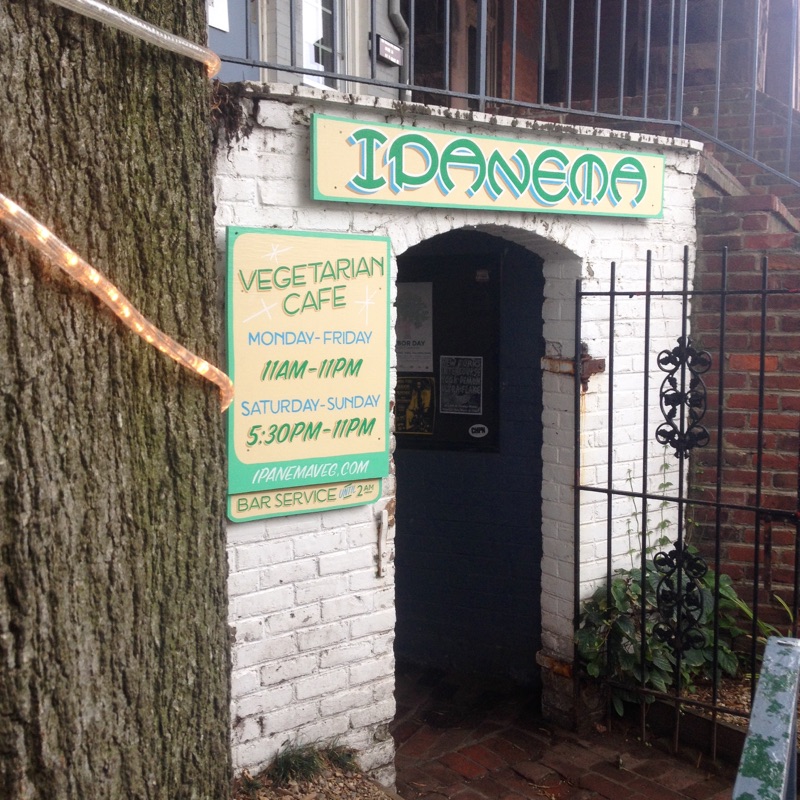 Richmond is an eclectic city and the people are the same so it was fun to sit and people watch while we waited for our food. Once served, I dug into a delicious meal bursting with flavor and spice. The black bean and corn salad was the perfect mild compliment to the spicy tacos. The potatoes were crispy and hearty side. The jackfruit was seasoned with cayenne pepper and served on two thin corn tortillas with onions and cilantro. It was similar to barbeque in the way it pulled apart easily. This was my first jackfruit experience and it did not disappoint. After I was finished, I became increasingly curious as to what jackfruit actually was. I didn't want to be a pretentious vegan and pretend to know every fruit and vegetable there ever was so I asked our waitress to explain. Jackfruit is an essentially bland tropical fruit grown in areas of Southeast Asia. It soaks up any flavor added to it and has a "meaty" texture. You can buy it in a can at Asian food stores.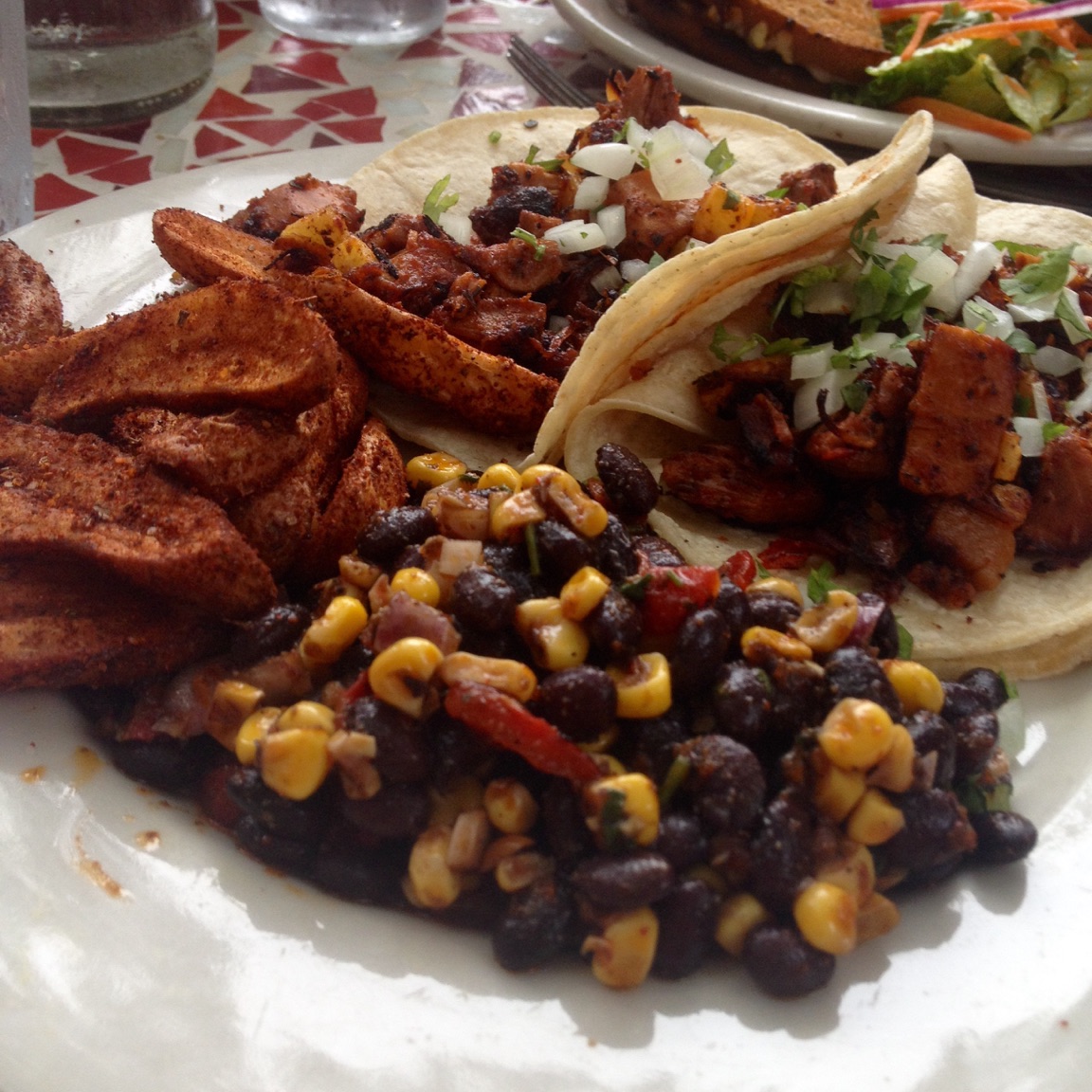 After that mystery was solved, I wondered how my parents liked their food since I dragged the meat-eaters to this vegetarian restaurant. My dad ordered the Caesar salad (sans tofu) and my mom ordered a smoked Gouda sandwich. My dad doesn't really enjoy crotons, but he said these were seasoned perfectly and tasted great especially with the crisp lettuce and vegan Caesar dressing. My mom's sandwich came with a side salad and sweet potato fries. The dressing on the salad was a homemade ginger that was light and tasty. The actual sandwich, although not vegan, was topped with tomato, thyme, and caramelized onion. Based on their clean plates, I didn't feel bad making them eat vegetarian for one meal. Looking back at their menu, I'm excited to try the hummus and fried chickpea wrap and the BBQ jackfruit sandwich next time I go. My only regret from eating at Ipanema Café is not ordering dessert.
For a list of vegetarian restaurant across the U.S. and Canada, visit: http://www.vrg.org/restaurant/index.php
Written by Anne Custer, VRG Intern.