Posted on September 16, 2015 by The VRG Blog Editor
By Jeanne Yacoubou, MS
Founded in 1995 by Zoë Cassimus using many of her original recipes from growing up in the South surrounded by her family's Mediterranean traditions, Zoës Kitchen features Mediterranean-inspired food in over 150 locations in seventeen states mostly throughout the southern, south central and southeastern United States. Visit http://zoeskitchen.com/Location.aspx for a restaurant locator.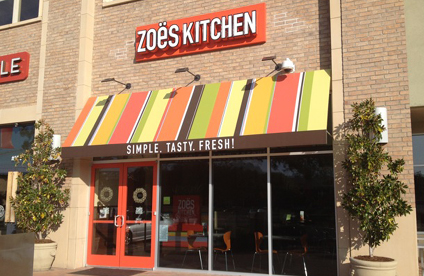 A menu page on Zoës website http://zoeskitchen.com/nutritional-info.aspx states: Click here to view our Gluten Free and Vegetarian and Vegan menu items. An icon consisting of a small circle with a "V" inside it appears next to a few menu options. On the website, the circle appears black. Nowhere on Zoës website could we find vegan or vegetarian definitions.
The VRG asked Zoës whether the black icon represented "vegetarian" or "vegan" and how those terms were used. We received this response:
A "V" laid in an orange circle denotes vegan and a "V" in a green square denotes vegetarian.
A Zoës website page with links to local menus shows the orange and green icons but does not define the terms. For example (at the bottom): http://goo.gl/MOzX04
In order to be more helpful to readers we followed up with Zoës by asking again how they define "vegan" and "vegetarian." The Content and Community Coordinator at Zoës Kitchen stated: After further research and collaboration with our Food & Beverage team, we unfortunately do not have the resources to answer the additional follow-up questions at this time. As we continue to grow, our resources will continue to expand – but right now we cannot provide you with the information you are looking for.
We will be sure to keep these questions top of mind moving forward.
Initially we contacted Zoës Kitchen in December 2014 and their same-day response from their Director of Brand Lauren Hopkins to our inquiry about doing a feature story on their vegan menu items was very positive: That sounds great! I'm happy to help. If you'd like to send questions my way, I'm happy to get answers back to you. Thanks!
At the end of April 2015 we received answers to most of our initial questions in an email sent by Kari Kriewald. Here is what she found out for The VRG: Zoës Kitchen offers hummus on its menu which "is vegan by itself" according to Zoës. The Hummus Salad Plate includes a Greek salad and cucumber raita. Patrons may request that the feta be left off of the salad. The cucumber raita is made with yogurt.
Local menus list other hummus options. The Basil Pesto Hummus is listed as vegetarian. The Red Pepper Hummus is listed as vegan. More description on the hummus offerings appear at this link from Zoës website: http://zoeskitchen.com/About-Zoes/News/news-archive-2015/News-Article-02112015.aspx
Bread products served at Zoës include a flatbread pita and a pocket pita. We learned from Zoës that Our flatbread pita is vegetarian; however our pocket pita …does contain L-cysteine…I want to state this is based on our current spec items and is subject to change at any given time.
The VRG asked Zoës about the source of the L-cysteine but the restaurant chain did not give an answer. Zoës also didn't define "vegetarian" used in the paragraph above.
We requested more information on bread products that could be ordered with hummus by asking Can the flatbread be ordered with the hummus? Does the flatbread contain dairy, egg, honey, lard or L-cysteine? What would the flatbread be served with? Is there another bread product served with the hummus and is it vegan?
Zoës didn't provide more detail. Concerned diners should ask a store manager for more information. Asking to view the product package may help; a follow-up call to the supplier may be necessary when in doubt.
Zoës Kitchen offers a Veggie Kabob which is noted with the round icon on the Under 500 menu but not so noted on the gluten-free menu. The vegan icon also appears next to this entree on some local menus. The VRG asked Zoës about kitchen protocols in order to avoid cross-contamination with animal products for vegan menu dishes and learned that before prepping any new item we use procedures for the team to use clean and sanitized cutting boards, prep space, and utensils…The vegetables are sliced and skewered by hand.
Zoës also told us that the white beans served with the Veggie Kabob or as a side dish are prepared following the same kitchen protocol to avoid cross-contamination with non-vegan items. There is a vegan icon on the menus next to the bean side dish.
There is a Spinach Roll-Up at Zoës which does not have a vegan or vegetarian symbol beside its name on the Simply 500 menu but does have a vegetarian icon on the local menu. We asked if this menu item could be ordered without cheese. Zoës replied by email that Unfortunately the spinach rollups cannot be ordered without cheese. Our current tortillas do not contain [dairy, honey or L-cysteine]; however, keep in mind it is possible our distributor could provide us a substitute product in case of an out of stock situation and we cannot guarantee this statement would hold true for any sub product. Although all subs are to be approved, it is possible a product could be subbed without us knowing ahead of time.
The Veggie Pizza at Zoës also does not have a vegan or vegetarian icon by its name on the Simply 500 menu but does have a vegetarian symbol on the local menu. The VRG wanted to know if it could be ordered as a vegan option. We learned that:
Yes it can be ordered without cheese, but they would also have to leave off the spinach mix because it contains cheese. Our flatbread pita is vegetarian; however our pocket pita which is what they use to make the pizza does contain L-cysteine. Again, I want to state this is based on our current spec items and are subject to change at any given time…Currently, our mozzarella and feta cheese uses microbial enzymes not animal-based; again, subject to change if we change suppliers or a sub is sent to the stores.
Regarding soups, side dishes and sandwiches:
"The tomato bisque is a cream-based soup…we do not have a vegan option."
"We do not use mayonnaise in our potato salad." There is a vegan icon next to it on the menu.
Neither the marinated slaw nor the pasta salad can be ordered without feta cheese because it's "in the mixture."
The Pimento Half-Classic sandwich is made with "cheddar cheese and mayonnaise."
When asked which salad dressing is free of all animal products including egg, dairy, animal flavors, seafood extracts, and honey we were told that "Our Greek dressing is vegan."
A Special Diets page on the website provides an interactive tool to identify menu options appropriate for someone who wishes to avoid certain ingredients. http://www.nutritionix.com/zoes-kitchen/menu/special-diets/premium?allergens=eggs,fish,milk,shellfish
The VRG used this tool to identify menu items without eggs, milk, fish and shellfish. "Meat" or "poultry" were not possible exclusions since they are not on the FALCPA list (Food Allergen Labeling and Consumer Protection Act of 2004)
Thus, the generated list included a few items containing chicken as well as those without eggs, milk, fish and shellfish. Ingredients are also listed on this page for some items (click through "more info" located beside the green dots on the right side of the screen) although it is not clear from the ingredients list themselves if each component is all-vegetable (e.g., red pepper pesto base). Diners may wish to ask a store manager about any questionable ingredient before ordering.
The local menu links found on the locator page after selecting a specific restaurant http://zoeskitchen.com/Location.aspx and the allergen tool results generated by our search described above included the following listings: Orzo Tabouli, Quinoa Salad -No Feta and Red Pepper Hummus.
On local menus the vegan symbol only appears next to the Red Pepper Hummus while the Orzo Tabouli Salad and Quinoa Salad show the vegetarian icon. The local menus state that the Orzo Tabouli Salad includes feta cheese.
When filtered in different ways the allergen tool lists "Orzo Tabouli" and "Tabouli Salad." Only the former appears when filtered for egg and milk absence and also when filtered for milk absence alone. Both are listed when filtered for egg absence alone. It is not clear whether they are the same menu item or not.
http://www.nutritionix.com/zoes-kitchen/menu/special-diets/premium?allergens=milk
http://www.nutritionix.com/zoes-kitchen/menu/special-diets/premium?allergens=eggs
No further information is available on these menu options. Patrons should consult with a store manager if interested.
The contents of this posting, our website and our other publications, including Vegetarian Journal, are not intended to provide personal medical advice. Medical advice should be obtained from a qualified health professional. We often depend on product and ingredient information from company statements. It is impossible to be 100% sure about a statement, info can change, people have different views, and mistakes can be made. Please use your best judgement about whether a product is suitable for you. To be sure, do further research or confirmation on your own.
To support The Vegetarian Resource Group research, donate at
https://www.givedirect.org/give/givefrm.asp?CID=1565

Join The Vegetarian Resource Group at http://www.vrg.org/member/