Posted on January 28, 2016 by The VRG Blog Editor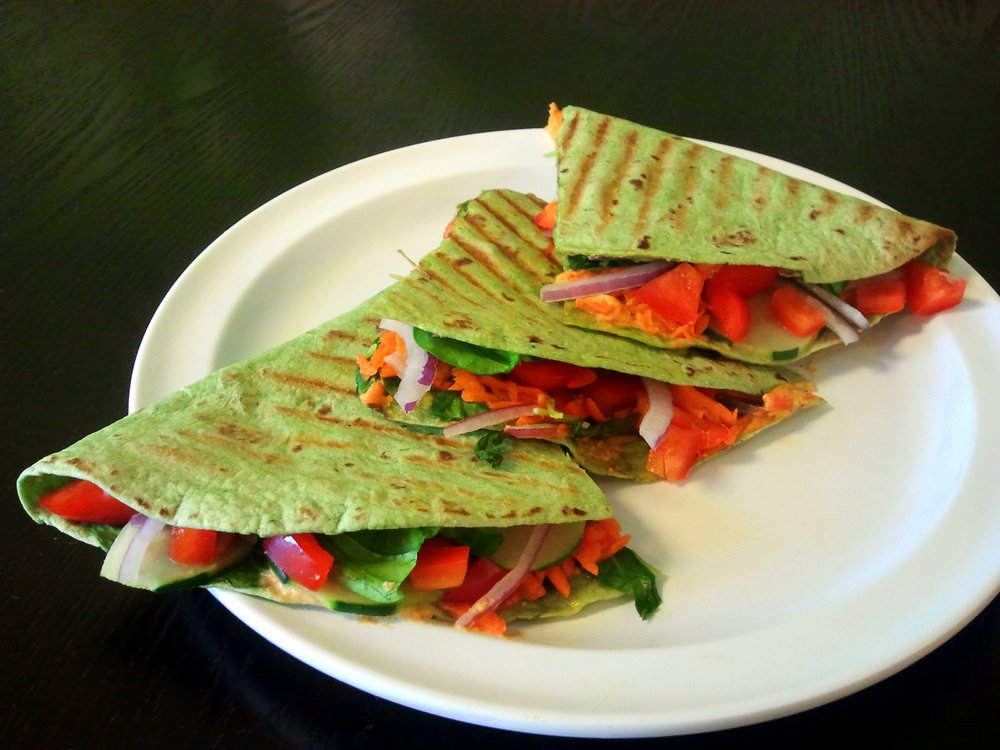 One of the very few vegan restaurants to the east of Sacramento, California is a frequent stop for me. Baagan's Rocklin location is a cafe that is 100% plant-based, offers gluten-free options, and makes all of the food in-house. As the only vegan in my household, it's rare that I go to a restaurant where I can eat anything on the menu. My regular order is the seasonal panini on the gluten-free bread stuffed with seasonal veggies (typically peppers, onions, and either eggplant or butternut squash). and basil pesto sauce. I decided to expand my horizons and was pleasantly surprised.
Besides my panini, I've tried the grilled Baagan burger, the quinoa wrap, the tomato basil pesto sandwich, the PB&J sandwich, and my new favorite, Kitchari. The Baagan burger was so full of other fresh veggies that I barely tasted the burger, but it was delicious nonetheless. The burger is filled with a cheesy sauce that has the most accurate tasting mock cheese flavor I've ever tasted. The quinoa wrap also has a mock cheese sauce, but it has a chipotle
kick to it that a lot of customers love according to Yelp. On a warm day, the tomato basil pesto sandwich is my go-to. Baagan uses fresh, local tomatoes and the same basil pesto sauce that's in the seasonal panini. The PB&J sandwich is made with almond butter and your choice of jams available that day. Its simple and a great option for kids. I had never even heard of Kitchari until my last visit to Baagan, and I'm so glad I tried it. Quinoa, millet, and lentils are nearly soaked in yellow Indian curry sauce and mixed with peas, carrots, and red peppers. I like to call it the ultimate vegan comfort food.
Overall, Baagan has yet to let me down. I've loved everything I've tried, which is a good third of the menu. I'm excited to go back to try some of their desserts, smoothies, and shakes. Check out the rest of their menu and more info on www.baagan.com. Vegan/vegetarian restaurants in the USA and Canada can be found at www.vrg.org/restaurants