Posted on February 04, 2016 by The VRG Blog Editor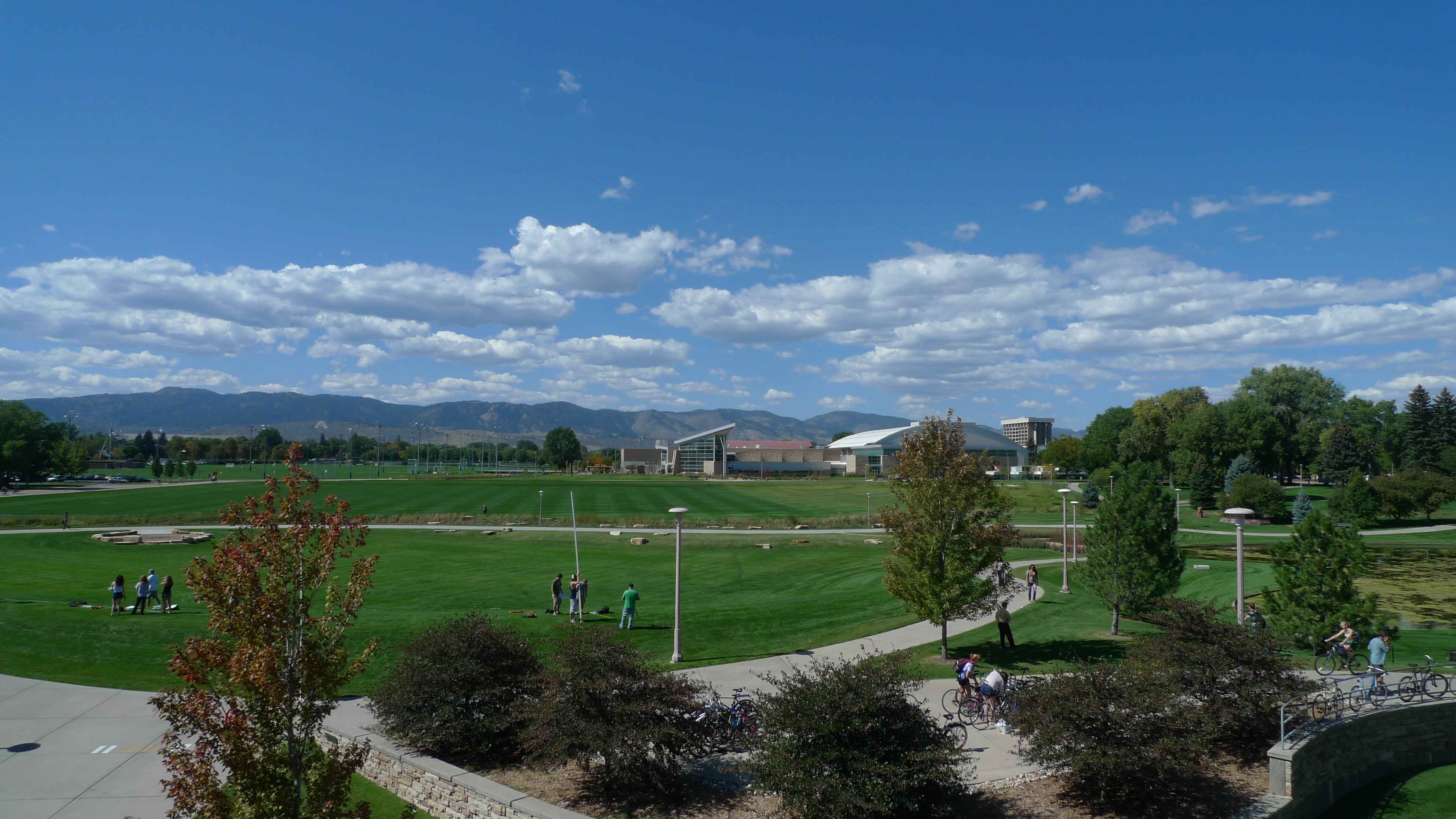 Colorado State University (CSU) is located in Fort Collins Colorado and has an excellent reputation for its animal science and agriculture programs. Many vegan students considering the pursuit of higher education at CSU may feel apprehensive about applying to an institution so intimately linked with animal agriculture. The city of Fort Collins and the surrounding area of Northern Colorado is also well known for involvement in animal agriculture. Unfortunately, Northern Colorado is home to several feedlots, dairy farms, and slaughterhouses including JBS Swift one of the largest animal processing companies in the world. You might expect that CSU's proximity to and relationship with animal agriculture could create a challenging environment for vegetarian and vegan students. However, CSU is surprisingly vegan friendly and ripe with advocacy opportunities.
Many incoming vegetarian/vegan freshmen may be worried about the on campus dining options available at CSU. I was pleasantly surprised to discover that the campus dining halls are incredibly accommodating to students who follow plant based diets. Avoiding animal products in the dining hall is made easy by the Eat Well @ CSU labeling system. This labeling system marks food items that contain no animal products as vegan, whereas the vegetarian options are those that do not contain meat or fish. The dining halls are made up of stations such as the salad bars, pasta bar, and the Mongolian grill where students are able to create delicious and healthy vegan dishes. The salad stations offer various protein packed toppings including baked tofu, edamame and sautéed Portobello mushrooms as well as many varieties of vegan quinoa, pasta, and rice salads. The deli stations can prepare sandwiches made with various veggies, hummus, vegan cheese, vegan lunch meats, vegan mayonnaise, and other vegan condiments. Vegan students can also enjoy the Mongolian Grill where they can create their own stir-fry by picking veggies, a vegan sauce, and vegan proteins (choose from tofu or seitan) atop either noodles or steamed rice. If you let the cook know you are vegan, they will separate your meal from others so there is no non-vegan contamination during cooking. Some dining halls offer a Mexican food station where vegans and vegetarians have plenty of options including build your own burritos, tacos, and taco salads with various beans, veggie taco meat, and tamales. All tortillas, beans, guacamole, and salsas are always vegan! At the pasta station students can create their own pasta dish by picking veggies, a vegan sauce, and vegan proteins (choose from tofu, seitan, or veggie crumbles) atop different varieties of noodles. The grill stations all offer a few varieties of veggie burgers as well as vegan toppings including vegan cheese. At breakfast vegan students can enjoy scrambled tofu or vegan sausage. Additionally, all dining centers offer dairy alternative milks and vegan desert options including chocolate chip cookies, dairy free gelato, and Dutch caramel apple pie. Each dining hall also provides at least one vegan/vegetarian soup per day, as well as other express options including sushi. There is also one dining center on campus (Corbett) that offers an exclusively vegan/vegetarian station for lunch and dinner during the school week! The CSU dining halls offer many more vegan options and for more information regarding the plant based dining options at CSU please visit http://housing.colostate.edu/dining. Students may also take advantage of several vegan friendly restaurants within walking distance of campus such as Tasty Harmony http://tastyharmony.com/site/, the Rainbow http://www.rainbowfortcollins.com/ and Avogadro's Number http://www.avogadros.com/.
One of the reasons CSU's dining halls are so accommodating to vegetarian diets may be partially attributed to the fact that the dietitian for housing and dining services is a vegetarian. One of her current projects is the initiation of a Meatless Monday campaign which encourages students to eat vegetarian and vegan options one day per week by increasing the number and variety of plant based options in the dining halls. Some of the exciting new vegan options students can try at CSU's new Meatless Monday events include aloo Gobi, Chana masala, mushroom and sweet potato stew, faro and braised tomato stuffed zucchini, as well as roasted cauliflower, spinach, and white bean pesto pasta!
Although CSU's relationship with animal agriculture may represent a source of discomfort for many vegan students, it can also represent an excellent opportunity for activism. CSU is home to an active animal rights group called Rams Organizing for Animal Rights (ROAR). This group can provide new vegetarian and vegan students with a friendly campus community that is accepting of their diet and beliefs. The group can also help students become involved in activism activities and volunteer work. Another excellent activism opportunity for vegan students at CSU can be found at the bimonthly JBS Swift slaughterhouse protest. JBS swift is located just 30 miles from campus and has become the target of the nonprofit organization Greeley Cow Save. This is an excellent opportunity for students who are interested in being a voice for the voiceless. Northern Colorado is also home to several other active animal rights organizations including Animal Action Network and a branch of Direct Action Everywhere.
Despite Colorado State University's intimate relationship with animal agriculture, this university is surprisingly accommodating to students with vegetarian eating patterns. Not only do vegan students at CSU have the opportunity to eat well, they also have the opportunity to join a well-established and active vegan community.
For more information about eating at college, see http://www.vrg.org/teen/#college
If you are a high school senior and looking at colleges, be sure to check out the VRG annual college scholarship contest: http://www.vrg.org/student/scholar.htm