Posted on March 23, 2016 by The VRG Blog Editor
The Vegetarian Resource Group maintains an online Guide to Vegan/Vegetarian Restaurants in the USA and Canada. Below are some recent additions. The entire guide can be found here: http://www.vrg.org/restaurant/index.php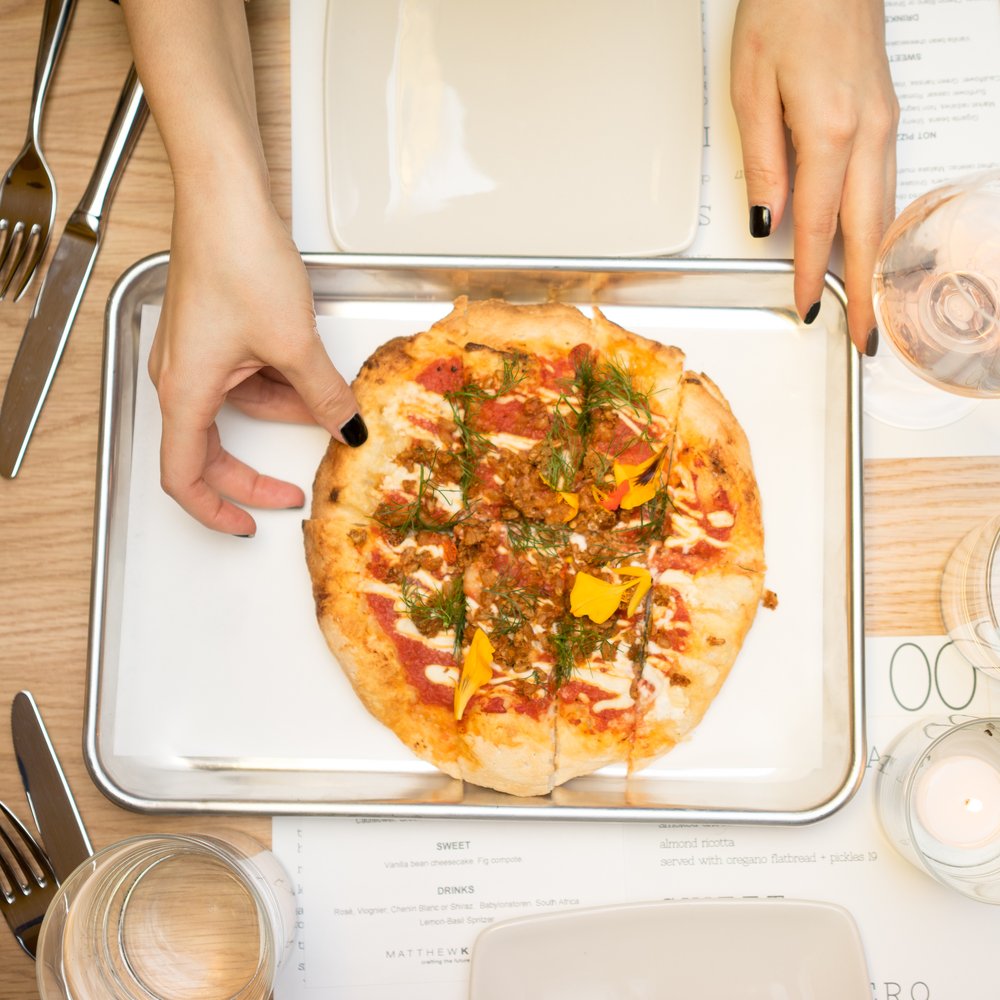 Vegan Pizza from 00 & Co

00 & Co.
65 2nd Ave.
New York, NY 10003
00 & Co is a plant-based pizzeria opened by Matthew Kenney. It offers a wide variety of pizzas that are served with nut cheeses (almond, cashew, and more!). These include pizzas with smoked oyster mushrooms, caramelized eggplant, potatoes, and more. If you are not in the mood for pizza you can choose from a variety of other options like butternut squash or a sunflower Caesar salad. You can complete your meals with organic wine, and if you are still hungry then you can treat yourself to vegan ice cream afterwards!
Asian Delights Café
2929 Custer Rd., Ste. 315
Plano, TX 75075
If you're looking for a place to eat that has a unique fusion of Asian dishes, look no further than Asian Delights Cafe. This casual restaurant provides a diverse menu of dishes inspired by Malaysian, Singaporean, and Thai cuisines. Patrons have praised the "beef" rendang, curry noodle soup, "fish" curry, and the roti with sambal sauce, which has been described as "buttery."
Go Vegan Café and Juice Bar
5875 S. Rainbow Blvd. #104
Las Vegas, NV 89118
Located next to Lake Sahara in west Las Vegas, Go Vegan Café and Juice Bar serves a plethora of vegan, raw, and gluten free options. For breakfast, one can choose from among pancakes, waffles, chia pudding, tofu scrambles, and more. There is a wide variety of lunch and dinner options, from a Mediterranean platter to pesto pizza to a BBQ "Pulled Jack" sandwich. Around lunch time, the restaurant also boasts a salad bar. Go Vegan serves five types of veggie burgers, and the menu includes Mexican and Raw Foods sections. Eclectic drink options abound, from "really super smoothies" to cold-pressed caramel coffee. The menu is also 90% gluten free. As far as physical features go, there are tables and booths for seating, as well as a garden and a fountain.
Half Peach Bakery
4121 Oechsli Ave.
Louisville, KY 40207
Half Peach Bakery is a bakery that emphasizes the use of natural and homegrown ingredients, all of which are free of animal products. They offer a variety of soups, sandwiches, salads, and sweets. This includes a rice noodle soup, which is made with rice noodles, tofu, carrot dumplings, and other veggies served with a spicy black bean sauce. Their sweets include cookies, macaroons, energy bars, and more!
Handy Diner
2958 Downing St.
Denver, CO 80205
Located across from the light rail, Handy Diner serves traditional diner comfort food, 100% vegan. Dishes include breakfast burritos, chickpea fried steak, and biscuits and gravy. Handy Diner breaks the stereotype of light vegan meals.
Jungle Café
996 Manhattan Ave.
Brooklyn, NY 11222
Located between Huron and Green Street, Jungle Cafe is a vegan restaurant with a wide-ranging menu. For an appetizer, start out your meal with some vegetable spring rolls. Follow with an entree, like their gluten-free beet burger, chili sin carne stew, or a Rainbow Raw Bowl. Accompany the dish with a fresh smoothie, and finish with a dessert, such as their seasonal vegan pie with homemade vegan whipped cream. Don't miss happy hour, which gives a discount on their well-known buffet. Jungle Cafe also has a children's menu.
Seabirds Kitchen
2930 Bristol St.
Mesa, CA 92626
Seabirds Kitchen is a product of the wildly popular food truck by the same name. This completely plant-based restaurant features a menu with seasonal ingredients and creative mainstays. Choose from fun options like the Beer Battered Avocado Tacos or the Holy Smokes Bowl (with barbecue jackfruit). Brunch menu available on Sundays. Accepts reservations.
Vo2 Vegan Café
1001 Massachusetts Ave.
Cambridge, MA 02130
The chef and owner runs a yoga studio and wanted to add a vegan restaurant and smoothie shop on location too! The menu includes breakfast and lunch items, and they are open late into the afternoon if you want an early dinner. Almost all menu items are made from scratch in-house such as pesto, nacho cheeze, veggie burgers, and eggless salad. They also have coffee, tea, and smoothies made to order. Don't forget to check out the selection of packaged vegan snacks and desserts to take home with you.
Wild Rice Vegan Café
71 Elm St.
Watertown, MA 02472
Run by Chef Pankaj Pradhan, Boston's Wild Rice Café is the place to go if you are looking for gourmet-style vegan food, in a small well-lit restaurant with a community feeling. Their menu, available online, features high-quality photographs and mouthwatering descriptions. Most of the dishes seem to be classy twists on traditional American or International dishes. For breakfast, for example, a "crepe suzette" is described as "a whole wheat crepe filled with sliced banana and toasted walnuts. Topped with Cointreau-infused orange reduction and chocolate drizzle." You can also try some Uppma–south-Indian inspired stone grits. For lunch, options include Tempeh "crab" cakes, a Texmex enchilada, or a "Mantra wrap," bundled in South Indian Roti flatbread. Their menu also includes a number of gluten-free options.