Posted on July 01, 2016 by The VRG Blog Editor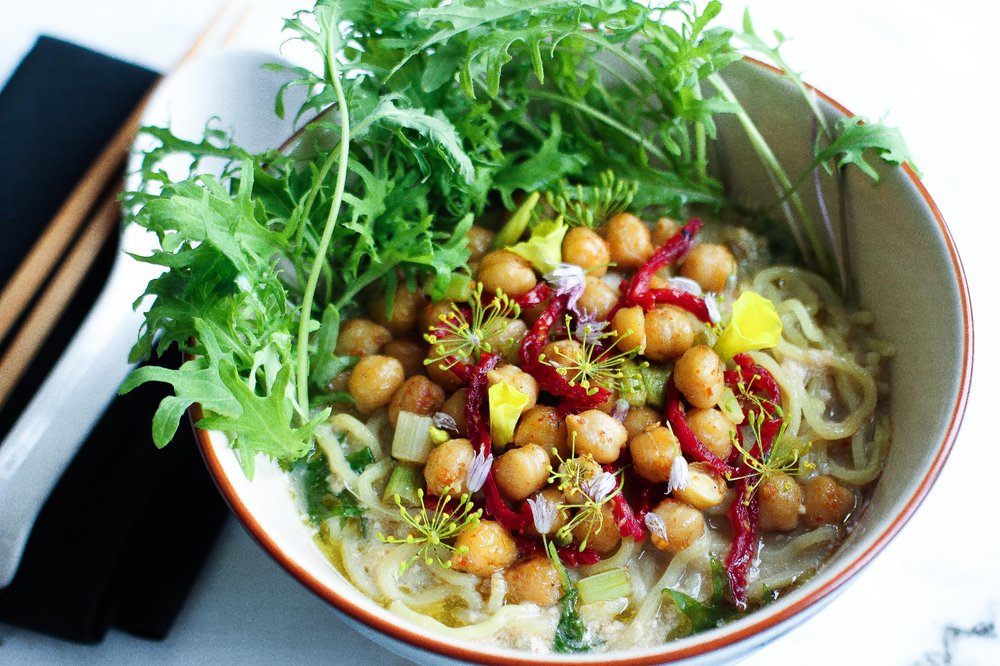 The Vegetarian Resource Group maintains an online Guide to Vegan/Vegetarian Restaurants in the USA and Canada. Below are some recent additions. The entire guide can be found here: http://www.vrg.org/restaurant/index.php
To support the updating of this online restaurant guide, please donate at:
www.vrg.org/donate

Arata
108 Main St.
Belfast, ME 04915
Arata opened in a historic building, The Gothic. They serve fresh bowls, buns, and summer dishes along with cocktails and organic wines. Some of their dishes include Heiwa Tofu served with mustard miso, pickled chile, and napa cabbage and Garbanzo Ramen, which is served with kale, chickpeas, and sundried tomatoes. Stop in for healthy, flavorful food in a unique atmosphere.
Nanashake
4750 Yonge St. Unit 134
Toronto, ON M2N 0J6
Nanashake treats are gluten and dairy free and are offered as soft serve or popsicles. Their proprietary ingredients include Fair-trade bananas and nuts. The most popular shake is the Abbogoto, which includes a shot of espresso. Chocolate and strawberry flavors are also popular.
Screamer's Pizza
620 Manhattan Ave
Greenpoint, NY 11222
Enjoy vegan pizza and calzones! Cheese is made from tapioca and coconut oil and the sausage from seitan and spices. Pizza varieties include Margherita, Hawaiian, and Supreme with DIY slice toppings like almond ricotta, caramelized onion, broccoli rabe, seitan sausage, avocado and kale pesto, with options to go Calzone or Sicilian Style. The house-named, "Screamer," features garlic oil, cheese, cremini and oyster mushrooms, and homemade almond parmesan. This pizzeria is a partner of Philadelphia's Blackbird Pizza.
Screaming Carrots
826 W. Hallandale Beach Blvd.
Hallandale Beach, FL 33009
Screaming Carrots opens mid-morning and serves breakfast where the Tofu Scramble is a popular item. Lunch and dinner service includes the popular Glass Noodles; the noodles themselves are made from green beans, southeast Asian-style, with seasonal vegetables and shredded tofu. Another popular dish is stir-fried vegetables, also southeast Asian-style. Gluten-free options are available. A raw nut shake made from walnuts, Brazil nuts, pumpkin seeds, pecans, coconut, dates, and almond milk is available. You may also choose to start your meal with the mushroom in coconut milk soup.
Seed To Sprout
560A River Rd.
Fair Haven, NJ 07704
Seed to Sprout specializes in vegan food with plenty of raw options as well. Along with their entrees, Seed to Sprout also offers a juice and smoothie bar and baked goods right at their counter. Everything they offer is incredibly tasty, ranging from live, raw Margherita pizza, to their "bacon cheddar" melt, or their many different lattes and smoothies.
Veg Box Café
75 E. Pennington St.
Tucson, AZ 85701
Veg Box Café is not only vegan, but is also entirely soy-free, GMO-free, and gluten-free. Affordable, delicious, and extremely welcoming, Veg Box Café offers tasty food (with raw options!), juices, smoothies, and baked goods. Enjoy a meal of Squash Fettuccine Pomodoro, Sweet Chile Fries, a Mushroom Burger, their "Starburst" Chia Fruit smoothie, or a black bean brownie.
Veganic Thai Café
1417 University Ave.
San Diego, CA 92103
Vegan Thai Cafe offers an extensive menu including appetizers, soups, curries (including pumpkin!), noodles & rice, and stir fry. Drunken noodles with mock duck or beef are customer favorites. The curries are also quite popular. Mock seafood, including squid, shrimp, and abalone are also available.