Posted on July 22, 2016 by The VRG Blog Editor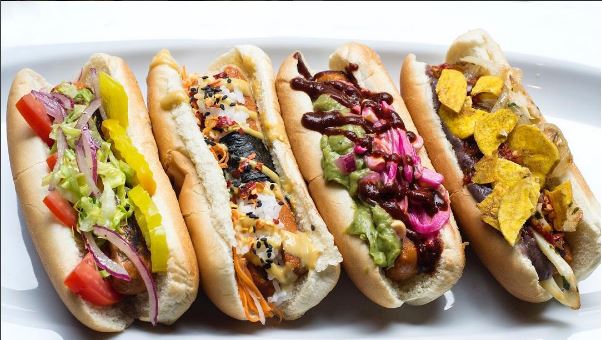 The Vegetarian Resource Group maintains an online Guide to Vegan/Vegetarian Restaurants in the USA and Canada. Below are some recent additions. The entire guide can be found here: http://www.vrg.org/restaurant/index.php
To support the updating of this online restaurant guide, please donate at:
www.vrg.org/donate

Belem Café
4409 Boulevard Saint-Laurent
Montreal, QC H2W 1Z8 Canada
Located near a Yoga Studio, this café serves seasonal vegan food including Acai bowls, smoothies, granola, salads, sandwiches, and more.
Berben and Wolff's Vegan Delicatessen
227 Lark St.
Albany, NY 12210
Making all of their proteins in house, their vegan "deli" offerings include these best sellers: Seitan Pastrami Rueben, Popcorn Mushroom Po' Boy, Wing Burger and BBQ Pulled Jackfruit. The Wing Burger, which gets high marks from customers, is a chicken-style Seitan patty, breaded in panko and spices. They also offer a breakfast sandwich with Daiya cheese, faux ham, and sriracha hollandaise on a bun.
Fare Well
406 H St. NE
Washington, DC 20002
Fare Well is a vegan restaurant, bar, and bakery. It is the second offering from chef and owner Doron Peterson who is also the owner of the award-winning vegan bakery Sticky Fingers Sweets & Eats in Columbia Heights. At Fare Well, Peterson is joined by a small, passionate team of fellow chefs who have worked to recreate classic American diner foods and Mediterranean fare with only plant-based ingredients. The restaurant also offers a kid's menu, vegan shakes, specialty cocktails, and coffee in a sleek yet subtly retro setting.
HipCityVeg
712 7th St. NW
Washington, DC 20001
This restaurant focuses on using organic and non-GMO soy ingredients to create a fast-food inspired menu. Try their vegan-ized Philly Steak, made with pulled steak, grilled onion, mushroom, lettuce, tomato, and ketchup, all served on a wheat roll. They also offer their Bistro Bella, a burger composed of grilled portabella, herb Dijon glaze, olive tapenade, red onion, tomato, artichoke, and arugula. In addition, try their vegan "chicken" nuggets with a side of sweet potato fries. Finish off your meal with one of their chocolate, orangesicle, or vanilla-flavored soy milkshakes!
Holi Vegan Kitchen
3099 NE 163rd St.
North Miami Beach, FL 33160
Holi Vegan Kitchen provides plenty of gluten-free and oil-free options with the goal of promoting a nutritious and healing whole-foods diet. They have an entire menu dedicated to breakfast including, but not limited to a gluten-free pesto garden scramble, a raw fresh super acai bowl, and gluten-free buckwheat banana pancakes. For a main dish, try their oil-free avocado and chickpea salad wrap or a mushroom grilled cheese with homemade cashew cheese. Accompany your meal with one of their refreshing live juices, including one made with pineapple, green apple, cucumber, and mint.
Love Livin
Pilgrim Terrace, Charlotte Amalie
St. Thomas, US Virgin Islands 00802
Enjoy raw dishes including kale salad, nori rolls, bbq kale, platters, and more. They also serve smoothies. Hours sometimes vary, so call ahead.
On The Go Organics
600 S. Wolfe St.
Baltimore, MD 21231
Enjoy organic raw cuisine including juices, smoothies, nut milks, and dishes such as Zucchini Pasta with Walnut Neat Balls, Curry Collard Green Wrap, Garden Lasagna, Middle Eastern Platter, and Grande Taco Salad. Also try one of their desserts including Key Lime Pie, Blueberry Cheese Cake, or Coconut Cream Pie. For breakfast dine on Apple Blueberry Macadamia Porridge or Apple, Strawberry, Pecan, Porridge. They are located in Fells Point.
Rock Salt Creamery
16 Parker Hill Rd.
Sanbornton, NH 03269
Despite the name that implies "cream," Tom Morrison offers these vegan dessert options, which are made from a cashew base. There are nearly 30 flavors, made from natural, almost all-organic ingredients like the more traditional strawberry, raspberry or chocolate, or something a little more out there, like carrot or lemon basil. They are located on a farm.
The Flying Falafel
1051 Market St.
San Francisco, CA 94103
and
919 Meridian Ave.
San Jose, CA 95126
The Flying Falafel serves up a wide variety of Mediterranean sides and toppings for their falafel. Simply order a pita, wrap, or plate and let them know what toppings to include. Falafel can be ordered original or spicy. Gluten free options available. Note that you can order food before arriving through their website!
The Phoenix Veg Cafe and Juice Bar
650 Castro St. #130
Mountain View, CA 94041
The Phoenix offers a vegan buffet with a full complement of food groups. Starches (couscous, basmati rice, penne pasta), Veggies (mixed veggies with coconut curry cauliflower), and Main Course (baked eggplant oregano, black beans with seaweed and tofu). There is also an a la carte menu available all day: among the popular items are the Tofu and Avocado Rice Bowl, the Mediterranean Quinoa Salad, and the Phoenix Sandwich (avocado and eggplant). Favorite signature juices include "Serious Green" (Kale, Celery, Cucumber, Apple, Lemon) and Iron Blood (Carrot, Apple, Celery, Kale, Beet, Lemon). Among the smoothies, you can try the popular Marrakech (Almond Milk, Banana, Dates, Nuts, Raw Cacao) or Forever Young (Mango, Pineapple Acai, Banana).
The Sanibel Sprout
Bailey's Center
2463 Periwinkle Way
Sanibel, FL 33957
The Sanibel Sprout is a locally-owned restaurant located on Sanibel Island off of the West Coast of Florida. This charming spot offers a menu that is entirely vegan, organic, and gluten free in a down-to-earth and friendly environment. The Sprout prides itself on its extensive selection of hand-crafted juices which are available both pre-made and freshly squeezed. The lunch and dinner menu offers an array of ethnic fusion food from Indian-inspired soups and curries to Mexican salads to Italian pasta dishes with a healthy twist. Dessert consists of a variety of colorful vegan and gluten-free confections from their bakery. In addition to its dining options, the Sprout has a gift shop and even hosts a weekly organic farmer's market.