Posted on July 25, 2016 by The VRG Blog Editor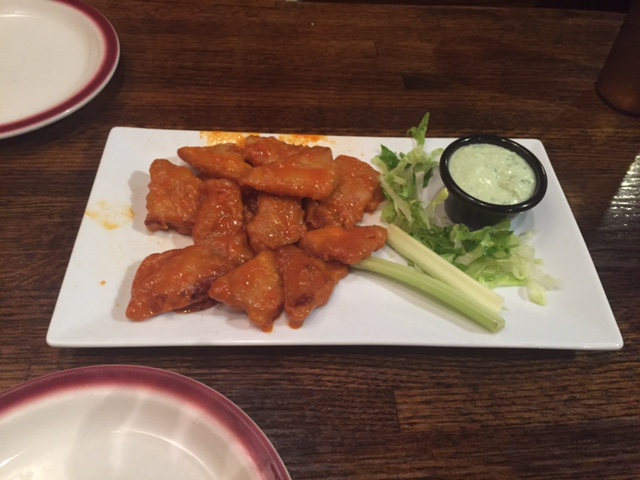 By Heather Francis
The other evening, my girlfriend and I went to Kaya's Kitchen in Belmar, New Jersey. It's funny because she has lived close by Belmar all her life and had no idea this all-vegan restaurant existed. We tried it out, and fell in love with the place. Walking in I noticed a table to my left full of pamphlets, business cards, and magazines of events and businesses in the area related to health and fitness. Already I knew I was going to consume a great meal.
We sat down in a booth. I'd like to mention how it took us maybe twenty minutes to choose what to get because of how overwhelming the menu was and it's COMPLETELY vegan. Stroganoff? Enchiladas? Wings? Seitan Ribs? Seitan Steak? There was so much to choose from.
My girlfriend recently became vegan and had never been to a vegan restaurant before, so for her it was an entirely new experience. We ordered a take on her favorite meal — an appetizer of Tempeh Wings. They were spicy, and the breading wasn't too heavy. The "ranch" was my favorite part. We devoured most of them and prolonged the last two on the plate. We moved onto our second course almost immediately which was a shared plate of Hungarian Perogies.
The perogies with the creamy Hungarian sauce along with onions and spinach, created a savory and absolutely delicious sensation. I was filled almost completely just eating half the plate. We definitely took our time eating the perogies but overtime they disappeared. I was left heartbroken.
When finished, our waitress brought over the dessert menu, which was on a miniature chalkboard. There was an assortment of vegan cupcakes and a tempting chocolate cake, but my stomach was too full to handle dessert.
Probably the best part of the atmosphere of the restaurant included the live music that started before we paid our check. There was a band playing instruments and singing on a small stage in the corner in the back of the restaurant. We waited just long enough to hear a few songs. Before leaving, I noticed how the customers in the restaurant doubled in size since we got there, almost filling every seat. I wondered how many people there were vegan themselves.
The food may be a bit pricey, but it's also a lot of food that can be shared with whoever you go with, or you can take half of it home. The service, the music, and the food is worth a trip over to Kaya's Kitchen if you're ever in Belmar, New Jersey. On the plus side, it's also a few minutes from the beach. I know for a fact I'm going to return to Kaya's Kitchen. The idea of eating vegan stroganoff still intrigues me.
If interested, please visit their website: http://www.kayaskitchenbelmar.com/
For more information on other vegetarian/vegan restaurants please visit: http://www.vrg.org/restaurant/index.php