Posted on August 10, 2016 by The VRG Blog Editor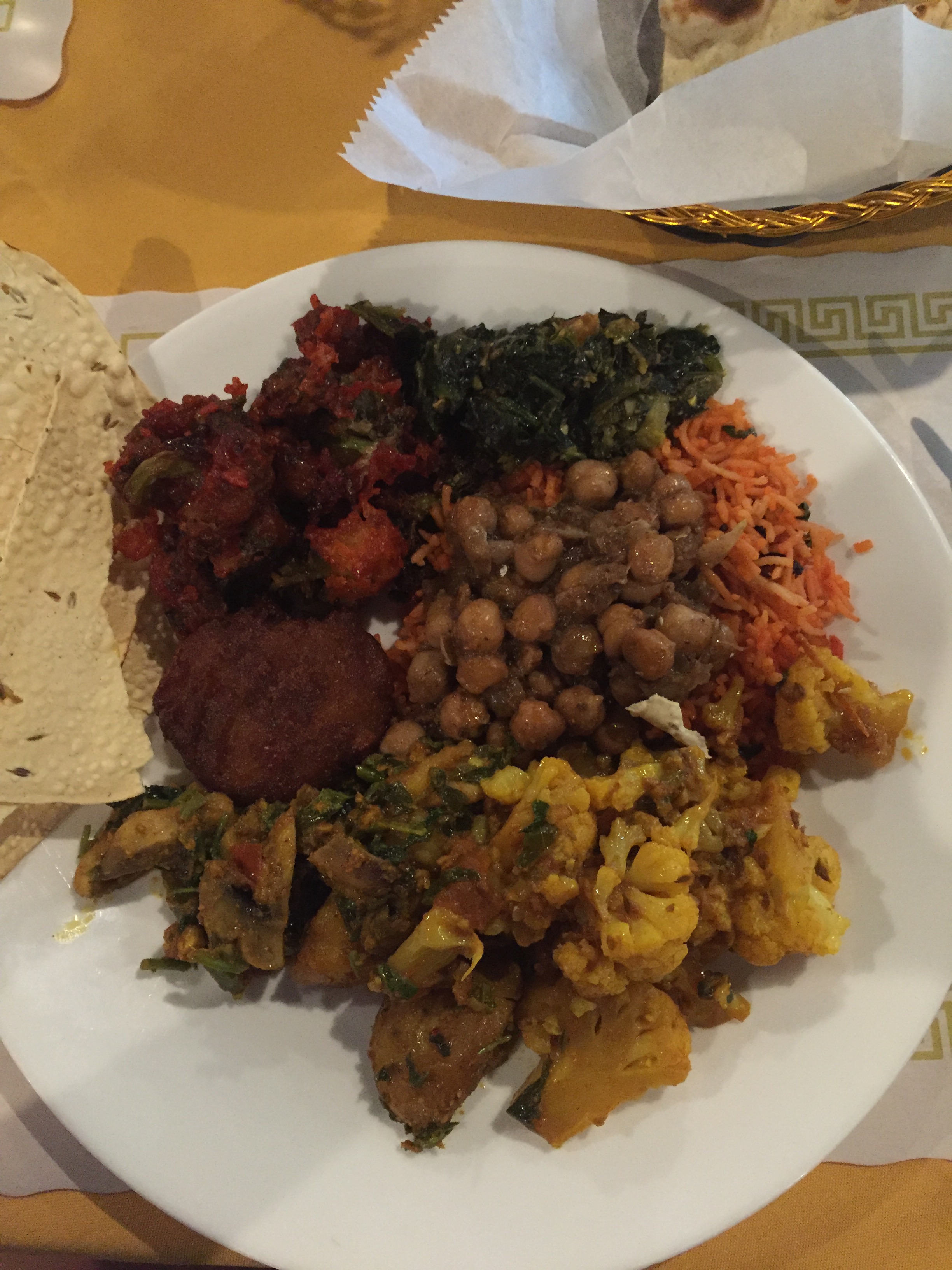 By Heather Francis, VRG Intern
There was no wait or pause walking into Mango Grove (a vegetarian restaurant), in Columbia, Maryland. We were seated right away, and we were then pulled right over to the lunch buffet to start eating.
When told I would be eating at an Indian lunch buffet, I was expecting limited options. Instead I was pleasantly surprised with the amount of dishes that were prepared. As we were being seated, we were asked if we were vegetarian or vegan. Then following the question, we were shown which of the items on the buffet weren't vegan. There were only two, which left a whole line of options for us vegans and no complaints.
My favorite part was the huge tray of channa masala on the buffet line. My first plate (of two) consisted of tomato rice, broccoli, channa masala, cauliflower curry, mushroom and potato curry, potato pancake, and their vegan version of naan. It took me awhile to get through the first plate, but I scraped off every last bite. I am a personal fan of curry, so for me, it was easy to devour the food in front of me. Adding a second plate was difficult, but I powered through. Even though I was full two bites in, I couldn't let the food go to waste. The only motive I had moving forward during consuming the meal was the fact I was eating a plate full of vegetables and it was delicious.
The ambiance of the restaurant added to the perfect lunch, as the staff were superb in providing service. Our glasses never stayed empty, and once we finished a plate, they were cleared right away.
Overall I would have to say, this Indian restaurant integrated into my list of my favorite Indian places to eat. Even though it's a half an hour away from the city of Baltimore and Washington D.C, it's a perfect place to check out if you are craving healthy, spicy, and satisfying Indian food. It's 100% worth the drive. The all-you-can eat lunch buffet is available every weekday from 11:30 to 3 p.m, and it's only $11.95 a person. With the amount of food that is given, it is definitely worth it for a super filling meal.
For more information on this restaurant please visit: http://themangogrove.net/index.html
If you would like to learn more about dining veggie dining options in the USA and Canada, go to the VRG's online restaurant guide at www.vrg.org/restaurant/index.php
To volunteer with maintaining our restaurant guide, contact Brigette at vrg@vrg.org