Posted on August 11, 2016 by The VRG Blog Editor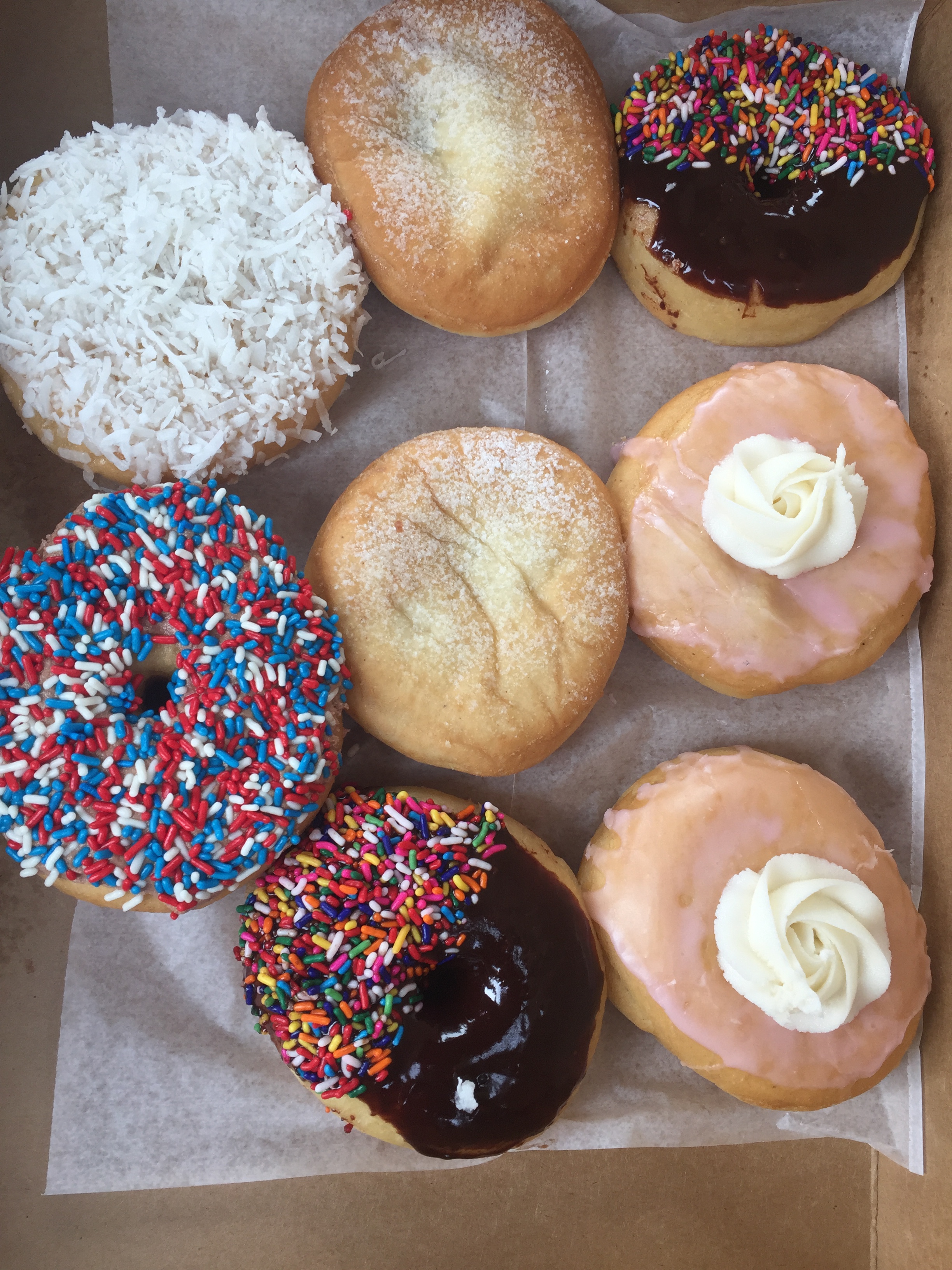 Frederick is an hour drive from Baltimore, Maryland but that didn't stop Alicia (another Vegetarian Resource Group intern) and I from traveling to Glory Doughnuts early on Friday morning. Since the moment I started working at The Vegetarian Resource Group, I had been told to find a way to sample these vegan doughnuts. We heard how amazing the doughnuts were from numerous people, but we also had been told that to be able to purchase a doughnut, we had to get there super early before they ran out. Our volunteer coordinator, Brigette, once traveled there to find the doughnuts sold out at 10 a.m. Instead she ordered cast iron pancakes, which she found to be phenomenal. She wasn't even mad they were sold out of doughnuts, because of how awesome her pancakes were.
Alicia and I were determined to get there before the doughnuts sold out, so we left at about 7:30 am to get there around 8:30 am. The drive from Baltimore was surrounded by trees and no traffic bothered us on the way there. Reaching Frederick, we were impressed by the beauty the small historic village embodied. When we found Glory Doughnuts on the corner of Church Street, I silently squealed of joy. There were small red tables with chairs on the outskirts of the shop.
When we walked in, there was no one in the store and so we took our time looking around the doughnut shop and looked at each doughnut, which the case still held a lot. A few minutes went by, and a rush of people came in behind us. There were seven options to choose from:
Key Lime Pie
Whiskey Crème
Strawberry Rhubarb Jam
Cabana (coconut)
Chocolate Frosted
Rosewater Glazed
Traditional Chocolate w/ Jimmies
I purchased eight doughnut:, two of Strawberry Rhubarb Jam, Rosewater Glazed, and Traditional Chocolate w/ Jimmies. Then I got a chocolate frosted and Cabana Coconut. No I did not eat them all in one sitting…but I probably could have. The doughnuts are $3.50 each for the deluxe, and $3 for the classic, and they are worth every penny.
Alicia ate two of them before noon–one Key Lime Pie and Traditional Chocolate w/ Jimmies. They had a perfect texture and tasted better than a simple doughnut from a store. The Rosewater Glazed is a hit. Since Brigette wasn't able to try the doughnuts last time she traveled there, we brought her one and she indulged in the rose water. She was expecting it be super sweet, but instead complimented how it tasted as one would expect a rose to. A unique flavor as Debra (VRG Co-Director) put it.
I highly recommend the drive to anyone who is considering trying Glory Doughnuts. The staff were extremely friendly and the atmosphere of the small shop made me want to eat there for breakfast, lunch, and dinner. The biggest recommendation I can make is to get to Glory Doughnuts as early as possible, as they sell out their doughnuts quickly from what I've heard. After traveling back to the office, I went to go like their Facebook page and saw they were sold out by 10 am that day. Even if they are sold out though, I wouldn't be bummed out because their menu has amazing options such as the cast iron pancakes and salted apple pie stuffed French toast.
Personally, I haven't had a doughnut since I became a vegan, which has been over a year and a half ago. I haven't complained about it, but when I heard that a vegan doughnut shop was in an easy reach from me, I could not pass up the opportunity to taste these famous vegan treats.
For more information on Glory Doughnuts please visit their website: http://www.glorydoughnuts.com/
And their facebook: https://www.facebook.com/GloryDoughnuts/home
If you would like to learn more about dining out in Maryland as a vegetarian/vegan, go to the VRG's online Maryland restaurant guide at: http://www.vrg.org/restaurant/Maryland.php or visit our national restaurant guide at: www.vrg.org/restaurant/index.php