Posted on September 14, 2016 by The VRG Blog Editor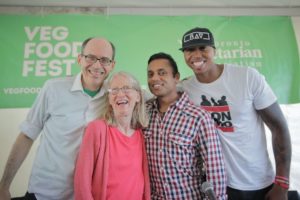 Here are Reed's comments after the event:
Thank you to the Toronto Vegetarian Association (TVA) for inviting me to speak at their wildly successful Veg Food Fest. While in Toronto, I learned that the TVA was founded in 1945 and that this was the 32nd Veg Food Fest. The Fest has a beautiful venue at Harboufront Centre on the shores of Lake Ontario. Although more than 50,000 people attend the festival, it is so well-run and there are so many helpful volunteers that lines move quickly and it is easy to get from one area to another. Vegan food is celebrated at the festival with lots of free samples and cooking demos. Name a cuisine and it's likely that you'll find it being sold. I saw Ethiopian, Indian, Chinese, Mexican, French, Rastafarian, Greek, and so much more in addition to vegan burgers, dogs, pizza, mac and cheese, doughnuts, cheesecake, ice cream, cookies, and on and on. It was hard to decide between all the delicious choices but I enjoyed a souvlaki wrap from Through Being Cool Baking Co. and a kale salad with roast chickpeas and a tahini dressing from Green Zebra Kitchen.
Besides great food, the festival also features many non-profits and an extensive book store. I was honored to be on a panel with Michael Greger, MD; Tushar Mehta, MD; and fitness guru John Lewis. We spoke to a capacity crowd about vegan health and nutrition. The next day I spoke about raising happy and healthy vegan children. Reed also commented: You can't tell it from the photo but we were under a big tent with a crowd of several hundred people, more outside, about 90 degrees and 100% humidity!
Mark your calendars now – TVA's Veg Food Fest is an event not to be missed. It will happen next in Fall, 2017. In the meantime, check out their Vegan Bake-Off and Veggielicious in the spring.
The photo from the panel was taken by Alex Bez
Instagram: vegan_eh