Posted on October 06, 2016 by The VRG Blog Editor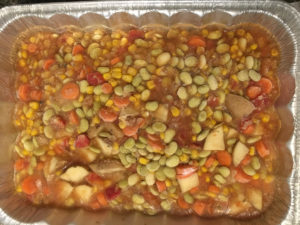 By Casey Brown, VRG Intern
Our Daily Bread is a soup kitchen located in Baltimore that provides full meals and additional services to men and women in need in Baltimore City. Local churches, groups, and individuals donate casseroles, and many others volunteer their time in order to allow this program to serve over 600 people every day.
As an intern with VRG, I baked vegan casseroles to donate to Our Daily Bread. The vegan recipes are provided on their website (http://www.catholiccharities-md.org/our-daily-bread/odb-food-service/favorite-casserole-recipes.html), and they are each very easy to make! The first time I made the casseroles, I prepared one of each of the recipes: the Sweet Potato and Black Bean Casserole, the Brunswick Stew, and the Creamy Bean and Potato Casserole with Carrots. This past week, I made two of the Brunswick Stew recipes to donate. Each of the recipes are easy to make, and they use simple ingredients that are often frozen or canned, requiring minimal preparation and cost. While cooking, I would prepare the ingredients for one casserole while another one was in the oven or on the stove cooking. This allowed me to make the most effective use of my time, so I could prepare multiple dishes in one afternoon. Each of the recipes take less than an hour to prepare and cook individually. I thought it was easiest when I made the same recipe twice since I was able to prepare all of the ingredients in bulk, and I was familiar with the cooking process, so it allowed me to prepare them even quicker!
My mom joined me when I was preparing the casseroles since she enjoys cooking and wanted to support the cause as well. She thought these recipes were very easy to make and hopes to continue making them in the future. Since I live about an hour away from Baltimore, I decided to keep the casseroles in my freezer until I was planning to go to the area, which worked out well because they wanted them frozen. When dropping off the dishes, they should be frozen, wrapped in aluminum foil, and clearly labeled with the recipe name.
While we were dropping off the casseroles on both occasions, we were able to visit the center. It was amazing to see the facility and the generous work that they do. Not only do they provide meals to over 600 people everyday, but they also have additional programs to help get people back on their feet and back into employment. The organization is primarily made up of volunteers, and they heavily rely on people's generosity towards this program. The staff was very appreciative of the vegan dishes since it allowed their visitors to have a wider selection, and it provided a healthier meal option. The volunteer coordinator mentioned the need for more vegetarian options, stating that 200-230 of the 600+ people they serve daily prefer these choices.
If you are looking for a way to get involved in your community or be able to make a difference in someone's life, then you should consider donating vegan casseroles to a local soup kitchen. The recipes are healthy, low-cost, and very easy to make. It can be a great family activity for you all to cook together, and it will make a huge difference in other's lives. Even if you are not in the Baltimore area, you should still consider donating these vegan casseroles to soup kitchens near you.
See more about the vegan casseroles on our blog: http://www.vrg.org/blog/2016/03/10/vegan-casseroles-for-our-daily-bread/