Posted on October 13, 2016 by The VRG Blog Editor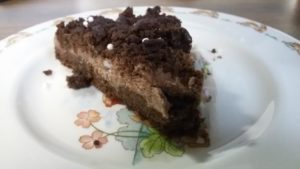 By Alicia Hückmann, VRG intern visiting from Germany
For the batter:
1 cup sugar
1¼ cups Edward and Sons' banana flour
3 tsp baking powder
3 Tbsp cocoa
½ tsp salt
1-1/3 cups plant milk (plain, chocolate, or vanilla flavored)
1/3 cup water
1 Tbsp vinegar
1 Tbsp vanilla extract
For the cream:
13.5 oz can Edward and Sons' heavy coconut cream (refrigerated)
2-4 Tbsp cocoa powder
Mix all dry ingredients for the batter (sugar, flour, baking powder, cocoa, and salt) in a bowl, then add plant milk, water, vinegar, and vanilla. Stir until smooth.
Fill an 8-inch round baking dish with about 2/3 of the batter and bake it for 25-30 minutes at 350 degrees. Repeat with the remaining 1/3 batter in a separate 8-inch round baking dish (baking time: 20-25 minutes).
In the meantime, take the coconut cream out of your refrigerator. Place the solid coconut cream in a bowl and discard the remaining liquid. Add 2-4 Tbsp cocoa powder (depending on whether you prefer more of a coconut or chocolate flavor). Whip the cream until it's smooth and has an even brown color. Once the 2/3 cake base has cooled down, spread the cream on top using a knife. Crumble the remaining 1/3 and use the crumbs to cover the cream.