Posted on October 14, 2016 by The VRG Blog Editor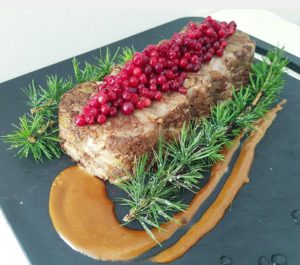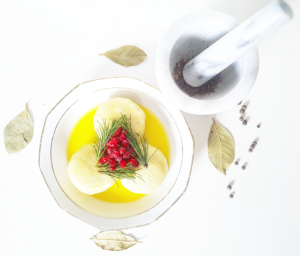 By Petra Cavini, VRG volunteer from Sweden
Swedish Kroppkakor (Swedish Filled Dumplings)
(Serves 4)
1 pound potatoes
4 Tablespoon powdered egg replacer
4 Tablespoons water
¾ cup potato or durum flour
½ teaspoon salt
The filling
1 onion
9 ounces smoked tofu
3 drops of liquid smoke
2 teaspoons oil
7 ounces soy crumbles
2 teaspoons ground allspice
1 teaspoon ground white pepper
Salt, to taste
2 teaspoons oil
For serving
Cranberry jam or jelly
Melted vegan butter (optional)
Peel and cook the potatoes. Let them cool. Mix egg replacer with water. Mash the potatoes and add the egg replacer mixture, flour, and salt. Knead the dough with your hands until it becomes well mixed.
Mince the onion and dice the tofu into small pieces. Add liquid smoke and fry in a pan with 2 teaspoons oil. Place into a separate bowl.
Mix the soy crumbles with all the spices and fry in a pan with 2 teaspoons oil. Place into a separate bowl.
Roll the potato dough into a big roll. Slice it in about 20 even pieces. Gently roll out one piece of dough. Place it on to your hand and add your filling in the middle. Seal the edges together so no filling can get out. Roll into a ball. Repeat this step.
Boil water in a large saucepan and add some salt. Carefully place the kroppkakor into the saucepan, one layer at a time. Cook for about 10-15 minutes. Remove kroppkakor from saucepan.
Serve with cranberry jam or jelly and melted vegan butter.
Swedish Vegan Kålpudding (Swedish Vegan Cabbage Casserole)
(Serves 4)
The kålpudding
1/2 green cabbage
2 ounces vegan butter or margarine
1 teaspoon ground allspice
1 pinch of white pepper
1 pinch nutmeg
Salt, to taste
1 Tablespoon soy milk
1 teaspoon powdered egg replacer
1 Tablespoon water
9 ounces soy crumbles
Cream sauce
2 cups blended silken tofu
2-3 teaspoons soy sauce
2-3 teaspoons cornmeal
Preheat oven to 350 degrees.
Coarsely chop the cabbage and rinse. Cook it slowly in the vegan butter or margarine over a low heat. Add all the spices and salt. When the cabbage starts to become tender, add the soy milk. Let it reduce until the cabbage absorbs the milk. Remove the cabbage from the stove and let cool.
Mix the powdered egg replacer with the water in a bowl. Add the soy crumbles. Pour over the cabbage and stir it all together.
Place the cabbage and soy crumbles mixture into a 10-inch square non-stick baking pan. Press the mixture until it becomes compact and stable. Bake for 30 minutes at 350 degrees.
Place all your cream sauce ingredients into a covered saucepan. Let it cook over low heat until the sauce becomes perfectly thick and creamy. Serve sauce over the cabbage.