Posted on October 17, 2016 by The VRG Blog Editor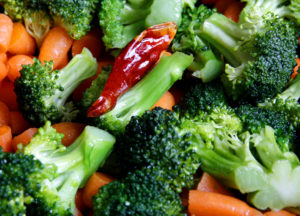 By Whitney Gray, VRG intern
Looking back on my own childhood, I had no clue what a vegan or even a vegetarian was. I just ate what my parents gave me, which wasn't particularly healthy and rarely vegan, save for some unadulterated fruit or accidentally vegan junk food (sorry mom, love you). I find my little cousins who I currently live with to have similar taste buds to what I had at their ages, which are 10-12. They're three boys with huge appetites and they love fast food, cookies, chips, and all the mac and cheese they can fit in their little bellies. But to my surprise, one has been taking an interest in my meals, asking why I eat differently, "What's the green stuff?," and "Does it still taste good?" With one happy accident, I got them to try a healthy meal, and they actually loved it.
I decided to make a stir-fry the other day to use up some ingredients I had lying around. My mom and I had bought tons of quinoa a few months back, and discovered that we didn't like eating it on its own after a few nights of force feeding ourselves and willing it to be delicious. To use it all up, I usually mix about a cup with two cups of jasmine rice and cook it all together. I also had some pre- cooked, marinated tempeh and fresh broccoli in the fridge that I had to use up before it went bad. I threw in a stir-fry vegetable mix from the freezer for some extra veggies. I cooked the mixture in a just a bit of coconut oil and of course added soy sauce and an array of spices until I was satisfied with the flavor.
Right when I was dishing up a portion for myself, one of the boys came in the kitchen begging if he could have some as well. They're accustomed to eating Chinese takeout at least once a week, so when they see rice, they just assume it's close enough to what they're used to. I let him try just about a spoonful and his big eyes lit up. The twins, who are 10, eat like grown men so they ended eating almost all of my stir-fry, but I was over the moon. They kept raving about how delicious it was and one even called it the best rice he ever had. My aunt also had a plate and thoroughly enjoyed it. What was most amusing, however, was that no one noticed the quinoa. The jasmine rice was light brown from the soy sauce, so the color disguised the little quinoa grains mixed throughout the dish. The tempeh didn't go by unnoticed, but the boys just thought it was meat, even though they know I don't eat or cook any. One even said, "This could use some meat," and smirked in my direction just to annoy me and then another chimed in with "The meat is right here, see," while pointing his fork at a tiny cube of tempeh.
I sat grinning and watching as my family devoured a meal full of new ingredients with no complaints. The thing that people don't realize about vegan cooking is that it isn't very different from using animal products. No one boils a chicken breast and just eats it plain, or at least I hope you wouldn't put yourself through that. If anything, people will at least add salt and pepper to their meals and those with more cooking experiences know how to play around with a variety of herbs and spices to add more flavor. You can take any plant food and create a delicious meal with the right seasoning and cooking methods. I was so happy to show the kids that no, not everything Cousin Whitney eats is gross or weird. It's just another version of what they're used to.