Posted on December 23, 2016 by The VRG Blog Editor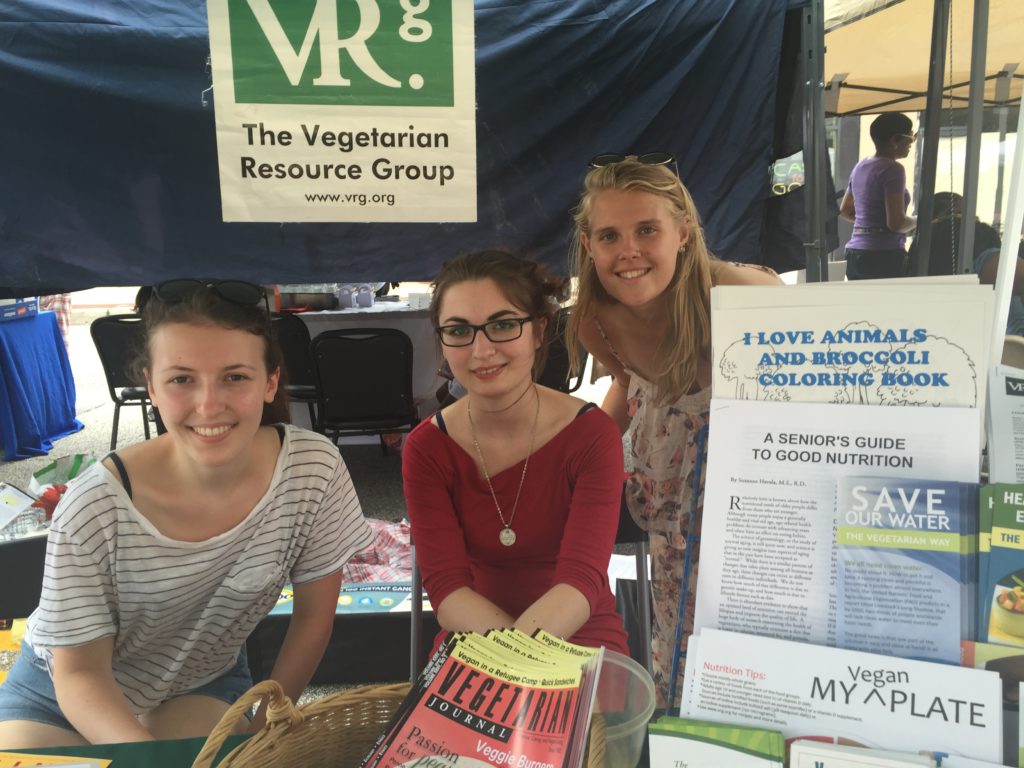 Please Show Your Support for all the Good Work The Vegetarian Resource Group Does Year-Round by Donating to VRG Today!
2016 has been a very productive year for The Vegetarian Resource Group. Your support is greatly appreciated! You can donate directly to VRG at www.vrg.org/donate
Here's a sampling of some of our accomplishments and outreach:
-Nancy Berkoff's Vegan in Volume published by VRG has been distributed to thousands of food service personnel
in different settings. This encourages chefs to serve more vegan food options in universities, hospitals, employee cafeterias, nursing homes, and other places. Nancy also developed vegan recipes for Our Daily Bread in Baltimore, which serves over 700 meals per day to homeless and low income individuals. About 10% requested veggie meals. VRG interns prepared and donated 9 foodservice size trays of vegan food using Nancy's recipes.
-We continue to work with numerous High School and College interns in our Baltimore office including three future Registered Dietitians and a student visiting from Germany. VRG Nutrition Advisor Reed Mangels, PhD, RD, mentors those interns who are interested in pursuing a career in nutrition. VRG staff also works with students that are majoring in English, Journalism, Business, and other subjects. These students are the future of the vegan movement and we should all be excited about what they will bring to the cause once they graduate.
-The Vegetarian Resource Group assisted media (print, web, radio, tv, etc.) including Family Circle magazine for an article on children who decide to go veggie; NPR member station KUT in Austin, TX about the public's increased interest in vegan diets and PBS 8 in Phoenix Arizona about vegan options for Thanksgiving; Consumer Report on Health about reducing meat for health benefits; Dr. Don Radio Show about veggie pregnancy and lactation; On the Menu, a radio podcast, on the topics of why people go veggie and VRG poll information; Grocerant magazine about what vegans would like to see in the prepared section of grocery stores; and Baltimore Business Journal about the history of The Vegetarian Resource Group.
-VRG has done numerous outreach booths including at the Annual Meeting of the Academy of Nutrition and Dietetics in Boston, MA; GreenFest in Washington, DC; Natural Products Expo East in Baltimore, MD; Taking Action for Animals in VA; Charlottesville and Richmond, VA VegFests; Vegan SoulFest in Baltimore, MD; Albany VegFest in NY; NH Dietetic Meeting in Concord, NH; Veggie Pride Parade in NYC; New England VegFest in Worcester, MA; etc. VRG Nutrition Advisor Reed Mangels, PhD, RD, spoke at state dietetic meetings in NH, FL, and AZ and gave a webinar on 'Vegetarian Diets for Older Adults' for members of the Healthy Aging Dietetic Practice Group.
-The Vegetarian Resource Group provided vegan handouts free-of-charge for outreach in a wide variety of locations including a box of literature to be shared with a High School women's basketball team in California; 500 Save our Water Brochures for tabling at an Earth Day event in Houston, TX; several hundred handouts to Animal Advocates of Western New York for a local Health Expo; a thousand brochures for leafletting in NYC; and hundreds of handouts for state dietetic meetings in NH, WA-OR, and NE.
Your support is greatly appreciated! You can donate directly to VRG at www.vrg.org/donate
You can also mail donations to The Vegetarian Resource Group, PO Box 1463, Baltimore, MD 21203 or call in your donation to (410) 366-8343 Monday through Friday 9am to 5pm EST.