Posted on December 29, 2016 by The VRG Blog Editor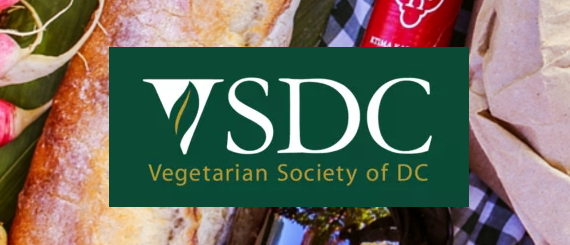 By Casey Brown, former VRG Intern
This Thanksgiving I had the opportunity to staff The Vegetarian Resource Group booth at the Life-Affirming Thanksgiving event in Bethesda, Maryland. This is an annual event that is sponsored by The Vegetarian Society of DC. Vegetarians and non-vegetarians come together to celebrate a compassionate and delicious vegan Thanksgiving meal. The meal consisted of soup, salad, appetizers, a main course, sides, and a dessert. Some of the options included curried pumpkin soup, sweet and sour meatballs, quinoa stuffed acorn squash, and mini pumpkin pies. The event also had multiple exhibitors, a silent auction, and guest speaker Neal Barnard from the PCRM.
At this event, we had the opportunity to interact with many different people! It was really exciting because so many of them were familiar with The VRG. Many people had copies of our Vegetarian Journal at home, however we were able to hand out many more! The VRG Journal includes many recipes, product and book reviews, health updates, and other information. Many people were also interested in our "My Vegan Plate" handouts, which provide information on how to make a balanced vegan meal. As usual, our coloring books were very popular among the kids who were especially excited to have a coloring book full of animals. Also, many people were interested in our "Veganism in a Nutshell" and "Vegetarianism in a Nutshell" brochures and handouts since they provide information on making the transition to these lifestyles and nutrition information about these diets.
I am so grateful to have spent my Thanksgiving celebrating in such a positive atmosphere. I have never before spent Thanksgiving in a room full of so many other vegetarians and vegans, but it is definitely something I will always cherish and be thankful for. If you would like more information on this event or The Vegetarian Society of DC please visit http://www.vsdc.org/.
To volunteer at future VRG booths, contact Brigette at vrg@vrg.org
To support Vegetarian Resource Group outreach, donate at https://www.givedirect.org/donate/?cid=1565
Or join at http://www.vrg.org/member/2013sv.php