Posted on January 25, 2017 by The VRG Blog Editor
By Heather Francis, VRG Volunteer
Over winter break I traveled to Charleston to visit a friend who goes to the College of Charleston. There were four of us going. The person we were visiting, Leah, is a vegetarian. I'm a vegan, and my girlfriend, Emily came who is also vegan. Our other friend, Mia, isn't veggie but loves trying vegan food. I was semi-worried about the food choices there, but I didn't need to be, AT ALL! To share with you all the delicious places I went in Charleston, I'll go day by day.
Thursday: 
When we landed in Charleston the first thought that came to our mind was of food. We were starving. Our friend Leah picked us up from the airport and from there we went to her apartment to drop off our bags. Following that we went to this rad place called Brown Dog Deli. This deli is in downtown Charleston on Broad Street. Now don't be fooled, this place is not necessarily a deli. They do sell sandwiches, which is their entire menu; however, they don't sell any cheeses or meats by the slice. They have an outdoor seating area in the very back and we seated ourselves in a booth and were given menus by our waitress. 
They have an entirely vegan/vegetarian section on the menu. It includes seitan, tempeh, veggie burgers, and veggie sandwiches. There are options for a vegan cheese and mayonnaise. I was going to get the grilled "chicken" sandwich made from seitan but they were out of it. Instead I got a sloppy joe on sourdough bread made with seitan. I do have to say it was good. 
Later Leah took us to Folly beach where we explored the beach for a bit, and for dinner she took us to Taco Boy-a Mexican restaurant located on Center St. in Charleston. We ordered and demolished a bowl of guacamole. I got rice & beans and devoured a super spicy cauliflower taco. There was no dessert because I was stuffed from dinner. 
Friday:
We had fruit for breakfast and then traveled to see this super old tree: Angel Oak in Charleston. If there is one thing I recommend anyone doing when they go to Charleston it would be going to spend time with Angel Oak. It's s tree that is approximately 400 years old. 
Following Angel Oak, we went to King Street in downtown Charleston where we went shopping and looked in different stores. For lunch, we found this awesome place called Beech. This place sells Poké bowls, wraps, acai bowls, smoothies, and juices. I ordered a Poké bowl made with zucchini noodles, marinated tofu, wakami (seaweed), avocado, ginger, and pickled cucumber, then topped with a sesame ginger sauce. I enjoyed the bowl but I regretted not getting brown rice because the entire meal was cold and I would have enjoyed the warmth of brown rice. I also drank a local kombucha: One Love, which was super tasty.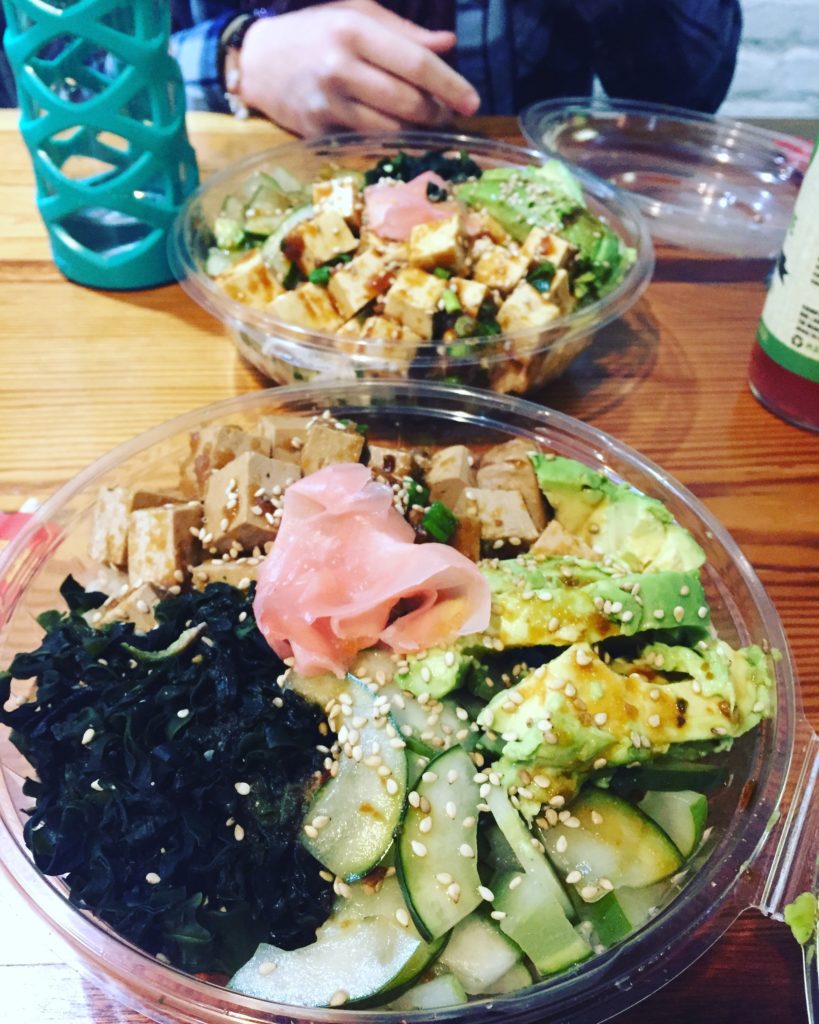 Instead of eating out again, that night we went to Trader Joe's and made an Indian curry with frozen veggies, potatoes and fried tofu over a bed of brown rice. We mixed in Trader Joe's coconut beverage (next time I'll use coconut cream/milk to create a creamier consistency). The meal was delicious. 
Saturday: 
On Saturday, we drove to Savannah, Georgia to run away from the coldness in Charleston and tour the old town. It took us approximately two hours to get from Leah's house to Savannah. We were hoping to not spend a ton of money on food that day and just have snacks with us. It didn't necessarily workout as planned because we found this bakery right on Jefferson St. called the British Pie Company. Walking into the bakery my girlfriend and I didn't think we'd be ordering anything, but we're pleasantly surprised to find a spicy Moroccan pastry labeled Vegan!!! When checking out the cashier explained that the pastry was recently introduced to their bakery and they also occasionally had chili pies for sale. Emily and I split a pastry-it was delicious. This place is a must go, if you're visiting Savannah. 
Sunday:
Ate fruit for breakfast. After eating fruit, we went to World Market where we spent maybe an hour looking at an entire store of merchandise from different places of the world. My girlfriend and I found a delicious French kombucha-which has been by far one of the best brands I've tried ever (the Asian Pear is the best one).
After going to World market, we drove to Daniel's Island and ate at a Mediterranean café: Ali Babe on Daniel's Island. We found over a dozen different vegan options in the display case. I ordered a falafel and hummus wrap and grape leaves. Emily got an orzo salad, leek stew, cauliflower, and a rice salad. We split the meals and it was AMAZING!!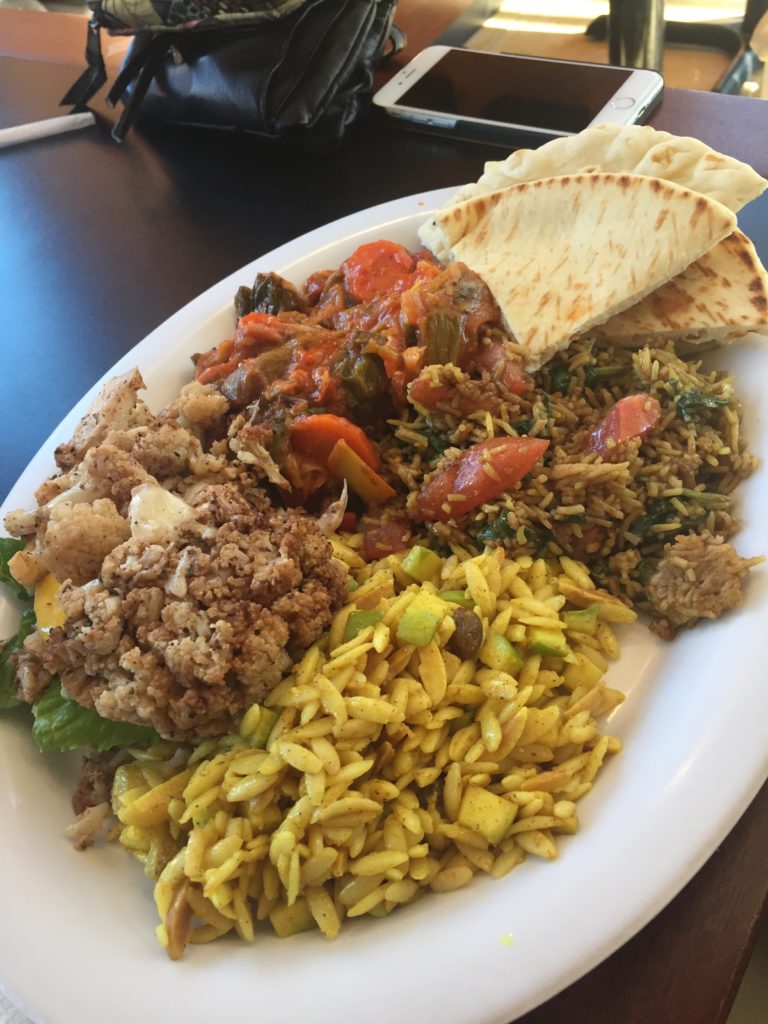 Monday:
We went to Nana's donuts-a vegan donut shop in Charleston, South Carolina and on Monday all donuts were half priced. The donuts are palm oil free, organic, and made with vegan ingredients. I tried a maple donut, strawberry, and key lime pie donut. I highly urge anyone to go here when they visit Charleston. These are some of the best donuts I've had. They are fluffy and the flavors of the donuts aren't extremely powerful, but a perfect kick.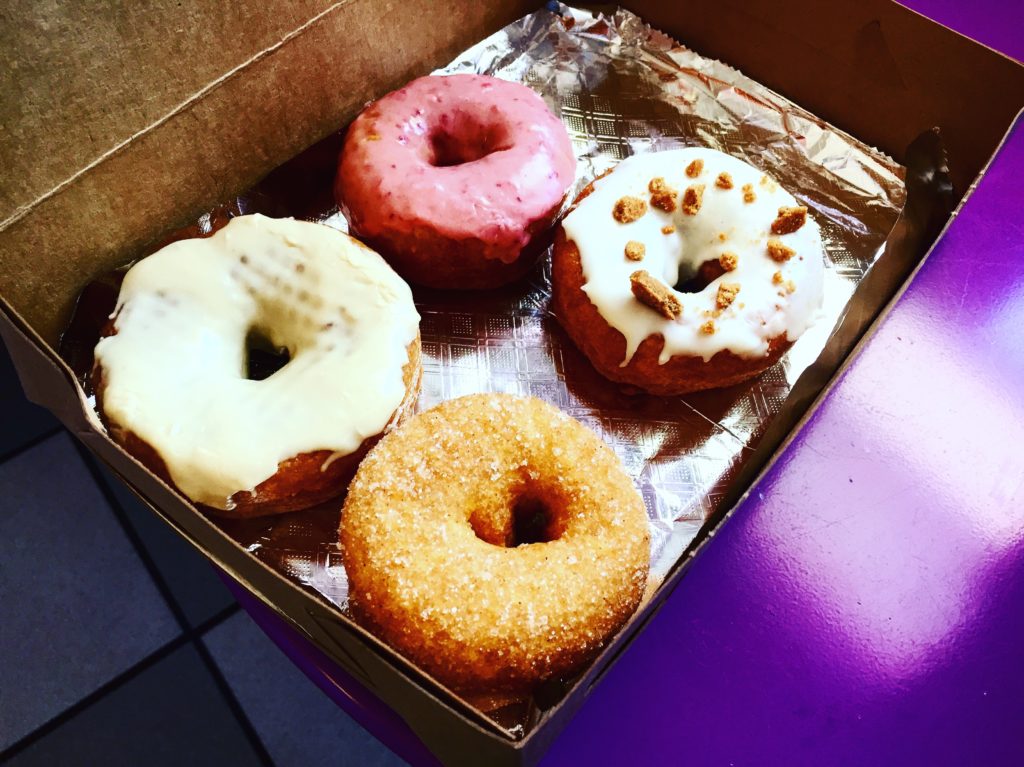 After Nana's we drove to Gnome Cafe-a completely vegan restraint in Charleston where I got a chickpea "tuna" salad, and a cheddar scallion biscuit. The Café is open for breakfast and lunch, and they have an awesome menu with salads, sandwiches, breakfast foods, and baked goods. My girlfriend tried the Buffalo fried setain sandwich, which I'd say is the best item on the menu. Leah got a plate of Southern Grits topped with a tofu scramble and kale. Our other friend tried the veggie burger. All of it was awesome. We met the owner of the Café, and she was extremely sweet, and took our picture. I know I'd go here again, and again, and again.
This was our last stop of the trip. As for my experience of eating in Charleston, I must say I was impressed. Charleston has many options for vegans. There were other places that catered to the vegan diet that we didn't even get a chance to try. So, don't worry about eating vegan in Charleston, South Carolina because there are a ton of places to try and devour the cuisine.
For information on vegetarian and vegan restaurants in the USA and Canada, see http://www.vrg.org/restaurant/index.php
To join The Vegetarian Resource Group, visit http://www.vrg.org/member/2013sv.php