Posted on February 28, 2017 by The VRG Blog Editor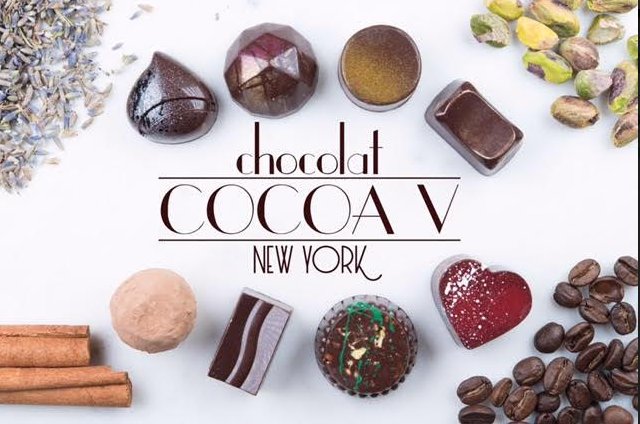 The Vegetarian Resource Group maintains an online Guide to Vegan/Vegetarian Restaurants in the USA and Canada. Below are some recent additions. The entire guide can be found here: http://www.vrg.org/restaurant/index.php
To support the updating of this online restaurant guide, please donate at:
www.vrg.org/donate
Cocoa V
174 9th Ave.
New York, NY 10011
Cocoa V is a small chocolate shop located within the Chelsea region of New York City. The shop is a 'dairy-free, vegan, kosher-certified facility' with a few indoor seats and a bench outside. They create an assortment of bon bon flavors, such as Lavender Vanilla, Salted Caramel, Hazelnut Praline, Raspberry Ginger, and Dark Salty Caramel. Bars, bark, brittle, clusters, and pastries, such as cakes, cupcakes, and cookies, are offered as well. Cocoa V also offers their Signature Hot Chocolat, which can be optionally spiced, and many other coffee based drinks.
Frankie & Jo's
1010 E Union St.
Seattle, WA 98122
This small vegan ice cream shop is located in the Capitol Hill area of Seattle. The décor of the shop is a beautiful mix between urban and rustic. The space is very modern but cozy and offers a small area for indoor seating. Their ice cream is mostly made from sprouted cashews, but also sometimes includes coconut milk. They offer a variety of unique, vegan and gluten-free flavors for their 'everyday ice creams', such as Chocolate Date, Frankie's Brown Sugar, Salty Caramel Ash, Tahini Chocolate, Gingered Golden Milk, Chocolate Mint Brownie, and California Cabin. In addition to these flavors offered year-round, Frankie & Jo's also offers a seasonal menu of ice cream flavors and an 'every day' Beet Strawberry Rose sorbet. Their maple-vanilla waffle cones are also vegan and gluten-free.
Just 4 U Vegan Kitchen
13751 N Nebraska Ave.
Tampa, FL 33613
Enjoy Jamaican patties, soup, curry, mac & cheese, plus much more.
Kal'Ish
1313 W. Wilson Ave.
Chicago, IL 60640
Located in Sheridan Park just a few blocks of east of Ashland Ave. Kal'ish is a completely vegan fast food restaurant! The menu is full of interesting vegan burgers such as the Woodland Burger and Avocado Crunch. They also offer sandwiches, salads, and mock fried chicken. Note that breakfast is served all day except on Sundays when the brunch menu is served.
May Kaidee New York City
126 East 28th St.
New York, NY 10016
This is May Kaidee's first restaurant/cooking school in the USA. Her other locations are in Asia. Dine on a wide variety of creative curries, rice and noodle dishes, salads, and much more.
My Vegan Sweet Tooth
3916 Virginia Beach Blvd.
Virginia Beach, VA 23452
Look no further for vegan baked goods including cookies, cakes, cheese cake, cupcakes, donuts, pie, and more. Gluten-free items available, as well as wedding cakes.
Orchard Grocer
78 Orchard St.
New York, NY 10002
Located next door to the vegan shoe store MooShoes, Orchard Grocer is a vegan grocery and deli. Enjoy breakfast sandwiches, hearty lunch/dinner sandwiches, soft serve ice cream, baked goods, and more.
Passion Flour Patisserie
165 East 900 South
Salt Lake City, UT 84111
Enjoy a wide variety of vegan pastries including croissants, French macarons, biscotti, tarts, and much more. They also bake custom cakes and dog treats.
The Hearty Hooligan
368 Main St. West
Hamilton, ON L8P 1K2 Canada
Serves pizza buns, soups, and desserts. They have gluten-free options. Menu changes weekly, so be sure to check their Facebook page for updates.
Vegan Café
928 S. State St.
Lockport, IL 60441
Vegan Café is a raw vegan, organic, and gluten-free cafe. It also has its own health food store next door, Healthy Sins Inc. It offers a variety of appetizers such as guacamole and corn chips, pizza bites, and a sample platter. They also offer salads, zucchini noodle pasta, sloppy joes, lasagna, burgers, steak burritos, and pad Thai. Desserts include macaroons, brownies, and pie.
Vegan Now!
The French Market
131 N. Clinton St.
Chicago, IL 60661
Located in the French Market, Vegan Now offers soul food dishes including greens, jerk bites, BBQ tofu, mac n' cheese, and more.