Posted on March 14, 2017 by The VRG Blog Editor
By Laneece Hurd
 
NuVegan Café (formerly known as Woodlands Vegan Bistro), is an eclectic, 100% vegan, fast-casual restaurant specializing in serving up modern vegan takes on traditional dishes. They can be visited at two different locations: one on Baltimore Ave. in College Park, MD and the other off of Georgia Avenue in Washington, D.C. Their motto is "where nutrition meets compassion" and they thoroughly uphold this standard by making delicious plant-based meals that are sure to satisfy vegans and non-vegans alike. A large portion of the menu items are rich comfort foods and decadent desserts, but they also offer lighter options such as fresh salads, juices, and smoothies. On Sundays from 10AM-3PM, you can even grab a warm and hearty brunch, including pancakes, waffles, and French toast.
 
The location I visited in College Park, MD, closely neighbors the University of Maryland and frequently welcomes college students and millennials who are interested in meat-free cuisine. This is reflected through the ambiance, which is hip and trendy as soulful jazz music gently plays through the sound system while you enjoy your meal. The décor is fresh and relaxing, colored with earthy tones of forest greens and woodsy browns.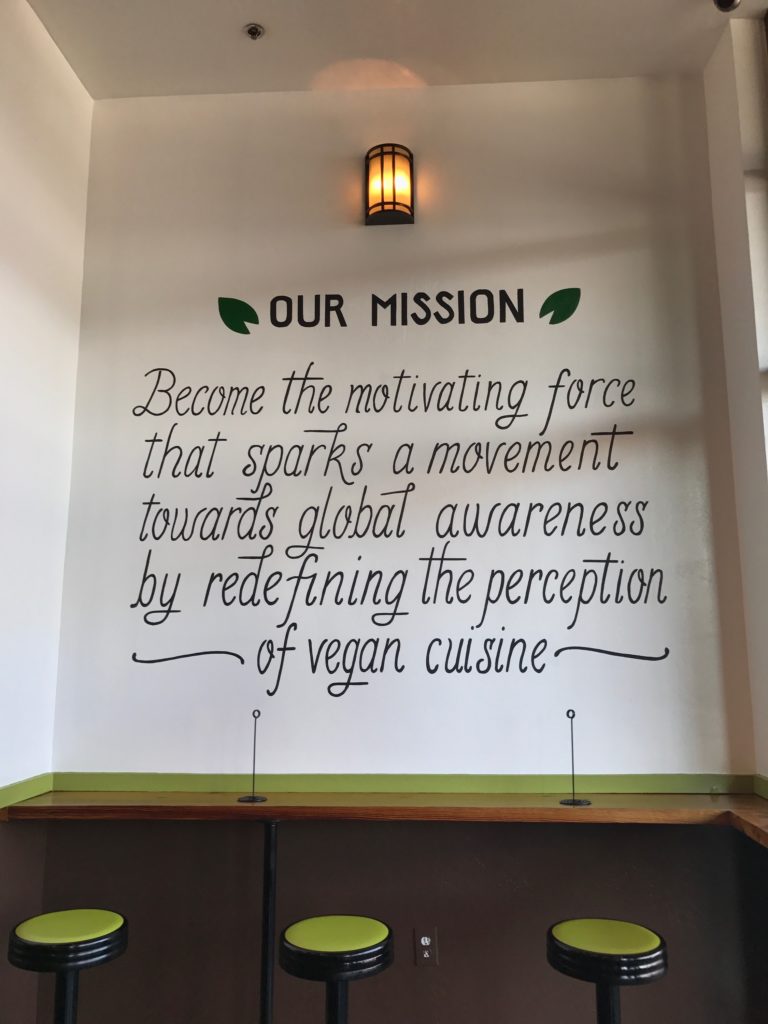 At NuVegan Café, you can order special made-to-order items off the menu, such as burgers and sandwiches, or you can build your own meal by choosing from the number of entrées and hot/cold sides available on display. The sides typically remain the same, but the entrées change daily so be sure to check back often for different options!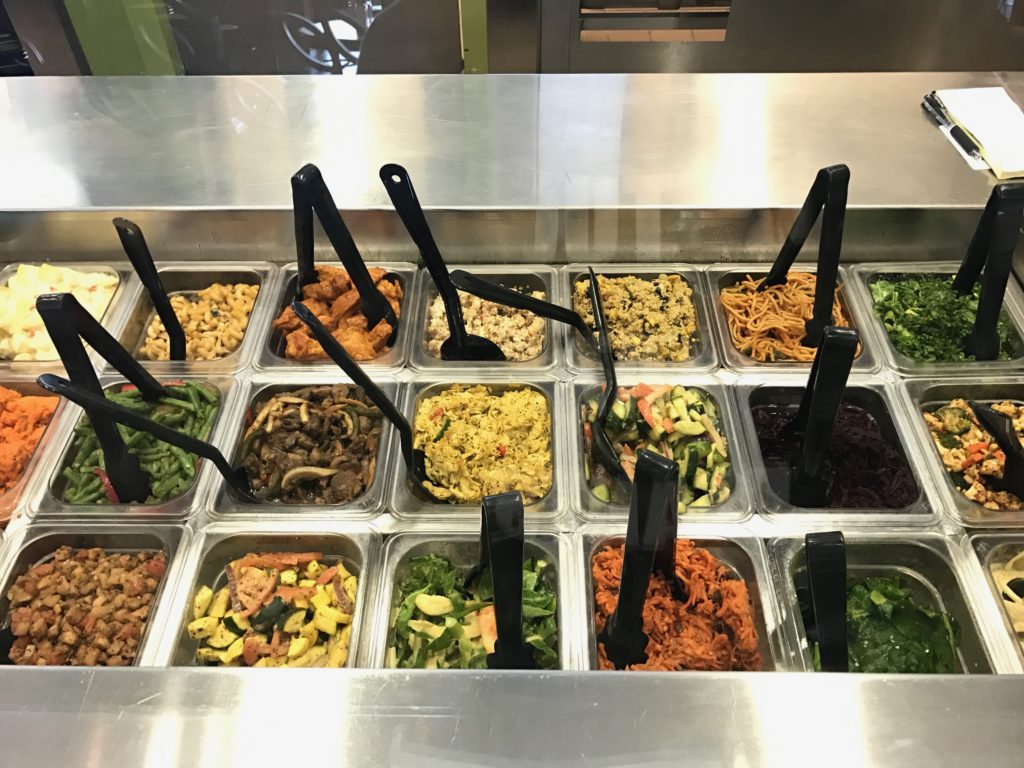 One of the many reasons I love NuVegan Café is because you get to "try before you buy." They offer each of their customers a maximum of three samples of any of the entrées and sides off the menu. Even after sampling, it still may be a bit difficult to make a decision because NuVegan Café offers such a large variety of delicious dishes. I highly recommend going with a group so that you can experience as many of them as possible without getting full…or just go multiples times, which I highly recommend as well! After ordering and purchasing your meal at the counter, you are given the option to seat yourself and dine in or have it packaged up and take it to-go.
 
As my entrée, I ordered the Barbeque Tofu with Rice. This dish has thick, meaty, pieces of tofu that are tossed in a sweet and spicy barbeque sauce and served over brown rice. To round out the meal, I chose two sides: sautéed Brussel sprouts and macaroni and cheese, which is perhaps some of the best vegan mac and cheese I've ever had. We also enjoyed the Beef and Broccoli, which had sweet bell peppers and onions tossed in a savory sauce and served over brown rice. Both of the entrées were bursting with flavor and so filling, but somehow still felt light and fresh at the same time.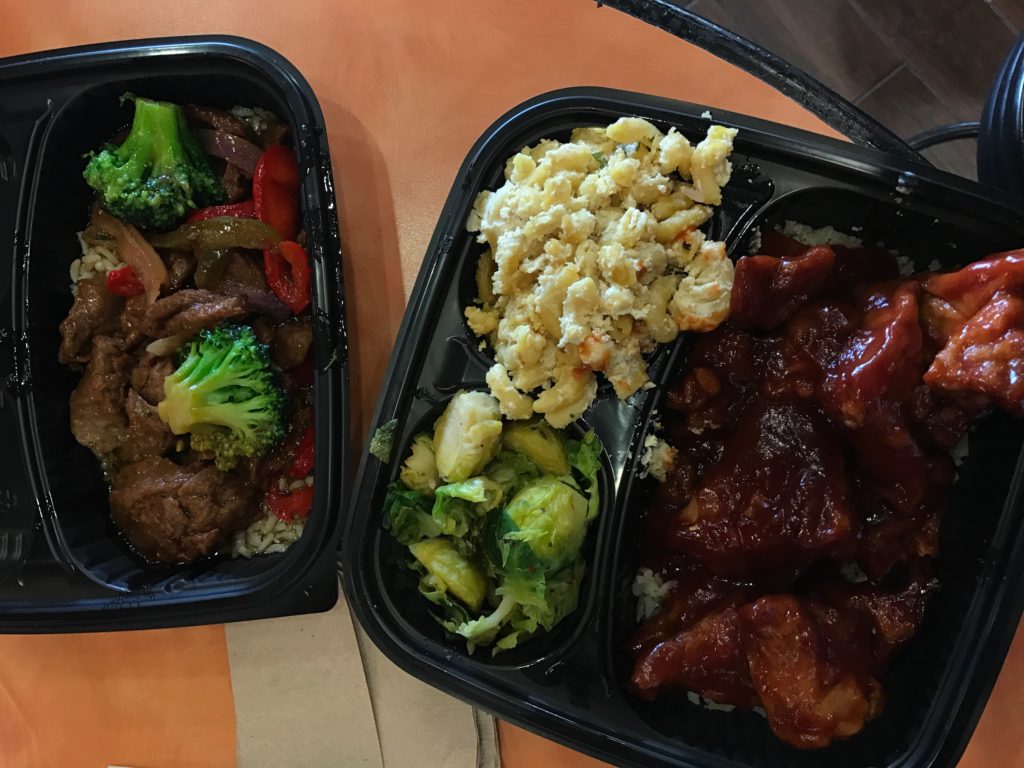 Now for the star of the show, we ordered the Vegan Fried "Chick'n" Sandwich. Unsure of what to expect, and a little bit skeptical, we were in for a surprise. These sandwiches are made to order so it took a little while to prepare, but it was certainly well worth the wait. This showstopper consisted of a thick and juicy crispy "chick'n" filet on warm and toasty house made bread, topped with vegan cheese, lettuce, tomato, onion, mustard, and vegan mayonnaise. As full as we were, we had to try some of the mouthwatering desserts. I decided on a giant cinnamon roll that was very close to the size of my head and the Chocolate Cream shake, which is made with carob powder and molasses. Not surprisingly, the desserts were unbelievably delicious and solely worth a trip to NuVegan Café.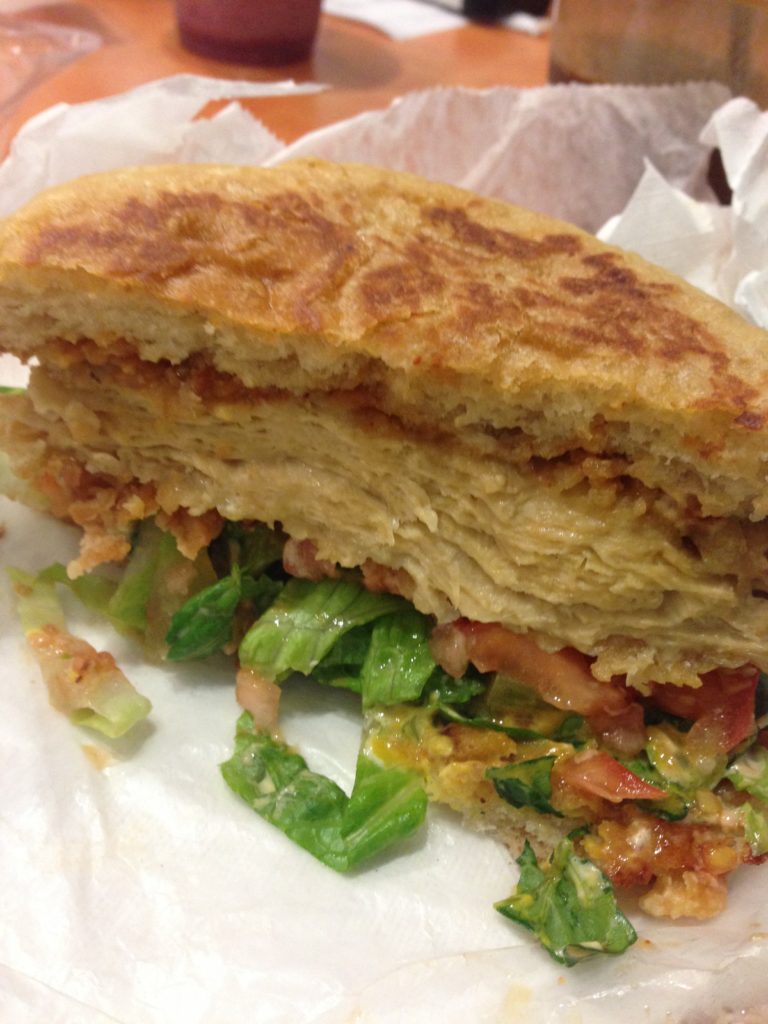 Aside from the incredible food, there are a number of other aspects of NuVegan Café that make it a near perfect dining experience.The staff was friendly and greeted us with smiles when we walked in. The service was fast and the restaurant was clean. Just in case you need any more reasons as to why you should head there now, they even offer senior, military, and student discounts, as well as a rewards program for frequent diners. Overall, NuVegan Café is a great place for vegans, vegetarians, and anyone just curious about plant-based eating as it gives them the opportunity to enjoy good vegan food in a great environment.
 
For more information on NuVegan Café, visit www.nuvegancafe.com
 
For more information on other vegetarian/vegan restaurants in the USA and Canada, visit http://www.vrg.org/restaurant