Posted on March 27, 2017 by The VRG Blog Editor
Passover begins the evening of April 10, 2017 this year and The Vegetarian Resource Group is the publisher of several books that feature vegan Passover recipes. Below we share three recipes with you. You can purchase these vegan cookbooks from the VRG Book Catalog here: http://www.vrg.org/catalog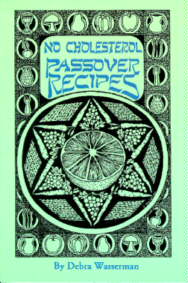 Nut "Cheese" Surprise (from No Cholesterol Passover Recipes, by Debra Wasserman)
(Serves 8)
Cheese:
½ cup raw cashews
½ cup water
¼ cup lemon juice
1 Tablespoon vegetable broth
2 Tablespoons oil
Garlic powder and paprika to taste
½ small ripe tomato, chopped
Preheat oven to 350 degrees. In a blender cup, blend cashews, water, lemon juice, and broth together. Slowly add oil. Then add garlic powder, paprika, and tomato and blend well for 1 minute. Once the "cheese" is made add the ingredients below.
6 potatoes, chopped and cooked
1 onion, chopped
3 carrots, sliced thinly
2 green peppers, chopped finely
Mix well and pour into a large baking dish. Bake in oven for 30 minutes at 350 degrees. Serve warm.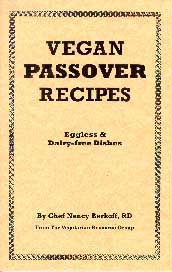 Pear and Apple Slaw (from Vegan Passover Recipes, by Nancy Berkoff)
(Serves 5-6)
Make a double batch of this recipe, as the flavor gets even better the second day!
1 pound (about 3 cups) fresh pears
½ cup (about 4 ounces) green or tart apple
2 Tablespoons lemon juice
1 cup finely shredded green cabbage
1 cup finely shredded red cabbage
2 Tablespoons oil
1 Tablespoon vinegar
½ teaspoon black pepper
Wash and dice pears and apples (don't peel), place in a large bowl, and toss with lemon juice. Add green and red cabbage and toss. In a cup, mix oil, vinegar, and pepper until combined. Toss with fruit/vegetable mixture until well coated. Chill for at least 30 minutes before serving.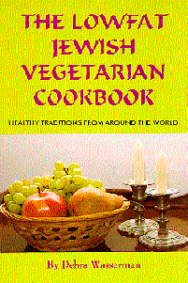 Polish Plum and Rhubarb Soup (from The Lowfat Jewish Vegetarian Cookbook, by Debra Wasserman)
(Serves 6)
1 pound plums, pitted and chopped
1 pound rhubarb, chopped
10 cups water
¼ cup plus 1 Tablespoon apple juice concentrate
¼ teaspoon powdered cloves
1½ teaspoons cinnamon
Place all the ingredients in a large pot and bring to a boil. Lower heat, cover pot, and simmer 30 minutes. Serve hot.
Note: If the plums are not very sweet, you may want to add a bit more apple juice concentrate.