Posted on May 22, 2017 by The VRG Blog Editor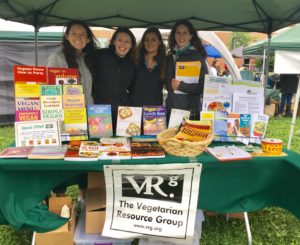 By Nicole Turner
I volunteered with The Vegetarian Resource Group on May 6th, 2017, at the Baltimore VegFest and had a blast. Though the weather wasn't the nicest, it didn't stop people from coming out to enjoy the cruelty-free festivities. This is an annual event that is organized by The Humane League, an organization whose mission is to reduce suffering by inspiring change at all levels. Baltimore VegFest is a wonderful event that celebrates healthy, sustainable, and compassionate eating and the benefits of a vegetarian and vegan lifestyle. The event is free and includes various speakers, a wide variety of food, local veg restaurants, vegan cooking demonstrations, and free gift bags! My favorite part about the festival was having an abundance of food choices. My favorites were the vegan pizza, the mac and cheese, and Vegan Treat's donuts and brownies! The event took place at the University of Maryland Baltimore County College Campus, so there were many students that came out to the event as well. It was great to see such a variety of ages attending the festival, from young kids to older adults. This was my first time attending Baltimore's VegFest, and I look forward to returning next spring.
Throughout the day, I made great connections with visitors and many were interested in learning more about The VRG. I had conversations with many individuals who had health conditions and were using a plant-based diet to address their health concerns. I also had an interesting conversation with representatives from Poplar Springs Animal Sanctuary, a 400-acre non-profit refuge in Poolesville, Maryland for farm animals and wildlife. She told me about the events they have throughout the year and the importance of spreading awareness about animal cruelty. It was exciting to be around many organizations that share a similar message as The VRG.
Some of the most popular resources people gravitated towards were VRG's "Baltimore Dining Guides", "Veganism in A Nutshell" pamphlets, kids coloring books, and of course, the Vegetarian Journal. The local dining guides were extremely popular since a majority of the people attending the festival were from the area, and they were interested in learning more about veg-friendly restaurants in Baltimore. Many people were interested in taking a free copy of the Vegetarian Journal, which is filled with product reviews, delicious vegan recipes, health information, and more. People were also eager to take home our materials to give to friends or family that were interested in transitioning to a vegan or vegetarian diet. Many parents stopped by to learn more about how to assist their children during the transition, and we provided them with copies of our "Vegan Nutrition for Teenagers" and "Vegan Nutrition in Pregnancy" brochures.
There is something special about Baltimore VegFest. It is a tight community and so much compassion radiated from the event. It was great to share the Vegetarian Journal with so many people and tell them about The VRG and our mission. The interest level was very high, and I felt proud to be spreading awareness about such important issues. I am looking forward to next year's event and our I hope to see you there too!
To volunteer to help at VRG booths, contact Brigette at vrg@vrg.org
To support The Vegetarian Resource Group outreach, please donate at www.vrg.org/donate
Or join at http://www.vrg.org/member/2013sv.php