Posted on June 09, 2017 by The VRG Blog Editor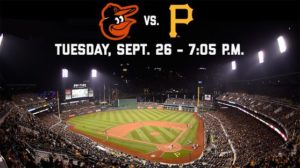 Join us for our first Vegan Night in Pittsburgh at the Pirates VS Orioles game
Starting at $87.06 per person* Tuesday, September 26, 2017
Contact Donna at Green Earth Travel for more information
donna@greenearthtravel.com or call 301 229-5666
Take me out to the ball game!
Take me out with the crowd
Buy me some peanuts and crackerjacks
I don't care if I never get back
Join the Pirates, Meatless Monday Pittsburgh, vegan enthusiasts, and all animal lovers for our first Vegan Night!
Join us for one night in Pittsburgh for a Pirates VS Orioles game,
A historical event as this is the first game ever to block seats off for vegans!
We will stay at the SpringHill Suites Marriott,
1 ticket per person and vegan breakfast the next morning (breakfast is not included in price)
*Cost per person double occupancy $127.98
Single occupancy $209.66
Triple occupancy $100.75 per person
Quad occupancy $87.06 per person
We can get up to six people in a room so please email directly for price.
Price includes:
1 night hotel at the SpringHill Suites Marriott
Hotel taxes
1 ticket to the game
Vegan dinner and appetizer
Each ticket includes access to the exclusive Vegan Menu in the Picnic Park from 5:30 – 7 p.m. and a Corner Box seat for the Pirates vs. Orioles game.
What is not included:
Gratuities to the hotel staff
Parking $25
Optional vegan breakfast.
Menu includes:
Pretzels, Chips and Dips (house chips with French onion dip, corn chips with smashed avocado salsa, pretzel sticks with Local PA maple mustard)
Power Chop Salad (kale, cabbage, grilled vegetables, garbanzo beans, sunflower seeds, pepitas, citrus-dijon dressing)
Ultimate Vegan Burger (beefless beef patty, lettuce, tomato, dill pickles, vegan house sauce, sesame seed bun)
Buffalo Cauliflower (vegan ranch dipping sauce)
Sweet Potato Tacos (black beans, cilantro, salsa verde, tortilla threads, nondairy sour cream, flour tortilla)
Watermelon and Berries
No refunds on baseball tickets.
$50 cancellation fee for the room until September 3rd
September 4th-no refunds
Contact Donna at Green Earth Travel for more information
donna@greenearthtravel.com or call 301 229-5666