Posted on June 20, 2017 by The VRG Blog Editor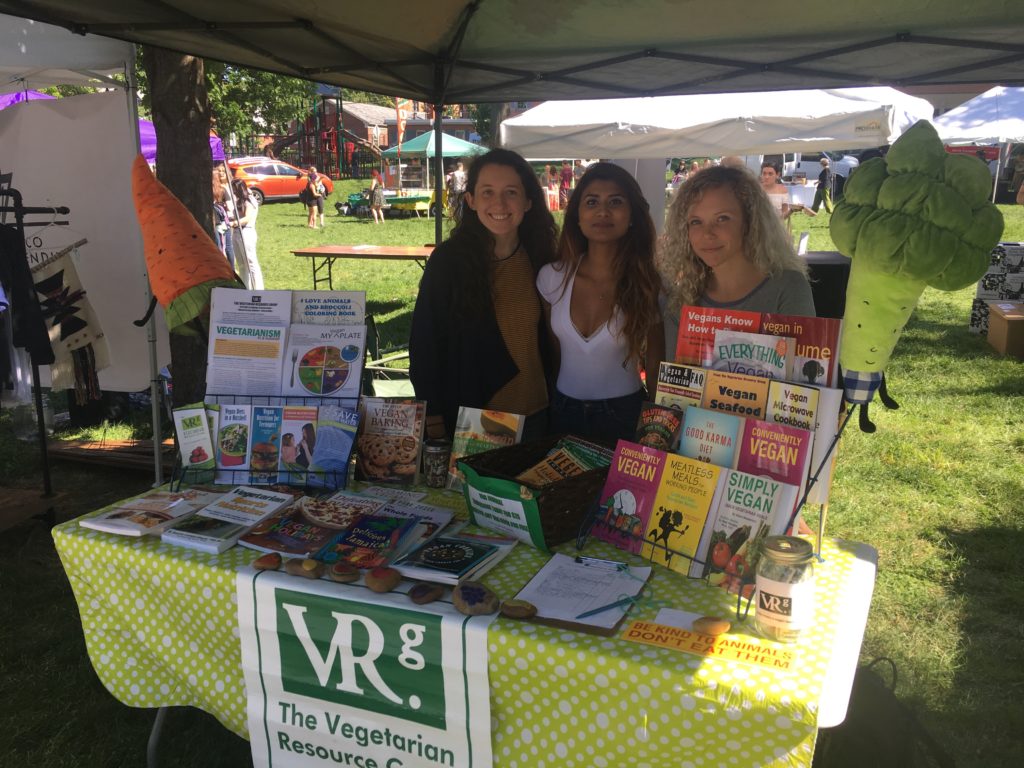 By Casey Brown, Intern
The Vegetarian Resource Group recently had a booth at the Central PA Vegfest in Lancaster, PA. This was the first annual Vegfest in this area, and it did not disappoint! The event included many speakers, vendors, non-profit organizations, and other activities including community yoga. It was fun for the whole family and had activities for children to get involved.
While here, the other interns and I were able to meet with and speak to numerous individuals from the area. Many people who visited our booth were new to vegetarianism/veganism or were interested in transitioning. They were excited to receive a variety of our resources so they could learn more about the lifestyle. Our Vegetarian Journals were a favorite among everyone since they include many recipes and product reviews. The "My Vegan Plate" handouts were also popular because they are a great visual tool to help plan out balanced meals. VRG's Pennsylvania dining guides went quickly since everyone was interested in learning more about veg-friendly restaurants in the area. Multiple parents stopped by looking for more information on how to help their teenager's transition to vegetarianism or veganism. We were able to recommend our "Vegetarianism in a Nutshell" and "Vegan Nutrition for Teenagers" brochures to provide these parents with more knowledge on these lifestyles. We also had a 12 year-old boy stop by since he had recently gone vegan. He was very interested in gathering more resources and learning more about volunteer opportunities for children his age, and he was excited to have found our group! We also spoke with a cardiologist who recommends vegan diets to the majority of his patients. He was thrilled to have found our handouts and knew they would be perfect guides to provide to his patients since he has limited time to meet with them. A dietitian also stopped by to pick up some resources she can refer her patients to. It is always exciting to meet health professionals that are educated about vegetarian/vegan diets.
Overall, we had a great time at the event and were able to connect with many individuals. We met many long-time vegans, individuals interested in transitioning, and people there in support of their vegan/vegetarian friends. We were glad we were able to provide everyone with more information and resources.
We were so grateful to be a part of Lancaster's first annual Vegfest and we cannot wait to attend many more! The next event The Vegetarian Resource Group will be at is Richmond Vegfest in Richmond, VA on June 24, 2017. We hope to see many of you there!
To volunteer at future VRG booths, contact Brigette at vrg@vrg.org.
To support The Vegetarian Resource Group outreach, donate at www.vrg.org/donate
Or join at http://www.vrg.org/member/2013sv.php