Posted on June 29, 2017 by The VRG Blog Editor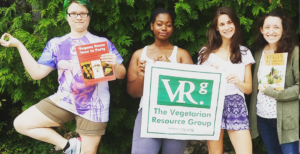 The Vegetarian Resource Group does outreach and research all year-round and we couldn't do it all without our wonderful high school and college interns/volunteers. Presently four young adults are working in our Baltimore office (photo shows from left to right Shannon, Devin, Julia, and Casey) and others do work for VRG long-distance.
Among their tasks are staffing VRG booths throughout the USA, preparing vegan meals for homeless individuals in Baltimore City, reviewing new vegan products (someone has to do that tough job!), writing up entries for our online restaurant guide, reviewing scientific studies on vegan diets, plus so much more.
To support our intern program, consider donating to VRG at:
www.vrg.org/donate
To join The Vegetarian Resource Group, visit:
Join VRG