Posted on July 07, 2017 by The VRG Blog Editor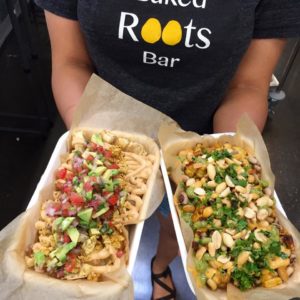 The Vegetarian Resource Group maintains an online Guide to Vegan/Vegetarian Restaurants in the USA and Canada. Below are some recent additions. The entire guide can be found here: http://www.vrg.org/restaurant/index.php
To support the updating of this online restaurant guide, please donate at:
www.vrg.org/donate
Baked Roots Bar
970 SE Madison St.
Portland, OR 97214
Enjoy this traditional American restaurant which has a vegan menu based on fries with flavor adaptions from all seven continents. Their menu is oil-free!
Fry Baby Donut Co.
336 Elmwood Ave.
Buffalo, NY 14201
Fry Baby Donut Co. donuts are handmade with love. The flavors are unique and creative, including bubble gum donuts and S'mores donuts.
Good Grains
4134 Dundas St. West
Toronto, ON M8X 1X3 Canada
Good Grains specializes in creating dishes using legumes, veggies, grains, fruits, and spices. Most (but not all) menu items are soy-free, nut-free, gluten-free, and free of refined sugars. The Golden Cauliflower Curry is an excellent choice for a main dish. Good Grains also offers FlatPacks2GO, which are prepared frozen dishes you can heat and eat at home.
Pure Kitchen Organic Vegan
3214 W. Kennedy Blvd.
Tampa, FL 33609
Serves lunch, drinks and coffee. Enjoy soups, salads, and a variety of dishes such as barbecue temepeh and portobello mushrooms, bento boxes, and chickpea couscous bowl with tahini dressing. Vegan Grab&Go and weekly meal delivery is available also.
Rosie's Eatery
1726 Avenue Rd.
Toronto, ON M5M 3Y6 Canada
In addition to being vegan, all menu items are gluten-free! Rosie's offers a wide selection of baked goods, yoghurt bowls, oatmeals, salads, soups, toasts, and smoothies. The soups and salads are daily specials.
Sweet Alchemy Bakery and Café
45 Upper Main St.
Essex Junction, VT 05452
Bakery and café focused on creating amazing flavors, sourcing ingredients thoughtfully, and crafting with joy. Items available include cinnamon buns, cookies, cake, and more. They also offer savory dishes.
The Greyhound Café
81 Lancaster Ave.
Malvern, PA 19355
Brunch is available on Saturdays and Sundays. There are several different menus to choose from. They have a lunch menu, a Texican Menu, an Italian menu, and a pizza menu. The Greyhound Cafe also serves desserts! Popular menu items include Huevos Rancheros, Sofritos, Calzones, and No-Bake Cheesecake.
The Juice Theory
87 Brighton Ave.
Long Branch, NJ 07740
The Juice Theory is 100% organic! In addition to delicious juices, The Juice Theory offers sandwiches, salads, and sides. They have a build your own salad option as well. Many folks enjoy the Veganwich and the Tex-Mex Wrap.