Posted on July 14, 2017 by The VRG Blog Editor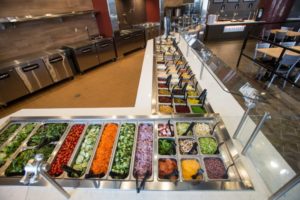 By Jeanne Yacoubo, MS
The Vegetarian Resource Group placed two calls separated by at least three weeks to each of six Souper Salad locations, all of which are located in the south central and southwest United States. By far, most Souper Salad restaurants are in Texas so we sought information from three different Texas locations.
It became apparent after our first call that the monthly menu posted on the Souper Salad website may not be completely reflective of what is actually served at a specific location. Visitors using the online menu (formatted as a calendar) should consider it a guide and expect differences. Since the menus are posted on the corporate website as PDF files which change monthly, visitors should go to https://www.soupersalad.com/menu/ and click on the large red button positioned in the screen's center to download the current menu.
As we spoke to each manager, we rephrased our questions during the conversations in different ways to increase the likelihood that our meaning would be accurately conveyed and yield correct information. For example, when we asked "Which soup is all-vegetable?" and were provided the name of one such soup, we probed further: "Does that soup contain any animal ingredients at all such as dairy, chicken stock or meat flavors?"
Often we would name a particular menu item in our questioning and suggest some target ingredients in order to prompt our listener with enough background so we would be more likely to get yes/no answers. Our goal was to make it as easy as possible to collect information quickly.
We would say, for instance, after being told that the butter bean soup is all-vegetable: "Does the butter bean soup contain butter or any other dairy?" We have found that specific questions formulated to result in a yes or no answer produce more immediate responses stated without hesitation indicating greater reliability than the response to this type of question: "Which soup contains no dairy including butter?" which requires more thought and is more prone to error by unintentional omission.
On the other hand, we do not recommend general, open-ended questions such as "What do you serve that's vegan?" because in fast-paced conversations with busy managers, callers (or diners) shouldn't assume that (1) "vegan" means the same thing to both speaker and listener; nor that (2) managers have a ready, mental list of all vegan items or a vegan-customized print menu.
We'd recommend that guests pre-identify 2-3 items which appear vegan from their names and inquire initially about them. Then, once satisfied that the received information is reliable but still interested in other menu offerings, proceed to inquire about other dishes one by one as we have described above. In all cases speak to the manager and/or chef.
Here is a summary of what we learned from calling the same six locations once in May 2017 and again in June 2017. This calling strategy enabled us not only to confirm information relayed to us in May but also inquire about June's menu items. We also tried to engage the managers in longer discussions during the June calls in order to obtain more information.
From our May conversations we learned:
Three Texas locations: Vegetable, Vegetable Lentil, Butter Bean and Minestrone Soups are vegan. The Gazpacho Salad is also all-vegetable. One Texas manager told us that the Red Beans and Rice Soup contains pork and the Vegetable Chili Soup contains hamburger.
New Mexico: The Vegetable and Butter Bean Soups are all-vegetable. The Gazpacho Salad and Marinated Mushrooms are also vegan.
Colorado and Arizona: The Vegetable and Vegetable Lentil Soups are vegan.
Here's what our June followup calls yielded:
Three Texas locations: Managers at two locations said the Potato Leek Soup contains cream. An employee at a third Texas Souper Salad restaurant said that it did not. All confirmed that the Minestrone Soup was vegan.
We were informed by one Texas manager that the "Veg." in the soup named "Veg. Black Bean" refers to "vegetarian" and not "vegetable." She said that this soup was vegan. However, a Texas manager at another location said the Veg. Black Bean Soup contained a ham base. A third Texas manager told us that he did not offer it since it was not popular among his clientele and consequently did not know.
Managers at all three said the Gazpacho and Cucumber Onion Salads are vegan. Two managers said the Quinoa & Fruit Salad is vegan. One Texas location served a vegan Quinoa & Black Bean Salad instead of the Quinoa & Fruit Salad. The manager at that location added that the cranberry vinaigrette; house vinaigrette; balsamic vinegar; and oil & red wine are vegan dressings.
The Very Berry Strawberry Bread contains egg according to one manager. Two other Texas managers stated that it contains milk. The Corn Bread contains milk according to two managers; a third said it has egg and milk.
When we asked about potato salad, one Texas manager said it was vegan while the others stated it contained cheese, egg or mayonnaise.
(There are several potato salads on Souper Salad menus each made with different ingredients rendering some non-vegan. One variety appears vegan. See below for more information about potato salads.)
New Mexico: A Souper Salad manager told us that the Potato Leek Soup contains cream. She confirmed that the Minestrone Soup is vegan.
She looked further and informed us that both the Minestrone and Vegetable Soups at Souper Salad contain "chicken-style vegetable base" supplied by Custom Culinary. The VRG looked at Custom Culinary's website where this soup base is described as all-vegetable: http://www.customculinary.com/bases/vegetable-bases/index.cfm
We also learned from the New Mexico manager that the Veg. Black Bean Soup is made with all-vegetable mirepoix.
The Gazpacho, Cucumber Onion and Quinoa & Fruit Salads are vegan.
The Very Berry Strawberry Bread and the Lemon Bread contain egg. The Corn Bread contains milk and egg. The Sponge Cake contains egg.
The Red Potato Salad is vegan while the Mustard Potato Salad contains egg.
Colorado:
A manager at a Colorado Souper Salad was not offering Potato Leek Soup when we called and did not know if it was vegan. The Vegetable Lentil Soup is vegan.
The Gazpacho and Cucumber Onion Salads are vegan. No Quinoa & Fruit Salad was offered at this Colorado Souper Salad when we called and the manager did not know about its ingredients.
The Very Berry Strawberry and Corn Breads contain egg.
The Loaded Potato Salad contains mayonnaise and bacon. The Mustard Potato Salad contains mayonnaise.
Arizona:
A manager at an Arizona Souper Salad told us that the Potato Leek Soup contains cream and milk. The Minestrone Soup is vegan. The manager informed us that Vegetable Lentil Soup would not be offered later in the month and did not know about its ingredients.
The Gazpacho, Cucumber Onion and Quinoa & Fruit Salads are vegan.
The manager stated that no Souper Salad breads are vegan.
He stated that the Loaded Potato Salad is made with sour cream, butter and cheese. The baked potato bar provides guests the opportunity to customize a vegan baked potato.
In-Store Ingredient Signage:
The Vegetarian Resource Group posed a general question about signage to managers at all six Souper Salad locations that we surveyed for this article. Here are their responses:
Texas: One manager told us that "there are ingredient signs on the walls" while two others said that there were no signs.
New Mexico: A manager informed us that "everything except the salad bar is labeled."
Colorado: The manager relayed to us that "ingredient information is at the register."
Arizona: A manager stated: "Ingredient listings for soups and pastas are in the store."
The contents of this posting, our website and our other publications, including Vegetarian Journal, are not intended to provide personal medical advice. Medical advice should be obtained from a qualified health professional. We often depend on product and ingredient information from company statements. It is impossible to be 100% sure about a statement, info can change, people have different views, and mistakes can be made. Please use your best judgment about whether a product is suitable for you. To be sure, do further research or confirmation on your own.
To support The Vegetarian Resource Group research, join at: http://www.vrg.org/member/2013sv.php
For information about other chain restaurants, see: http://www.vrg.org/fastfoodinfo.php
To find vegetarian and vegan restaurants in the USA and Canada, see: http://www.vrg.org/restaurant