Posted on July 17, 2017 by The VRG Blog Editor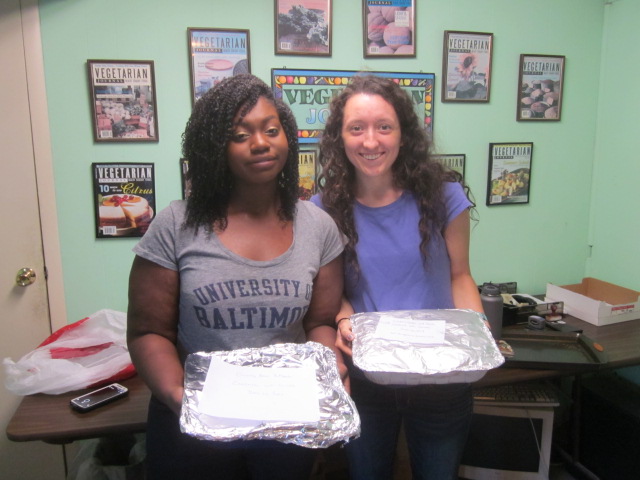 By Casey Brown, VRG Intern
Catholic Charities of Baltimore offers beneficial programs to individuals in need throughout Maryland. Our Daily Bread Employment Center is one of their programs, which provides assistance to individuals living in poverty. This center assists individuals by providing them with hot meals, job training, job placement, and other services to help them transition to a more stable lifestyle. The Hot Meal Program serves over 700 people per day, and the center relies on donations and volunteers to make this possible.
VRG's Food Service Advisor Chef Nancy Berkoff created three vegan casserole recipes to include on Our Daily Bread's site, so others could prepare and donate these options. The recipes include a Sweet Potato and Black Bean Casserole, a Brunswick Stew, and a Creamy Bean and Potato Casserole with Carrots. During each of my visits to Our Daily Bread, the volunteers have expressed the need for more vegetarian options. They stated that around ⅓ of the individuals who come to the center prefer the vegetarian casseroles. This past week during my visit, the volunteer mentioned that macaroni is the most common vegetarian dish that is donated. She said that they don't often have enough of the other vegetarian casseroles to serve, although they would like to be able to. She stated that the Sweet Potato and Black Bean Casserole is well-liked, however it is not frequently donated.
As an intern with The VRG, I visited Our Daily Bread twice last summer to donate casseroles. I was excited to have the opportunity to visit again this year and be able to prepare another casserole. This year, another intern and I both prepared the Creamy Bean and Potato Casserole with Carrots. This only took me about 10 minutes to prepare and an additional 20 minutes to cook! All of the ingredients were canned, so it was easy to make and there was minimal mess to clean up afterwards. It was also a low cost option. To prepare the dish, I simply opened all of the cans and drained the appropriate ones (all except for the tomatoes). Then I layered them in the casserole pan, topped it with pepper, and put the dish in the oven. It is that simple! This is such an easy dish to prepare, so I encourage everyone to try it out! I plan to prepare some of the Sweet Potato and Black Bean Casseroles next time since I now know that they're a popular dish.
Our Daily Bread is always looking for more volunteers to join their Hot Meal Program. They need individuals to help serve the meals in the center and prepare casseroles to donate. If you would like to get involved with this organization, visit Catholic Charities website here. If you, your church, synagogue, animal rights group, or another organization is looking for a way to get involved and help the community, then this is a great opportunity! You can commit to cooking vegetarian casseroles for them on a regular basis, so they are able to offer more of these dishes. If you are not located in the Baltimore area, then you can contact your local soup kitchen to see if you can prepare one of the vegetarian casserole recipes for them.
The recipes can all be found here: http://www.catholiccharities-md.org/our-daily-bread/odb-food-service/favorite-casserole-recipes.html The last three options were developed by VRG Foodservice Advisor Chef Nancy Berkoff RD, and are vegan).
If you are not in Maryland, we encourage you to donate the vegan casseroles to your local hot meals program.
To support VRG outreach, please donate at:
vrg.org/donate