Posted on August 08, 2017 by The VRG Blog Editor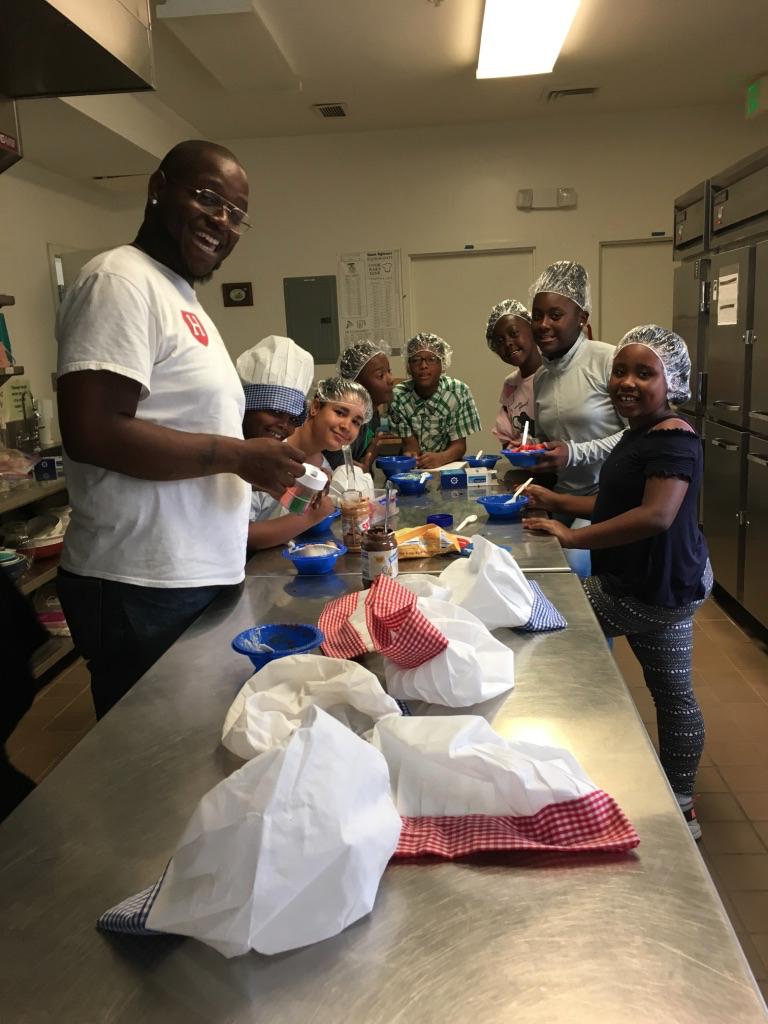 By Casey Brown and Marissa Thobe
The Vegetarian Resource Group recently sent five interns and volunteers to Tuttie's Place in Gwynn Oak, Baltimore. There, we talked to youngsters ages 5-20 about what vegetarianism is, what vegetarians eat, and reasons why people go vegetarian or vegan. The students sampled vegan foods and participated in hands-on activities to learn more about vegetarianism in an interactive manner.
Tuttie's Place is a nonprofit community organization that provides after-care and summer programs to the youth of Baltimore and residential services to foster care children. We had the privilege of working with over 20 intelligent, young children who were very curious and eager to learn about vegetarianism. The younger children (under 14) were energetic and full of spunk and they were excited to try vegan foods and meet us. The older kids (14 and up) included aspiring musicians, writers, and community leaders from schools all over Baltimore City. They were specific in their questions and thoughtful in their discussions. It was obvious to us that Tuttie's Place empowers these students and builds their confidence.
Prior to visiting Tuttie's Place, we formulated a lesson plan according to the age groups of the camp. Tuttie's Place has students ranging from 5-years-old to 21-years-old, and we knew it would be better to divide them up and educate them accordingly. The classrooms were broken up into 3 sections: 5-8 year olds, 9-13 year olds, and 14-21 year olds. We decided we would start with a general introduction to the entire camp to teach them about The Vegetarian Resource Grouop and the basics of vegetarianism. We also brought different vegan foods for everyone to sample. Then we planned to divide everyone into their separate classrooms and participate in different activities with each age group.
The youngest group (5-8 year olds) would learn about My Vegan Plate, food groups, and vegetarian snacks. The middle group (9-13 year olds) would review My Vegan Plate, learn about vegan sources of calcium, discuss vegan foods and vegan cooking, and learn about Meatless Mondays. The oldest group (14-21 year olds) would guide their discussion focused around questions they had pertaining to veganism and vegetarianism. Throughout the lesson, each of the groups would also have a chance to prepare and enjoy a delicious, non-dairy dessert: banana ice cream.
We initially talked with the entire group to see what they already knew about vegetarianism. Around half of the kids were returning to the camp and remembered VRG visiting last year. The group was familiar with vegetarianism and many of the students knew someone who was vegetarian or vegan. We then asked the students what foods they thought vegetarians ate. Common answers included tofu, vegetables, almond milk, and fruits. We told them about other options including lentils, beans, nuts, and vegan specialty options, and we brought a bag full of vegan food items that they would be familiar with. We had packages of common vegan food items including pasta, chips, oats, Daiya macaroni, vegan deli meats, and plant-based milks.
Next, we sampled multiple vegan products with the students. They were all very eager to try the foods we brought, which included almond milk and soy milk, Daiya macaroni, and Tofurky deli slices. The majority of the group enjoyed all of the products and were very willing to try them. We gave each student two varieties of Tofurky slices and asked them to guess which was real meat and which was vegan meat. This allowed the kids to be more open-minded going into the taste-test, and they ended up really enjoying both flavors. They were shocked to learn that they were actually both vegan! The students also enjoyed the soy milk and almond milk, and we found that most kids preferred the soy milk option. Many students even asked for seconds since they thought it was delicious. We asked the students to raise their hands if they enjoyed the macaroni sample, and most hands shot up in the air since they loved this delicious snack!
After sampling the different foods, we split off into different classes that were based on age groups. This was vital to guiding discussions in the right direction since the younger children had different questions regarding vegetarianism than the older students would.
In the first classroom (5-8 year olds), we taught the students about My Vegan Plate, vegan snacks, and vegan cooking. We began by asking the students if they understood what vegetarians and vegans ate. We were surprised since the students answered perfectly, showing great understanding, and they even mentioned some vegan foods and meals that they regularly ate. We then asked whether the students were involved with cooking at home. The majority of the students said that they were involved in cooking and would often help prepare ingredients under their parent's supervision. Next, we taught the kids about My Vegan Plate and we were surprised to find that many of the students were already familiar with it. We played a game with the students by asking them which category different foods fell under. Examples included chickpeas, bananas, tofu, soymilk, carrots, berries, rice, peanuts, and pasta. Most students knew which food group each ingredient belonged to, and they only needed a little assistance for the protein category. Following these activities, the students were able to color in "I Love Animals and Broccoli" coloring books, while further discussing vegetarianism.
In the second classroom (9-13 years old), we discussed the terms vegetarian and vegan. The students understood the difference between these terms, but they had a lot of questions about whether certain foods were vegetarian or vegan. They were curious whether vegetarians could eat bread, salad dressing, fish, and other items. These students were very interested in going vegetarian or trying Meatless Mondays. They informed us that they had their own Meatless Monday during camp the previous week and prepared a vegetarian taco dish for lunch. Another student said he wanted to try a vegan day, so we encouraged him to do his own vegan version of Meatless Monday. They all loved cooking and said they frequently helped with cooking at home. They were familiar with MyPlate, so we showed them My Vegan Plate and explained vegan sources of calcium to them. They were very knowledgeable about the different food groups, and we had them each draw what their plate typically looks like and categorize the foods into the appropriate food group. The students understood the importance of eating a diet with a variety of foods, with half of their plate being fruits and vegetables. We then went through a crossword and other games with the students, which challenged their knowledge about the origin of their food. We used the I Love Animals and Broccoli Shopping Basket workbook, which had questions such as "this meat comes from baby cows," "tofu is made from _", and "pork comes from which animal." These questions allowed the students to make a better connection between animals and food. After the activities, we talked with a few of the students who were excited about trying a more vegetarian-friendly diet. They told us that they wanted to make banana ice cream at home with their families, try Meatless Mondays, and try cooking tofu or other vegan alternatives at home. One of the students was hoping to try a cheese alternative, so we told him about vegan brands or options like nutritional yeast or nuts that could be used in place of dairy cheeses. Overall, we had a great time working with these students, and it was awesome to see how excited and curious they were to learn more about vegetarian and vegan diets. They were very engaged throughout the lesson and learned a lot from each other and from us.
In the oldest age group (14-20 years old), we talked about the agriculture industry, how animal products can harm one's health, and the ethics of veganism. The maturity of the students was imperative to the discussion of these topics. At first, a few of them were opposed to the idea of going vegetarian because of limiting factors such as the taste of meat and family meals being meat-based. A few of the students knew others who were vegetarian, but many did not understand the reasons why one would choose to stop eating their favorite foods, including fried chicken and burgers. We also discussed how more vegetarian foods are being introduced to the market with the increasing demand for plant-based foods. Because of this, vegetarian products are constantly improving in quality and more closely resembling their non-vegetarian counterparts. Many of these foods can often replicate the experience of non-vegetarian meats or dairy without harming animals, the environment, or our health. Our group also addressed the ethics of eating meat and how unnatural it is to drink cow's milk when humans are the only species to consume the milk of another animal. We brought up the question: if livestock gets nutrients from plants, why not just consume the plants as a primary source of energy and not get the used energy from a secondary consumer? Their reactions to this logic ranged from more complex questions to silent contemplation. The students responded well to commonly unknown facts about animal agriculture. We tried to give them knowledge about the animal agriculture industry instead of telling them why they should or shouldn't eat certain foods. Our goal was to educate the students so that when they are able to make decisions on their own, they can use this knowledge and wisdom to make smart choices.
During the lesson, each of the classrooms prepared banana ice cream for a healthy, nondairy dessert. The kids were extremely excited when we announced that we would be making this since many of them remembered it and loved making it last year. Prior to the camp, we froze around 30 bananas (split into 2-3 pieces) and put them into gallon-sized bags. We also purchased sprinkles, chocolate chips, peanut butter, fresh strawberries, and a vegan chocolate spread. We brought along plenty of bowls, spoons, napkins, and other supplies, so everyone could enjoy the dessert. We used a Yonanas machine to prepare the ice cream. The Yonanas machine is a fruit soft serve machine that takes frozen fruits and churns them into delicious, frozen, creamy desserts. The machine can be purchased at many stores or online, and it typically costs around $50. In place of the machine, a blender could be used, however the resulting dessert might be slightly less creamy and a liquid might need to be added to help blend the ingredients. For the dessert, each kid got around 3 pieces of bananas to make their ice cream, which was about one banana total. They then topped it with their toppings of choice and enjoyed the delicious dessert!
We all loved being able to talk with and meet the students at Tuttie's Place. The students' excitement and curiosity made this lesson exciting and engaging, and we felt that they were able to learn a lot. While not all of the students were ready to switch to a vegetarian or vegan diet, many of them expressed an interest in it, and we were able to open their minds to the idea. We hope that the students will continue learning more about vegetarianism and we hope to return to Tuttie's Place again next year to educate the students more about these lifestyles.
Summer Camp Lesson Plan:
http://www.vrg.org/family/TuttiesPlaceLessonPlan.pdf
For more lesson plans, see:
http://www.vrg.org/family/kidsindex.htm#plans
To support this type of outreach, please donate to The Vegetarian Resource Group here:
vrg.org/donate