Posted on September 05, 2017 by The VRG Blog Editor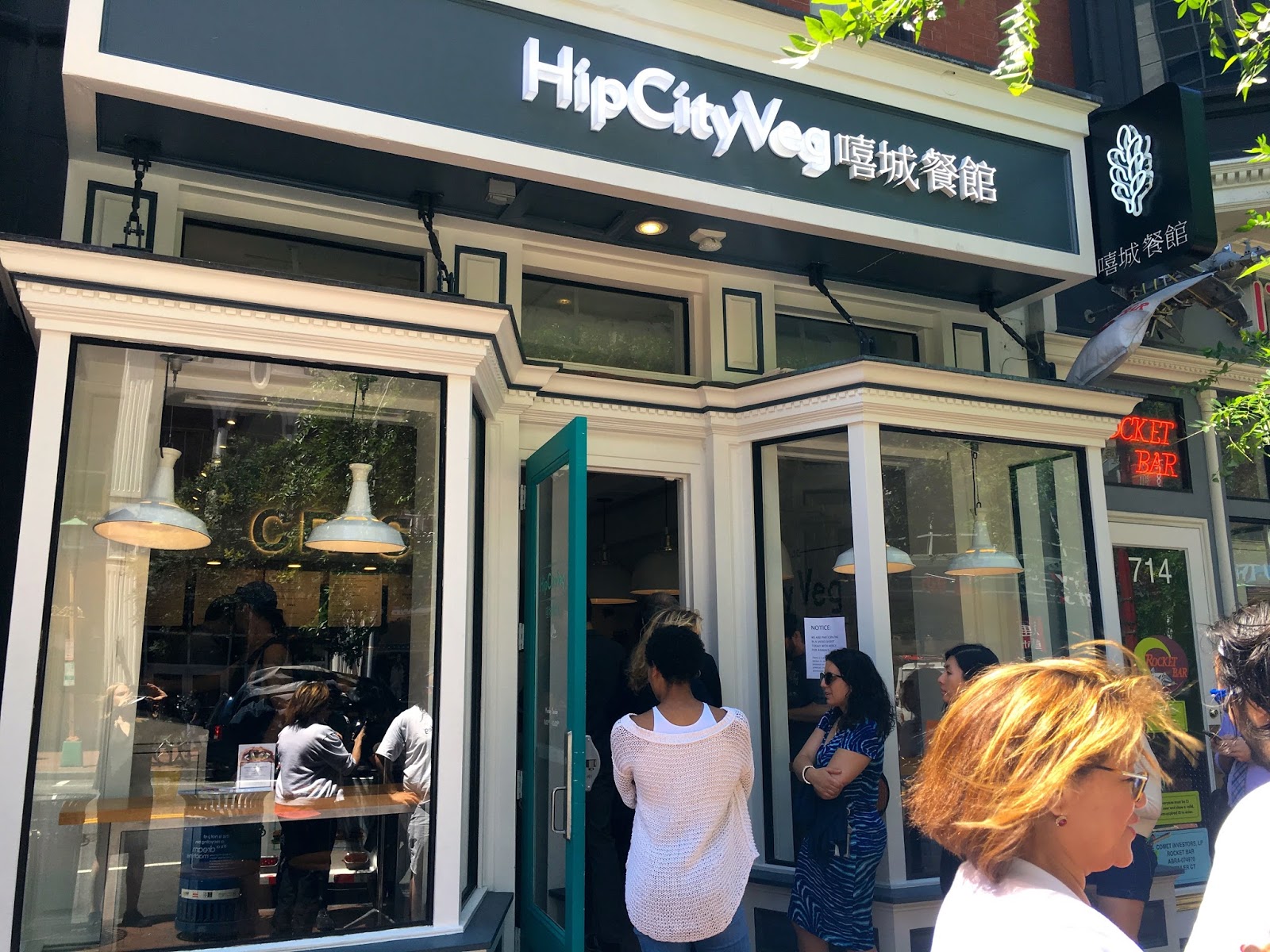 By Shannon Borgoyn, VRG intern
Fast food is a staple of American culture: you can't go anywhere without seeing a McDonald's, Wendy's, or KFC. When I first heard of HipCityVeg, I thought it was a dream. HipCityVeg is a currently small (but growing) vegan fast food chain founded in 2012. Yes, you heard that right: vegan fast food.
Recently, I traveled to Washington D.C. and planned on getting lunch at HipCityVeg. The establishment is located in D.C.'s Chinatown, not too far from the Walter E. Washington Convention Center. Walking into the restaurant, I was greeted by a well-lit, well-decorated, and clean interior. As I approached the counter, the staff greeted me and asked if they could help me. I expressed my excitement to be there for the first time, but I told them I needed time to decide on my order. It was difficult to choose a dish because everything looked delicious! Initially, I thought there would only be vegan burgers and fries, but I was surprised by the menu's diversity.
They have different types of vegan burgers and sandwiches (like their curry tofu wrap and Philly steak); vegan chicken ("chick'n") dishes (such as their chipotle fajita wrap and lil' golden nugs); salads including udon noodle and arugula taco; sides including sweet potato fries and Caesar salad; drinks such as smoothies and lemonade; and frozen treats (soy ice cream milkshakes anyone?). Scanning through this sea of food was daunting, but I finally decided on the traditional fast food fare: nuggets, fries, and a milkshake. Their milkshakes come in three different flavors (chocolate, orangesicle, and vanilla) as well as seasonal flavors: Cold Brew Mocha Shake for July-August, Pumpkin Pie Shake for October-November, Chocolate-Covered Cherry Shake for February, and more. Their seasonal flavors can be referenced here:
http://hipcityveg.com/seasonal-milkshake-calendar/
I placed my order for their lil' golden nugs, which came with a side of sweet potato fries and choice of dip, and a chocolate milkshake. First, I sampled the nuggets; they were hot and crispy on the outside, tender on the inside, and extremely delicious. Their crispy outer layer consisted of whole grains, including what appeared to be oatmeal. Second, I sampled the sweet potato fries; they were hot, tender, thin, and delicious. Third, I dipped both nuggets and fries into the dip (a black bean dip). The dip itself was creamy and cool and didn't overpower the taste of the nuggets or fries; instead, it enhanced their taste. Between bites of nuggets and fries, I sipped at my soy chocolate milkshake. The milkshake was thick, creamy, and perfectly sweet. Having the milkshake as a beverage was the perfect accompaniment to my meal because it balanced the savory portion that was the nuggets and fries.
Overall, my meal at HipCityVeg was delicious and extremely filling. The portions were generous; as a result, I took some food home. HipCityVeg's food appears made with the utmost care; it was hot and scrumptious (for the milkshake, wonderfully cold and creamy). The taste was extraordinary and the experience was awesome. HipCityVeg has a green philosophy, which they back up with composting bins, eco-packaging, and organic, plant-based ingredients. So, they make their food with care and in a caring, environmentally-friendly manner. I will definitely be returning to HipCityVeg!
You can check out HipCityVeg here: HipCityVeg
Additionally, you can reference HipCityVeg in VRG's online restaurant guide. Listings are available for Philadelphia, PA and Washington D.C. locations:
http://www.vrg.org/restaurant/index.php