Posted on September 20, 2017 by The VRG Blog Editor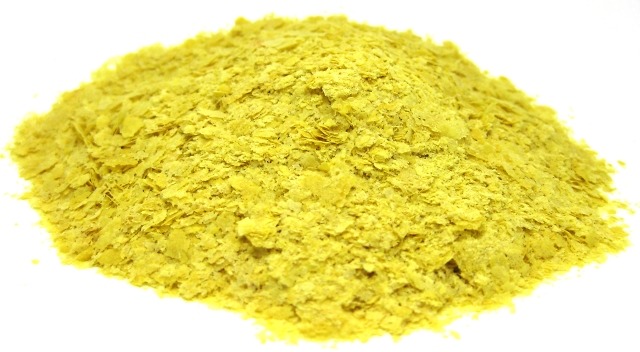 The recent issue of Vegetarian Journal offers an article titled "Quick and Easy Tips for Working with Nutritional Yeast." Chef Nancy Berkoff states: nutritional yeast adds flavor while containing very limited amounts of fat and sodium. As a bonus, it does contain protein and B vitamins, including B12 if fortified. Nutritional yeast is a win-win for taste buds, the waistline, and for overall health.
Here are some of Nancy's suggestions:
Vegan mac and cheese, bulked up with grilled cauliflower florets if you want, gets its "cheesiness" and creaminess from nutritional yeast. Toss grilled cauliflower and/or cooked pasta with silken tofu, a bit of garlic, chopped parsley, and nutritional yeast, and bake in a casserole dish until bubbly.
If you are in the mood for stirring, put on a pot of risotto or polenta, add minced fresh onions, a dash of oil, and nutritional yeast, and stir until the risotto or polenta is soft and creamy. Layer cooked lasagna noodles with tomato sauce, shredded vegetables, and nutritional yeast for a cheesy casserole. Instead of pasta, use tortillas or thin slices of cooked potato to create a new dinner entrée. For less of a fuss, add nutritional yeast to cooked rice, quinoa, barley, or mixed vegetables.
If you have some leftovers sitting in the fridge, (cooked garbanzos or lentils and rice, for example), toss with mixed vegetables and nutritional yeast and quickly heat in the oven or microwave. Soft tofu can be scrambled with nutritional yeast and eaten with toast, rolled into a burrito with salsa, or mixed into rice, quinoa or couscous. If you are looking for a creamy soup, prepare your usual tomato, bean or vegetable soup, purée, and stir in yeast for the "creamy" element.
Nutritional yeast may be used instead of egg yolks for thin batters, such as for French toast or pancakes. Mix soymilk, a bit of soft tofu, nutritional yeast, your vegan sweetener of choice, and vanilla, then dip in your favorite breakfast bread and bake or cook in a pan for a morning treat.
Create salad bowls, such as greens, pumpkin seeds and dried cranberries, spinach, orange slices and almonds, or chopped seasonal veggies and sprinkle on nutritional yeast. For a quick dip or sandwich spread, combine vegan sour cream or unflavored yogurt with chopped olives, minced pickles, dried onions, and nutritional yeast.
Read the article here:
http://www.vrg.org/journal/vj2017issue3/2017_issue3_vegan_cooking_tips.php
Subscribe to Vegetarian Journal by visiting:
http://www.vrg.org/member/2013sv.php