Posted on September 29, 2017 by The VRG Blog Editor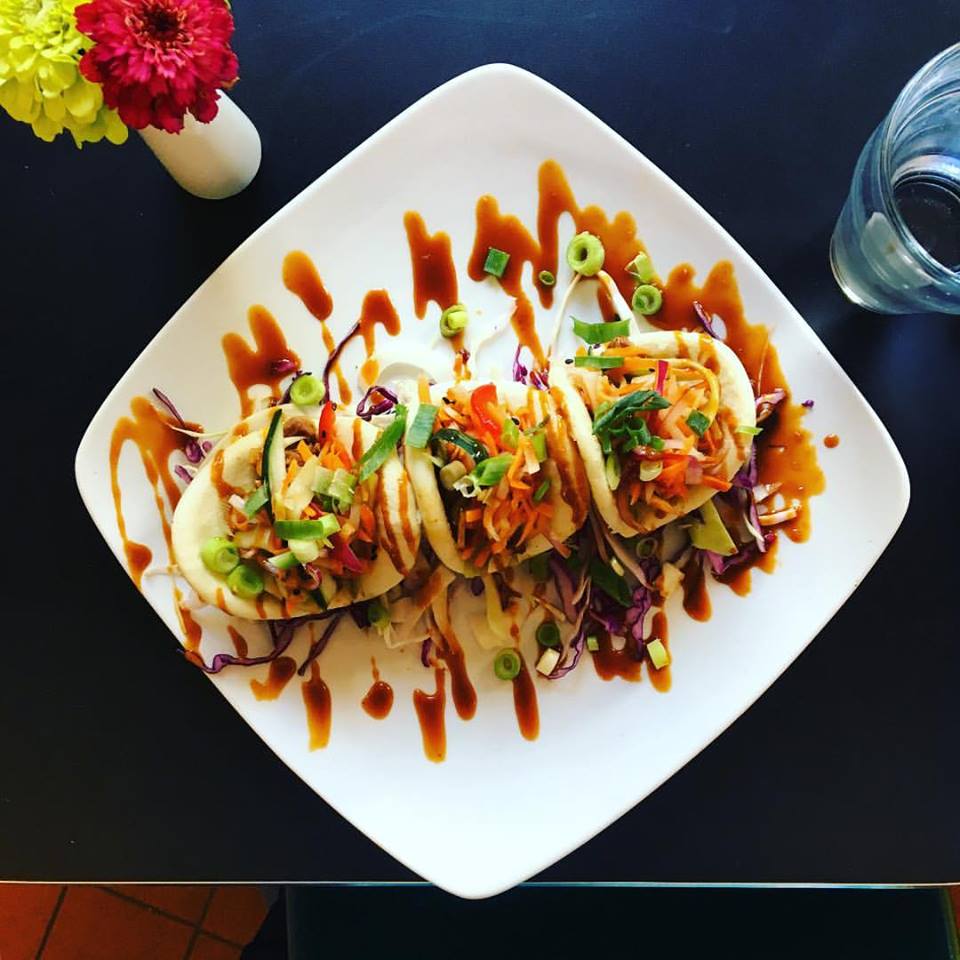 The Vegetarian Resource Group maintains an online Guide to Vegan/Vegetarian Restaurants in the USA and Canada. Below are some recent additions. The entire guide can be found here: http://www.vrg.org/restaurant/index.php
To support the updating of this online restaurant guide, please donate at:
www.vrg.org/donate
Blueberry Café
547 Central Ave.
Newark, NJ 07107
Enjoy Raw Salad Bowls, juices, smoothies, soups, and desserts! Blueberry Café has a Sunday Brunch Special which includes an 8oz juice, a breakfast item, a taco or burger wrap, and a 4oz soup or salad.
Bot Bakery
7100 S. South Shore Dr.
Chicago, IL 60649
All menu items at Bot Bakery are vegan, organic, and gluten free. Many reviews state that Bot Bakery has "the best baked goods ever." Try the almond cake, whoopie pies, or deep dish "cheese" pizza for an extra special treat. Cash only!
Detroit Street Filling Station
300 Detroit St.
Ann Arbor, MI 48104
Located in what was once a filling station opened in 1925, Detroit Street Filling Station makes everything from scratch, using local and organic produce. The range of international dishes offered, from North African cauliflower couscous to loaded nachos with Cuban black beans, demonstrates the variety and versatility of plant-based whole foods.
FuBar Toronto
735 Bloor St. West
Toronto, ON M6G 1L5 Canada
FuBar is located upstairs from Apiecalypse Now Pizza and next to Christie Pits Park. You can order vegan pizza and vegan jalapeño poppers to pair with your vegan beer. They even have vegan donuts!
Hippocrates' Daughter
1 Mountain St.
Grimsby, ON L3M 3J5 Canada
Hippocrates' Daughter is inspired by the famous quote by Hippocrates "Let thy food be thy medicine and thy medicine be thy food." The offer sandwiches, juices, bowls, salads, desserts, and entrees. The Fried Chick'n Po'boy is enjoyed by vegans and omnivores alike.
Leaves Café
2051 Rue de La Montagne
Montreal, QC H3G 1Z8 Canada
Leaves Café has some of the best lattes in town! You can choose between almond, soy, or coconut milk. They also have baked goods including almond brioche and donuts. Leaves Café has a minimalist aesthetic and the cafe is decorated with cool cacti and succulents.
Nick's Kitchen
2449 Geneva Ave.
Daly City, CA 94014
Nick's Kitchen menu features iconic American items such as meatloaf with mashed potatoes, chicken BBQ, crab cakes, and succulent ribs–all made meat-free. Nick's also pays homage to the restaurant's Filipino roots and serves up numerous Filipino dishes including Longsilog (sweet vegan pork sausage with tofu scramble and garlic rice) and Puto Maya at Tsokolate (sweet rice with native Filipino cacao) among others.
Ocean Organics
21 South Hope Chapel Rd.
Jackson, NJ 08527
and
570 Fischer Blvd.
Toms River, NJ 08753
and
1411 NW Central Ave.
Seaside Park, NJ 08753
Ocean Organics serves a variety of juices, smoothies, sandwiches, and acai bowls. Signature sandwiches include the BBQ Pulled Jackfruit Sandwich and the Buffalo Cauliflower Wrap. The banana hemp protein shake and Vegan soft serve ice creams are a sweet treat!
On The Bus
Milwaukee Public Market
400 N. Water St.
Milwaukee, WI 53202
On the Bus is a 1971 Volkswagen Bus that serves veggie food located at Milwaukee Public Market. The menu includes breakfast food such as acai bowls, veggie burgers and sandwiches, desserts, smoothies, and shakes!
Planta Burger
4 Temperance St.
Toronto, ON M5H 1Y4 Canada
Stop by Planta Burger for delicious vegan burgers and sides! Try the "Crab" cakes paired with cauliflower tots for a special treat. Don't forget to order dessert including milkshakes and a root beer float.
P.S. Kitchen
246 W. 48th St.
New York, NY 10036
P.S. Kitchen is conveniently located in New York City's Theatre District in Midtown West. They donate 100% of their profit to various sustainable charities. Their "Buffalo Hen of the Woods" dish is among the most highly rated entrees. The "Maitake Mushroom Bun" is also very popular. P.S. Kitchen has a wide selection of desserts, including Strawberry Shortcake and "Chocolate & Raspberry."
Roots Café
408G Paulding Ave.
Northvale, NJ 07647
The cafe is located on the rear side of a large commercial complex, so keep an eye out for signs pointing you their way. Roots Café has a "Build Your Bowl" option so you can customize your delicious meal. They also keep their menu fresh with Daily Specials. Many patrons recommend the "Beyond Good" Burrito. Roots Cafe has a unique, cozy ambience and is filled with plants.
Sweet Green Café
25 N. Spruce St.
Ramsey, NJ 07446
In addition to delicious vegan food, gluten free, raw, and oil free options are available at Sweet Green Café. They have a "sweet" menu and a "savory" menu. The Tofu Scramble Veggie Sandwich is a signature dish.
Vegan Tree
952 Rte. 34, Ste. 4
Matawan, NJ 07747
Vegan Tree serves appetizers, soups and salads, sandwiches, rice entrees, noodles, and smoothies. Favorites include the King Pao Fusion Rice Dish and the Vegan Tree Stir-Fried Noodles. The Vegan Tree Green Smoothie is a great treat!