Posted on December 01, 2017 by The VRG Blog Editor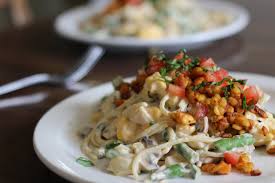 The Vegetarian Resource Group maintains an online Guide to Vegan/Vegetarian Restaurants in the USA and Canada. Below are some recent additions. The entire guide can be found here:
http://www.vrg.org/restaurant/index.php
To support the updating of this online restaurant guide, please donate at:
Donate to VRG
Café Wylde
2918 Hoyt Ave.
Everett, WA 98201
Cute vegan cafe offering a variety of healthy fare. They use locally sourced ingredients and support sustainable farming wherever possible. Staff are friendly and helpful. Choices include smoothies, smoky avocado dip, salads, jackfruit BBQ, burritos, tacos, pesto pasta, and a rotating raw "cheesecake" selection.
Cuppa
552 E. 25th St.
Ogden, UT 84401
Cuppa is designed for creatives. It is the type of place you can sit and do your work, while eating delicious plant-based food. Their slogan is "gather, nourish, and create." It describes their desire for a relaxing place to eat nourishing foods and discover new ideas. Come with a friend and enjoy tea by the pot. The pesto and avocado tartine makes for the perfect breakfast. If you enjoy spicy foods, you'll love the roasted veggie and kimchi bowl. You'll also find options such as the roasted roots savory sandwich made with roasted Japanese pumpkin, beets, cauliflower, and a special savory sauce. Find your spot and begin your relaxation or productivity at Cuppa in Ogden.
Oliver's
1198 Coast Village Rd.
Santa Barbara, CA 93109
Enjoy small plates such as Herbed Roasted Sweet Potatoes and Zucchini Flatbread. Salads include Sunflower Caesar Salad and Citrus, Beets and Avocado. Main dishes include Grilled Cauliflower Steak, Lotus Bowl, Pad Thai, and Butternut Squash Ravioli. Also enjoy sides such as Truffled Potatoes and Brussels Sprouts.
Plant Power Café & Juice Bar
6215 Lee Hwy., Ste. 137 (F)
Chattanooga, TN 37421
You'll find plenty of healthy alternatives at Plant Power Café & Juice Bar. They have everything from fruit smoothies and green juices to raw desserts. If you need a little sweet treat, try their nice cream, with flavors such as chocolate, strawberry, and blueberry. For more savory options, look for the black bean burger, taco plate, and bbq jackfruit sandwich! Balance your green juice with some of their cookies, cupcakes, and brownies!
Season's Plant Based Bistro
1370 S. State St.
Salt Lake City, UT 84115
Season's Plant Based Bistro features French/Italian inspired, handcrafted, vegan cuisine with a wine/beer list to match. The menu boasts favorites such as French onion soup, spinach and artichoke dip, a classic wedge salad, flatbread pizzas, hand cut ravioli, and berry cheese cake just to name a few. Food is sourced locally and organically whenever possible. Gluten free is available upon request. Seasons is conveniently located a mile south of downtown and only three blocks away from Salt Lake City's transportation system TRAX.
Strange Town
2101 N. Prospect Ave.
Milwaukee, WI 53202
With unique dishes and a beautiful location, Strange Town is a welcome sight to the vegan community. Their dishes are delicious and satisfying, the menu including items like eggplant involtini, aloo gobhi chaat, vegetable galettes, and mushroom tartine. Not only is this restaurant dynamic food-wise, but it also offers an expansive array of wines and beer. Strange Town boasts a wonderful atmosphere and is located in a building full of historic character with features such as large windows and high ceilings.
V Roast Coffee
3904 Central Ave. SE
Albuquerque, NM 87108
V Roast Coffee specializes in air roasting all of their coffee beans. Choose from a variety of specialty coffee drinks or pick up some roasted coffee beans by the pound. The cafe features a number of fun sandwiches, burritos, and plates. All menu items are vegan. Be sure to check out the desserts that are available or the cold brew coffee to go.
Veggie House
52 E. 1700 S.
Salt Lake City, UT 84115
Familiar, plant-based Asian favorites offered in soy or tofu options. Appetizers include deep fried tofu tempura veggies or deep fried soy chicken ball on a stick. Soups and salads are offered as well as entrees that are served with rice and soy or tofu options like soy chicken, soy shrimp, soy beef, or a combination of these choices.
Viva Falafel
4400 4th St.
Long Beach, CA 90814
Enjoy falafel and more made from scratch. Breakfast options include a choice of three pita sandwiches and three muffins all served with either French fries, sweet potato fries, hash browns, or fruit. The familiar 'create your own salad' options are paired with falafel balls and pita bread. There are a variety of menu items to satisfy any palette which include wraps and pita sandwiches served with tahini dressing, kabobs (with options such as veggie chicken and beef), and an impressive side order menu consisting of 11 items.