Posted on January 23, 2018 by The VRG Blog Editor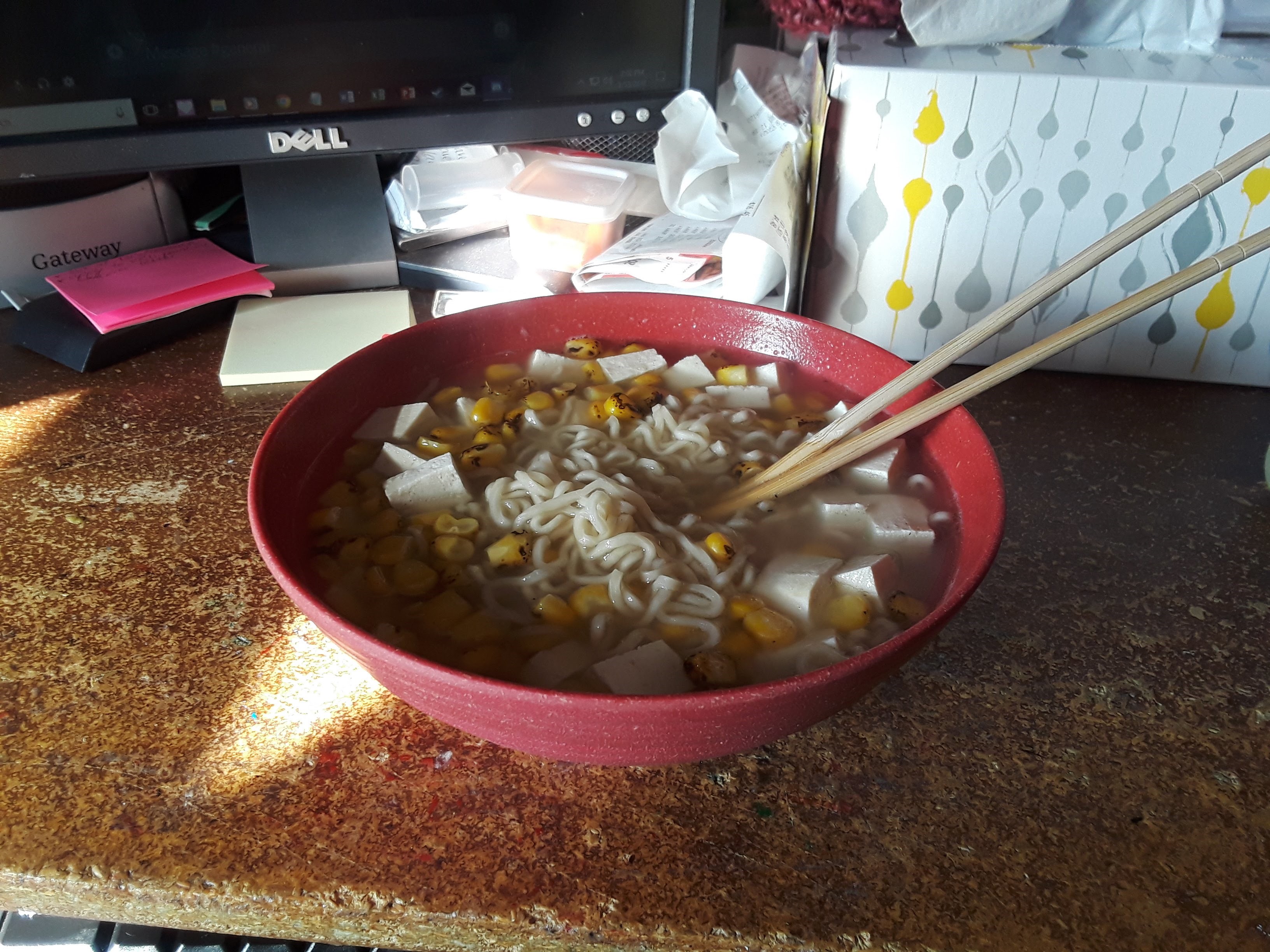 By Shannon Borgoyn, VRG Intern
Veggie Tofu Ramen
(Makes 1 bowl ramen)
Ramen is a food almost every college student has at least once. Knowing this, I wanted to create something delicious and simple to spice up boring old ramen. My experience in college and a conversation with a friend inspired me to create this dish. This recipe requires very few ingredients and can be easily customized.
½ Vegetable bouillon cube
Any seasonings you like – I chose a dash of black pepper, smoked paprika, dried minced onion, garlic powder, and onion powder.
2 cups water
1 package ramen noodles (without seasoning packet)
½ cup frozen veggies OR fresh, chopped veggies
¼ block firm tofu, cut into bite-size pieces
Add bouillon cube and other seasonings to water. Bring water to a rolling boil. Add ramen noodles (better left whole, as it gives longer noodles that are easier to eat). Let cook for 1 minute until noodles soften. Next, add veggies and tofu. Cook for 2-3 minutes. Finally, serve in a bowl and enjoy! Yummier if eaten with chopsticks.
Curry & Rice
(Makes 1 serving)
I came up with this recipe one day when I was craving Indian food. I've made larger amounts of curry and rice before, but I only wanted one serving. I thought about what I already had in my cabinets that could make a delicious curry. This recipe uses few ingredients–you might already have some in your cupboard! With its veggies and chickpeas, it's very healthy. It's also quick, easy, and convenient, fantastic for those short on time, energy, and/or money! Additionally, the curry is great for college students or those living on their own.
RICE:
¼ cup uncooked rice (I use jasmine, but you can use any type you like!)
1 teaspoon salt
1 cup water
1 microwave-safe bowl
Put rice into microwave-safe bowl. Add salt and water. Place bowl (with all ingredients in it) into the microwave. Microwave for about 10 minutes, or until all water has boiled away. This should leave a good bowlful of delicious-looking rice.
CURRY:
¼-½ 16-ounce can chickpeas
1 small onion OR ½ large onion, chopped
1 clove garlic, crushed and minced
One 16-ounce can crushed or diced tomatoes (could also use tomato sauce or salsa!)
⅓ cup unflavored soymilk or other plant-based milk
½ Tablespoon vegetable oil
1 teaspoon organic sugar (to cut tomatoes' acidity)
¼ teaspoon salt
¼ teaspoon black pepper
½ teaspoon curry powder
Put chickpeas in a colander, strain, and rinse with cold water. Put chickpeas in a bowl and set aside. Add onion and garlic to a small pan. Turn on the stovetop burner and set the flame to a low setting. Allow the onion and garlic to cook for 2 minutes until aromatic or lightly brown.
Stir the tomatoes into the onion and garlic mixture. Next, add the chickpeas, soymilk, vegetable oil, sugar, salt, black pepper, and curry powder. Allow to simmer for 4 minutes, stirring every so often to prevent burning. Turn off the burner and allow the curry to sit in the pan for 1 minute. Then, add to the bowl of rice, mix, and enjoy!
Easy Vegan Chocolate Mug Cake (with homemade chocolate drizzle)
(Makes 1 serving)
I love chocolate, so much so that it should be sinful. When my sweet tooth pops out, it's usually for chocolate. Some days I don't want a huge slice of chocolate cake; instead, I may want a few scrumptious nibbles of the good stuff. Inspired by the muffin in a mug, I concocted this recipe in my kitchen one day. Ever since, I make it when I crave sweetness. It's quick, yummy, and takes few ingredients. Also, make an easy homemade chocolate drizzle to go on top!
CHOCOLATE MUG CAKE:
1 Tablespoon unbleached all-purpose flour
1 Tablespoon cocoa powder
1 teaspoon organic sugar
½ teaspoon salt
⅛ teaspoon baking soda
½ Tablespoon vegan margarine
½ teaspoon vanilla extract
½ teaspoon vinegar
½ cup unflavored soymilk (or other plant-based milk of your choice)
Add flour, cocoa powder, sugar, salt, and baking soda to a microwave-safe mug. Mix together. Melt margarine in microwave in a microwave-safe container. Add margarine, vanilla extract, and soymilk to other ingredients in mug and mix. Microwave for 2 minutes. Let sit and cool for 1 minute.
HOMEMADE CHOCOLATE DRIZZLE:
1 Tablespoon organic chocolate OR organic chocolate chips
1 Tablespoon coconut oil or vegetable oil
Add one ½ Tablespoon chocolate and the oil to a microwave-safe bowl. Microwave for 20-30 seconds. Stir and add another ½ Tablespoon chocolate. Drizzle atop chocolate mug cake and enjoy!